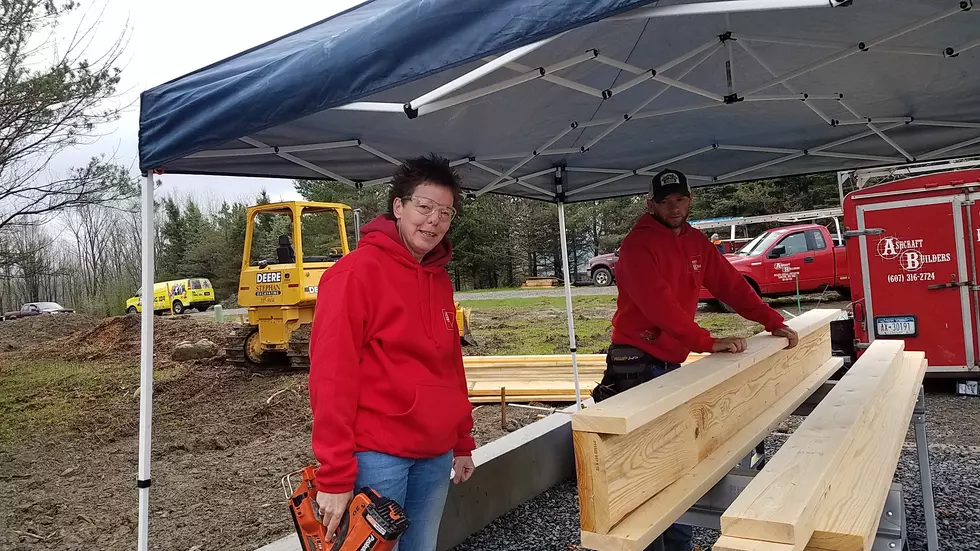 Watch Polly Learn How to Make Garage Door Headers with Ashcraft Builders
tsm
It's week two of Let's Get Started with Curtis Lumber.  This week Tad and Polly visit Hamilton, where Ashcraft Builders has two homes under construction.
While many of us don't have a spring home improvement project that includes building two homes, it's a pretty typical work week for Jordan Ashcroft and his company. Jordan who has been building homes for 16 years, says the pandemic didn't slow down the number of homes Ashcraft Builders had under construction in 2020.
We visited the worksite off Johnny Cake Hill Road outside of Hamilton. While you won't find the address of 1962 Thomas lane on Google Maps or any other GPS unit, you will soon, as a crew of ten are on the job. Both homes are being built with materials from Curtis Lumber, one home is nearly completed on the outside, while the other is just in the beginning stages with the framework of walls being finished.
Check out the videos and pictures below as Polly builds two garage door headers, even though she's not sure what they are or why you need them. She also learned putting nails in with a nail gun is a lot easier than getting them out with a hammer.
Jordan also gives us a walk through of the 2nd home. Both homes will offer spectacular views from the top of a hill overlooking Hamilton and Colgate University.
Ashcraft Builders Building Two Homes in Hamilton
two homes under construction in Hamilton, NY
Watch for more Lets Get Started projects from Curtis Lumber every Friday. And if you have a home improvement project, you've started, let us help you finish it with a Curtis Lumber gift card.
Lets Get Started - Shafer and Sons Storage Sheds
Shafer and Sons Storage Sheds constructing a storage shed in New Hartford.