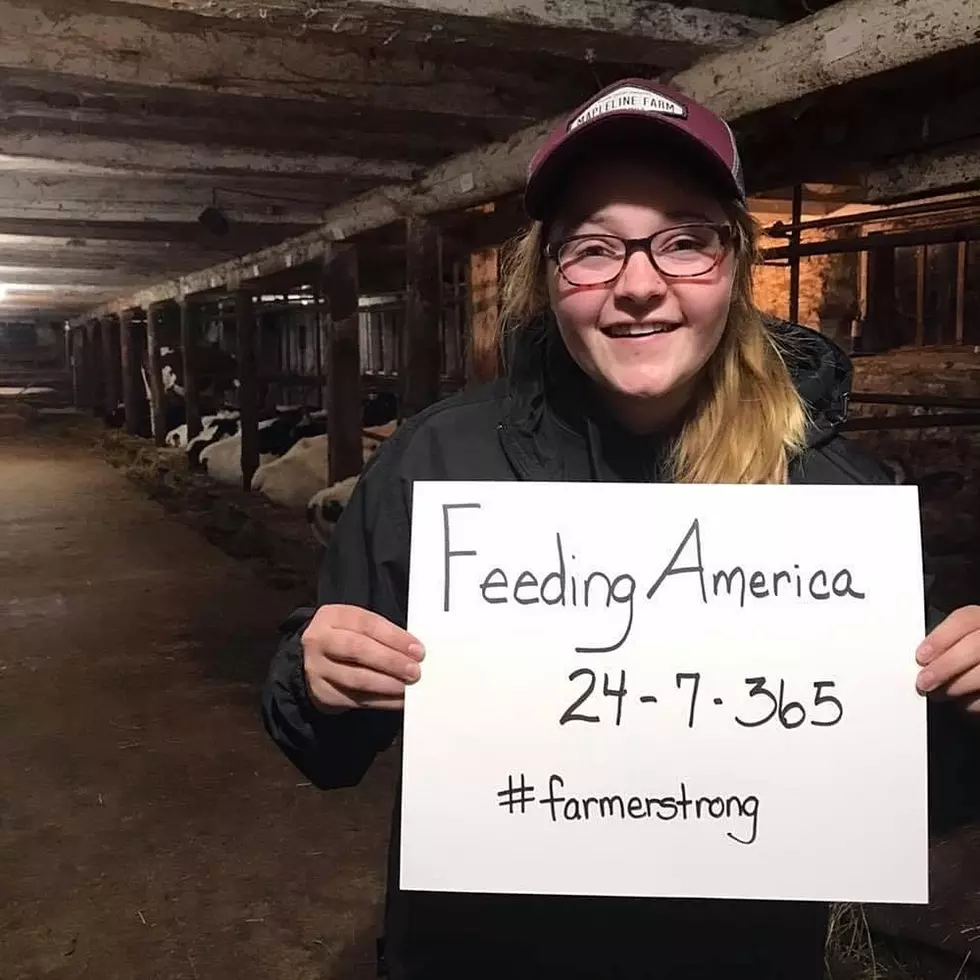 Farm Families Keeping Food on the Table in Utica Rome
listener submitted
They don't have long commutes, punch a clock when they arrive at the job, and there is no work week or weekend. Farming is 24-7, 365. Here are some of the Central New York farmers keeping the food on tables in Utica Rome.
We've joined with White's Farm Supply to salute the hard working families doing what they love, caring for animals and being good stewards of the land. As a way of saying thanks, Louis J Gale and Son Feed Mill in Waterville provides a farm with a $100 gift certificate.
Brovetto's Dairy and Cheese LLC in Harpersville
Ron and Corrine Brovetto along with their four young children pulled up stakes on Long Island in 1972 and moved to Harpersfield, NY to start a dairy farm. Ron was an engineer and Corrine was a nurse before the move, which if you think about it, may be the perfect background for the transition, inventive and caring.
Their son, Russell Brovetto, graduated from SUNY Cobleskill with an Ag Engineering degree in 1986 and currently manages the day to day operation of the farm, while Ron handles financials and the mountain of paperwork that comes with farming these days.
The family had a great eye for the future in 2000, realizing the farm couldn't survive on just shipping milk. They transitioned to Brovetto's Dairy and Cheese LLC and began making a specialty cheese, German Tilsit.  Ron and Russell completed cheese making courses and today make all the cheese on the farm, aging it naturally in an underground cheese cave. They offer thirteen different flavors and sell it directly from the farm and through distributors.
The Brovetto family has three generations currently working on the farm. Ron has added cheesemaker to his role and Corrine manages the cheese house and attends all the local farmer markets. Russell has two daughters, Brittany and Rachel who grew up on the farm. Rachel is also a graduate of SUNY Cobleskill class of 2019 with a degree in Dairy Management and Production. She works alongside her dad as assistant herd manager, milking forty head of Holstein and Jersey Cows bred for high components for the cheese. The farm ships about half of their milk and retains the other half for making cheese.
Brovetto's Dairy and Cheese
Shannon Sears of Ira - Moos Holsteins in Middlefield
Shannon Sears is 22 years old and recently graduated from SUNY Cobleskill with a bachelor's degree in Dairy Science. But that doesn't mean she doesn't have a wealth of experience in real world farming. Shannon grew up on her family's registered Holstein Dairy farm, Ira - Moos Holsteins in Middlefield. She assisted with raising calves and helped with planting crops. The family sold the original herd in 2017, but they help Shannon continue to raise replacement heifers, milk a small group of Holsteins, and plant crops.
Growing up on the farm, Shannon also raised a string of show animals exhibiting at local fairs and even the World Dairy Exposition in Wisconsin where she took home championship honors in showmanship. She also served as Otsego County Dairy Princess and has done photography work for the All American Dairy Show in Harrisburg, PA along with Holstein World and Cosmopolitan Magazines.
There are a lot of irons in the fire for Shannon these days, she helps manage the new processing plant making COBY Creamline milk and works at Cowbella Dairy Farm in Jefferson making Cowbella Jersey butter.  Her future plans include opening her own processing plant to offer farm to table products.
As you can tell, her passion for farming and agriculture runs deep, and Shannon is about to embark on another adventure. "The True Story of Agriculture," is a Face Book page she is creating to share the story of New York farmers.
Vickerson Organic Dairy Farm in Richfield Springs
James Vickerson has been farming for nearly thirty years, and for twenty one of those he and his wife, Shannon have been operating an organic dairy farm on Highway 20 in Richfield Springs. They milk fifty-three head of cows and farm about one-hundred fifty acres of hay and another twenty-five of oats. And like most farmers, always helping neighbors, James artificially inseminates cows for others.
James and Shannon, thanks for all you do keeping Central New York families fed. We appreciate you getting up every day, no matter the weather, no matter the economic impacts, and no matter how you feel and taking care of us and the animals.
Vickerson Farm Richfield Springs
Pine Grove Cattle Company in Vernon
Rob Frost and Mike Peck formed a partnership in 2013 with plans to to run a small beef herd and make custom large square bales while still holding full-time jobs off the farm. Their custom farm work expanded quickly and now they travel throughout Oneida and Madison Counties no tilling crops, baling and wrapping hay, and manure spreading for other farms. Their small herd has grown to 120 head of grass fed beef and last year the two men formed the Pine Grove Cattle Company and now sell beef and pork to the public and cattle feed to other farmers.
It's a true family farm with Rob and his wife working with her parents, Mike and Nancy Peck. They have four children, Conner, Emma, Cole, and Evan who are also involved in the farm life. Conner, Emma, and Cole all show animals at local fairs. Each child is given a cow, goats, and pigs to start their own herds.
Pine Grove Cattle Company
Congratulations to Vickerson Organic Dairy Farm, the winner of the $100 gift certificate from Louis J Gale and Son Feed Mill.
We want to salute more Central New York farm families for their tireless efforts. Tell us about a farm family you know in the form below. Provide any information you know and share some pictures if possible.