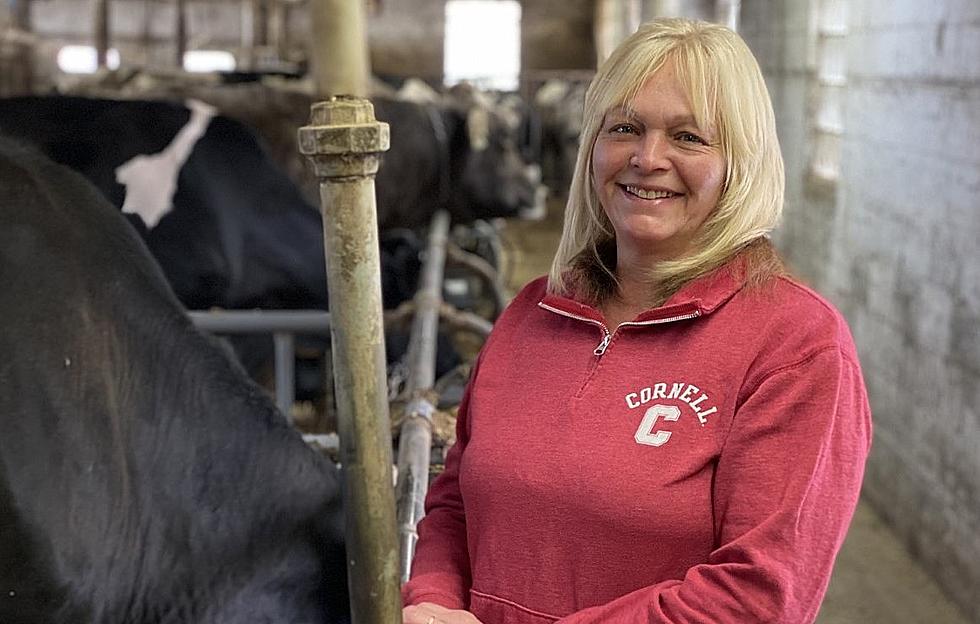 Woman From Clayville Is First Female President of American Dairy Association Northeast
Credit - American Dairy Association NE
For the first time in their history the American Dairy Association North East (ADANE) board will have a female farmer leading the board. It's nothing new for Audrey Donahoe from Clayville who has been leading the way her entire life. Here are 10 facts
We first met Audrey and her family during one of our Meet A Central New York Farmer segments last October. She and her husband, Jeff operate the Atrass Farm on Holman City Road in Clayville. The unusual name comes from using the first initial of their six kids' names.
She's a sixth generation dairy farmer who has served on the ADANE board for 20 years and is currently chair of the National Dairy Council. If farming and raising six children isn't stressful enough, Audrey was also featured on the reality TV show, Wife Swap, participated in cooking a meal with another reality TV star, and once got to unveil the New York State Fair butter sculpture.
In making the announcement of Audrey's election as Board President, the ADANE shared ten interesting facts about her.
Here are 10 Interesting Facts About Audrey Donahoe:
She is the first female elected to serve as Board President of American Dairy Association North East.
She was elected at a virtual ADANE board meeting on National Ag Day (March 23, 2021) during Women's History Month.
The name of her Clayville, N.Y., farm, Atrass, was created by using the first initial of her six children's names.
She was featured on the popular TV show "Wife Swap" in 2004 when she switched roles with a Tennessee southern belle.
She met fellow reality star Jason Smith, winner of the Food Network's Holiday Baking Challenge, during a 2020 Academy of Nutrition and Dietetics Conference virtual dinner where both cooked the meal.
Her top priority as Board President is sharing the environmental successes achieved by dairy farmers.
She sees her biggest challenge and opportunity as connecting with the Gen Z audience.
Her favorite thing about dairy farming is making sure her cows are comfortable—from providing sand beds to ensuring top quality air ventilation in the barn.
Her favorite dairy moment was unveiling the 2017 Butter Sculpture at the New York State Fair.
Her favorite way to enjoy milk—a thick, frosty milkshake.
Audrey also has her own interesting fact, producing a gallon of milk uses 90 percent less land and 65 percent less water than it did years ago. "These are facts most people don't know."
And a fact from us too, we should be thanking all of our hard working CNY farm families. We've joined with White's Farm Supply and Louis J Gale and Son Feed Mill in Waterville to spotlight them. Tell us about your farm or a farmer you know below.
Atrass Farm in Clayville, NY
Church Built in 1890 Transformed Into Stunning Home