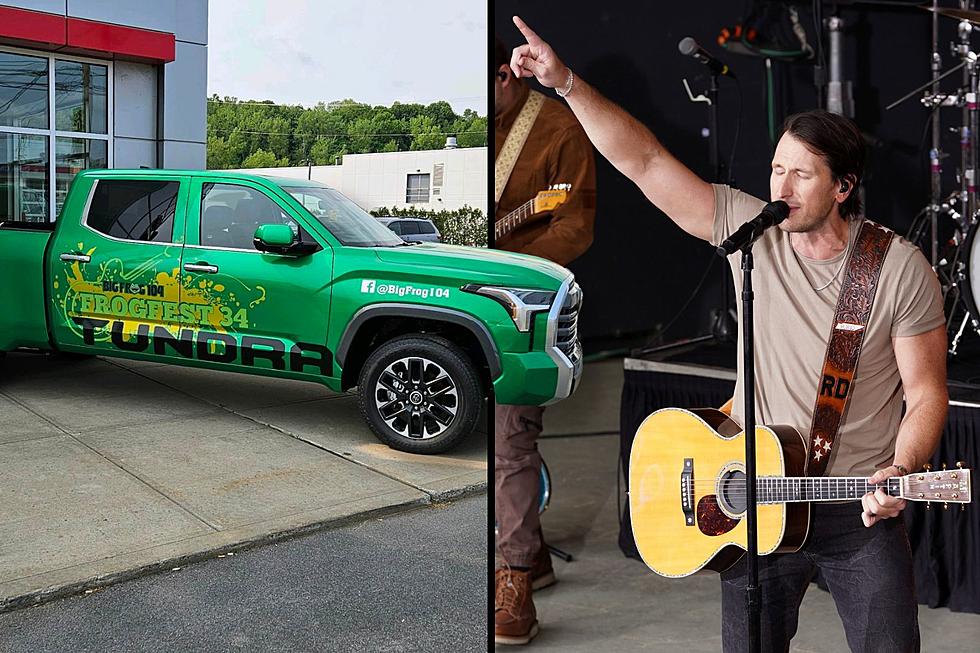 Win FrogFest 34 Tickets for Russell Dickerson by Finding the Secret Toyota Tundra
Getty Images, Laura Neff
We're hitting the road to send you to FrogFest 34. Just find the Toyota Tundra Secret Ticket Stops to win.
Every week we'll take the Toyota Tundra to different locations throughout Central New York. Find us and you'll not only win tickets to see Russell Dickerson headline FrogFest on June 17, but you may also be going in VIP style, with food and non-alcoholic drinks for the day.
Tailgate FrogFest Seats
One lucky winner will get to sit in the back of the Blue Toyota Tundra in the VIP section at FrogFest 34. Thanks to our friends at Standard Heating, Cooling, Insulating.
Secret Ticket Stop Dates
Thursday, May 25 - 11AM - Yorkville
Wednesday, May 31 - 10AM - Barneveld
Thursday, June 1 - 9AM - Utica
Monday, June 5 - 5PM - New Hartford
Wednesday, June 7 - 8:30AM - Marcy
Monday, June 12 - TBD - Rome
Polly & Carl will give clues on where and when the Secret Ticket Stops will be. Be sure to tune in to Facebook to find out each week.
FrogFest 34
Russell Dickerson, one of country music's hottest stars, will headline FrogFest 34, presented by Curtis Lumber on June 17 at the Herkimer County Fairgrounds.
WHAT: FrogFest 34
WHEN: June 17
WHERE: Herkimer County Fairgrounds
GATES: 11:30 AM
MUSIC: 12:00 PM
ENTERTAINMENT
Dickerson will end a day filled with live music from Central New York's favorite local bands and new talent from Nashville. Mike Gossin, formerly of Gloriana, and a New Hartford native, will perform his first solo concert before a hometown crowd.
Russell Dickerson
Mike Gossin (former of Gloriana)
Mark Taylor
Alyssa Trahan
Whiskey Creek
Broken Rule
Grizzly Ridge Band
Grit N Grace
Russell Dickerson Interview
FrogFest 34
FrogFest 34 is brought to you by Toyota, Standard Heating Cooling & Insulating, The Potting Shed Antiques, Busch Light, John's Mobile Homes, Big Apple Music, Bear Arms Gun Shop, Nirvana Water and CABVI.
FrogFest 33 Headliner Dylan Scott "Hooked" The FrogFest Crowd
Performing his two top #1 singles, "My Girl" and "Nobody", as well as "Hooked", see photos from Dylan Scott's performance at FrogFest 33 at the Herkimer County Fairgrounds on Saturday, June 18th.
Did We Catch You at FrogFest 33?
FrogFest 33 started with clouds, sprinkling rain, and county music fans wrapped in blankets and hoodies while in their lawn chairs. The weather, however, did not stop the crowd from having a good time.
Gates at the Herkimer County Fairgrounds opened at 11:30 AM on Saturday, June 18 for FrogFest 33, presented by Curtis Lumber.
Also, keep scrolling to see who was able to meet FrogFest 33 headliner, Dylan Scott
Looking Back at More Than Three Decades of FrogFest Concerts
FrogFest started on a slab of concrete over three decades ago. It's grown into an all-day festival with top-notch Nashville talent. Take a look back at FrogFest concerts in Central New York.
Whiskey Creek Brought The Energy at FrogFest 33
Whiskey Creek, and their high-energy modern country music rocked the stage. See the photos of them on stage at FrogFest 33 at the Herkimer County Fairgrounds.
See The Country Music Fans Who Met FrogFest 33 Headliner Dylan Scott Before The Show
See who was able to meet FrogFest 33's headline performer, Dylan Scott backstage before he performed his debut at FrogFest.