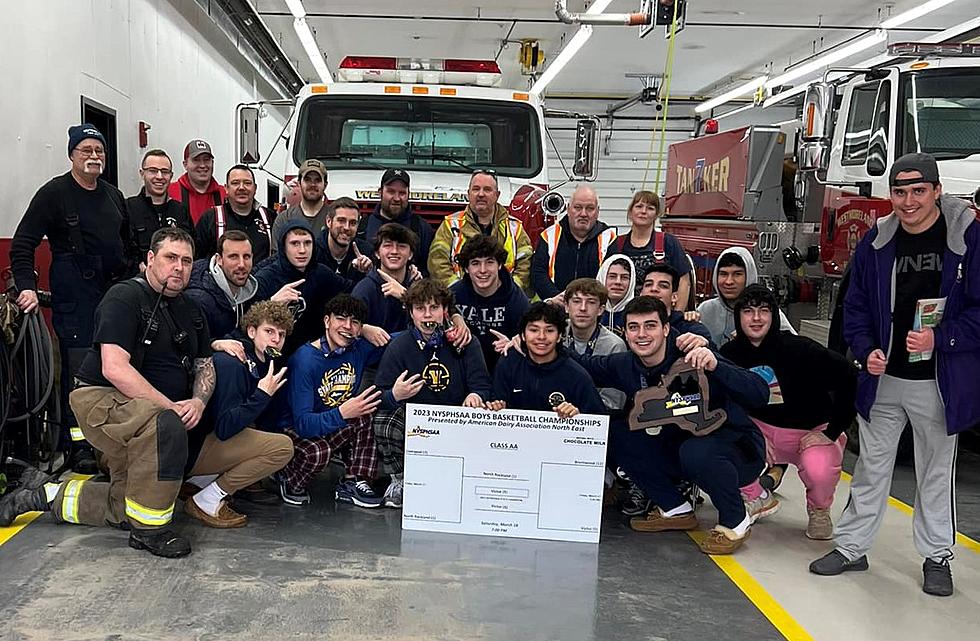 Westmoreland Firefighters Rescue State Basketball Camps After Bus Crash
Credit - Westmoreland Volunteer Fire Department
The New York state basketball champions are safe after their bus crashed on the way home from the game thanks to Westmoreland volunteer firefighters.
A late snowstorm caused all kinds of problems on Sunday, March 19, one day before the first day of spring. A number of accidents were reported on the New York State Thruway. One involved a bus carrying a boy's basketball team that just won the Section AA State Championship.
The boys from Victor School, near Rochester, New York were not injured in the accident near mile market 240. Their bus was a different story. They had to wait at the Westmoreland Fire Department until another bus could arrive and take them home safely.
We were given permission to post their group photo with the fire department to congratulate their Boys Basketball Team for winning the Section AA State Championship.
Busy Day for First Responders
The Westmoreland Fire Department was dispatched to 3 different accidents involving multiple patients within 6 minutes. The first was at Eureka Road and Route 233 where two people had to be taken to the hospital.
The second was the bus accident. The third was a little further down the New York State Thruway at mile marker 249.
26 members of the department responded to assist with these incidents.
The eastbound lanes of the Thruway were also closed between Utica and Westmoreland for a 20-car pileup in whiteout conditions. Luckily, no one was seriously injured.
11 Of The Worst Roads To Drive On During A Central NY Snowstorm
Simple Winter Driving Tips Some Boneheads Forget Every Year
It happens every time it snows. People seem to forget how to drive in winter weather, even in Central and Upstate New York. Here are a few simple tips to make it safer for you and everyone else on the road.