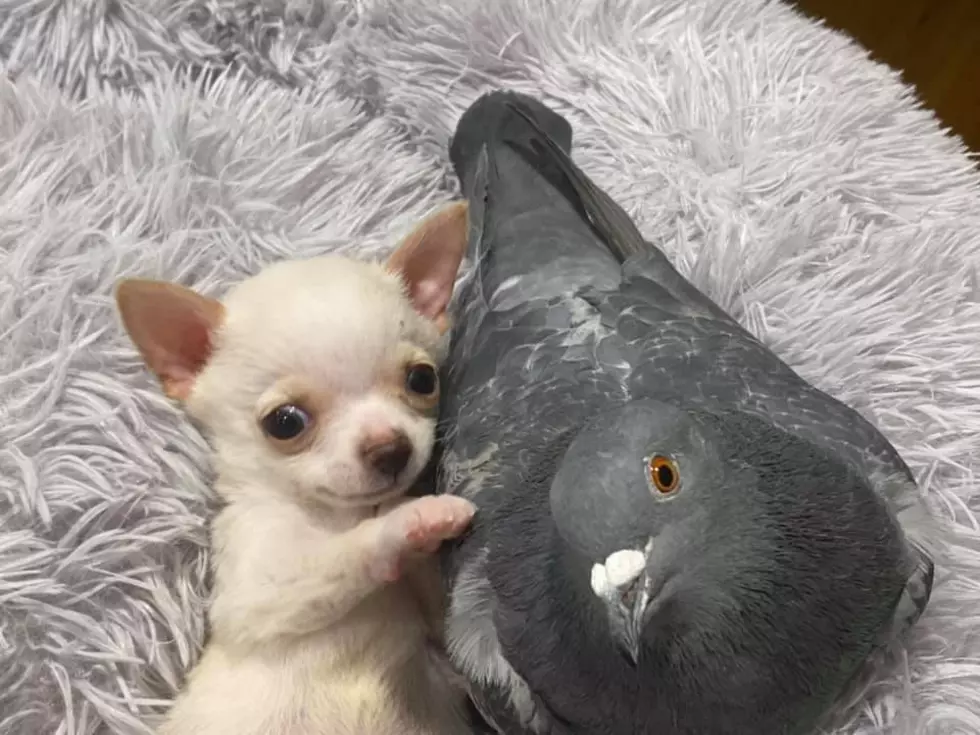 Unlikely Friendship Formed at Rochester Shelter for Special Needs Animals
The Mia Foundation
Prepare your heart. This unlikely pair from Rochester has gone viral all across the world because of their sweet friendship.
Lundy is an 8-week old Chihuahua who can't walk. Herman is a pigeon who can't fly. They are currently at the Mia Foundation, a Rochester shelter for animals with birth defects, and they're stealing hearts after these pictures of them cuddling surfaced.
Herman and Lundy
"I sat Herman on a dog bed and started caring for Lundy, and I decided to carefully put Lundy in the same dog bed next to him," the Mia Foundation's co-founder Sue Rogers told People.
Sue wasn't sure how the two would interact, but as soon as they were in the same bed, Lundy and Herman began to cuddle.
"The way they interacted was so cute," Sue told People.
Gary and Sue Rogers started the Mia Foundation in 2012, where they help animals with special needs and birth defects. Sue told People that Herman has been at the shelter for years and was left flightless likely because of West Nile virus or a brain injury. While he will be a permanent resident, they will eventually be looking to find a home for Lundy, who was born unable to use his back legs. Sue thinks Lundy's mobility issues might be linked to spinal cord damage, meaning he would need to use a wheelchair, but he's not quite ready for that yet.
"He is only 17 ounces, so we will have to wait on the chair," Sue told People.
Enter your number to get our free mobile app
Since 2012, the Mia Foundation has rescued and adopted out more than 1,000 animals. According to People, ten of those animals have become part of "The Forever 10," who travel to local schools with the Rogers to teach kids that it's okay to be born different.
The non-profit is completely run by donations and has seen a huge influx in support from across the world since Herman and Lundy went viral.
"Just from a simple picture of a pigeon and a puppy being shared, we've already brought in over $6,000 in donations," Sue told WHEC.
You can help Sue and Gary continue their mission of helping sweet animals like Herman and Lundy live their best lives by donating to the Mia Foundation here.