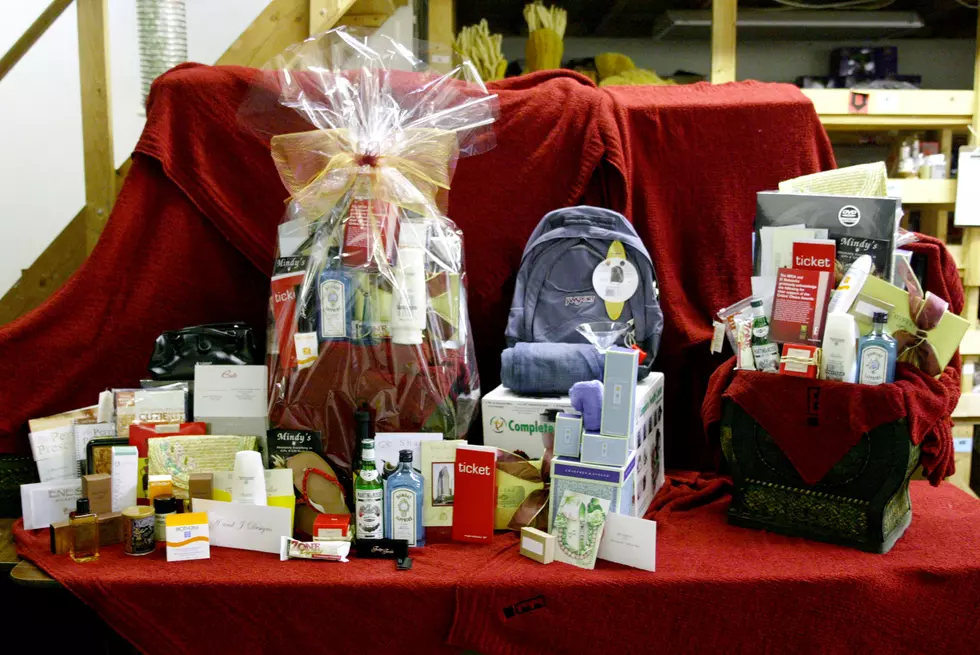 Bring Home Some Sweet Gifts From Polly's All Nighter
(Photo by Frederick M. Brown/Getty Images)
We have quite a list of things to do during Polly's All Nighter this Friday. Yes, there will drinking and dancing, and the drag queens will be there to put on a show for you, but there are a lot of other things you'll be able to check out.
Get a massage, do some shopping, get photos taken, paint a picture... There's A LOT going on during Polly's All Nighter. We all know about the drinks and dancing, and the fun games that some will be playing, but there's so much more to the event. Here are just some of the other things you'll get to see and do while you're partying with all your girlfriends:
They'll have a Harley Davidson Motorcycle on display, that you can actually get a picture of yourself sitting on. They'll also have Harley Davidson merchandise available.
Always wanted to get a tattoo? Or get another one? This is your chance. Inksanity will be doing tattoos on site.
They'll be selling toys, lotions, and other fun and exciting items for the bedroom. Maybe pick up an item or two for a special occasion, or just because.
If you wanted to try a new beverage, but didn't want to spend the money (in case you didn't like it), McCraith will be offering beer samples. Make sure you try the Labatt Premiere Extra Light Lager during the After Party at The Stief.
Kristy's Imagination Photography
Make sure you stop by their photo booth and get some great, funny pictures of you and your girlfriends. This is a wonderful way to get some keepsakes to remember the night.
Souls Tranquility Massage
All that partying is sure to get a little tiring. Get your second wind by stopping by the Souls Tranquility Massage booth and getting a nice and relaxing massage. You'll be ready to get back to partying in no time.
Want something a little special for you and your significant other? Or just yourself? Stop by the Mel's Toys booth to see all the items they have to offer.
What ladies night out would be complete without a little clothes shopping? LulaRoe has plenty of options that are both stylish and comfortable. It's the best of both worlds and you'll get to see a great selection at Polly's All Nighter.
Why not treat yourself to a new bracelet or necklace? Or earrings? Or a beautiful ring? Or pretty much any other fabulous accessory you would like to 'decorate' yourself in.
You can never have too many lipsticks. Stop by the MaryKay Cosmetics booth and pick up some new colors or even a blush or unique eyeshadow. Plus, if you forgot to pack your mascara, you'll be covered.
Lichtman's Wine and Liquor
They'll be at The Stief for the amazing Polly's All Nighter After Party. Make sure you stop by and see them, they'll have different wines and liquor to sample.
They'll have something really cool on display. Stop by the Cutting Edge booth to see "Sugaring," which is their hair removal system.
Stop by this booth to see the latest and best in Tupperware. If your dishes are getting a little worn out, you can pick some up. Plus, you can always tell your friends you got it at Polly's All Nighter.
Healing Spirit Massage Therapy
Get a relaxing massage to take a nice, quick break from all that shopping and partying. Healing Spirit Massage Therapy will have massage stations set up, so make sure you stop by their booth.
This is where the After Party is. We'll be taking shuttles from the Radisson to the Stief where the party will continue all night. The Stief will have music, dancing, and a great atmosphere to keep the party going. Don't forget to try the special drinks from your hostesses of the night, "Polly's Purple Haze" and "Naomi's Mimosa." There will also be other drink specials (if you're really daring try the "Fish Bowls," they are dangerously good).
Oh, and don't forget about "Thirsty Painters." Have a drink or two while painting a beautiful picture that you'll get to take home with you.
It's going to be a crazy, wild night for Polly's All Nighter. Make sure you bring a little extra cash so you can enjoy all the shopping and have a few extra drinks. And don't forget to fill out your vendor card for your chance to win some awesome prizes. The shopping and booth fun starts at 5pm.
And if you haven't gotten your tickets for Polly's All Nighter, you won't be able to experience all this fun. Make sure you book your room today (you MUST book your room through our website only).
---
MORE: Polly Gives Naomi Lynn a Tour of the Stief