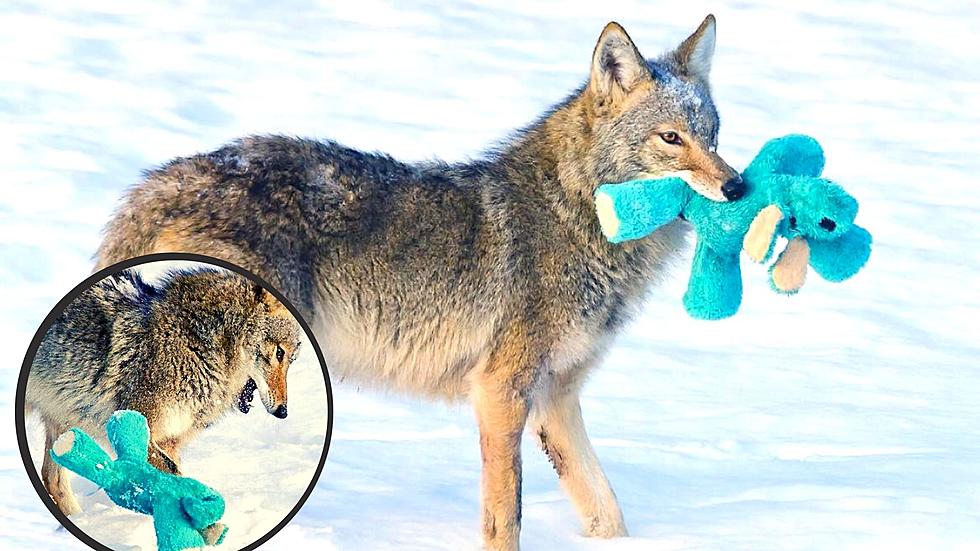 Stunning Photos Capture Toy Thief Coyote Playing Just Like a Dog
Credit - Pamela Underhill Karaz
Stunning photos capturing a coyoting playing like a dog in Trenton Falls, New York have been seen around the world.
One morning over cup of coffee, Pamela Underhill Karaz saw something magical. A coyote playing with a stuffed toy her dogs left in the yard. "It's was just a brief 10 or so minutes," said Pamela. "He picked it up, tossed it in the air, playing with it like a dog."
Pamela grabbed her camera to capture the magical moment that happened in 2013 but is still getting attention today. "His heartwarming story has since traveled around the world many times and is a reminder that all animals are really no different than our pets. They do their best to survive in what is sometimes a very unfriendly world."
Pamela has since moved to Lake Placid, New York where she is stilled blessed with hearing coyotes every night. "It has become my most favorite animal sound and I wake in the middle of the night yearning to hear their howl which especially in winter, I'm almost always rewarded."
Did you know each coyote has their own howl? They are distinguishable from others, and all have their own voices and their own songs. "One more reason why I love coyotes so much," said Pamela who still has a spot in her heart for the toy thief. "I truly think he chose me because he knew my soul would connect with his."
The special connection is becoming a story for all to share. Pamela has been working on turning it into a book. "I've been working on the book now for over 12 hours a day, 7 days a week. So far I have created 26 images to go along with the story. I'm using the actual photos of the Toy Thief and putting him in a painterly background that takes the story to the next level."
The book is designed for both adults and children. "I'm writing and designing it for both audiences," said Pamela. "This is a project I'm so excited about on so many levels, but most importantly to take his story to another level and to reach more people and help show coyotes are sentient beings that deserve our respect, not hatred."
You can see more of Pamela's stunning photography work on her Facebook page.
Stunning Photos Capture Toy Thief Coyote Playing Just Like a Dog
Stunning Photos Capture Toy Thief Coyote Playing Just Like a Dog
LOOK: Exotic Animals You Can Own In New York
Looking for an exotic pet to own legally in New York State? Here is a list of some animals that you can have aside from regular dogs, cats, and farm animals.
Susquehanna Eaglets Learn to Feed Themselves
Momma Eagle teaching the babies how to feed themselves.