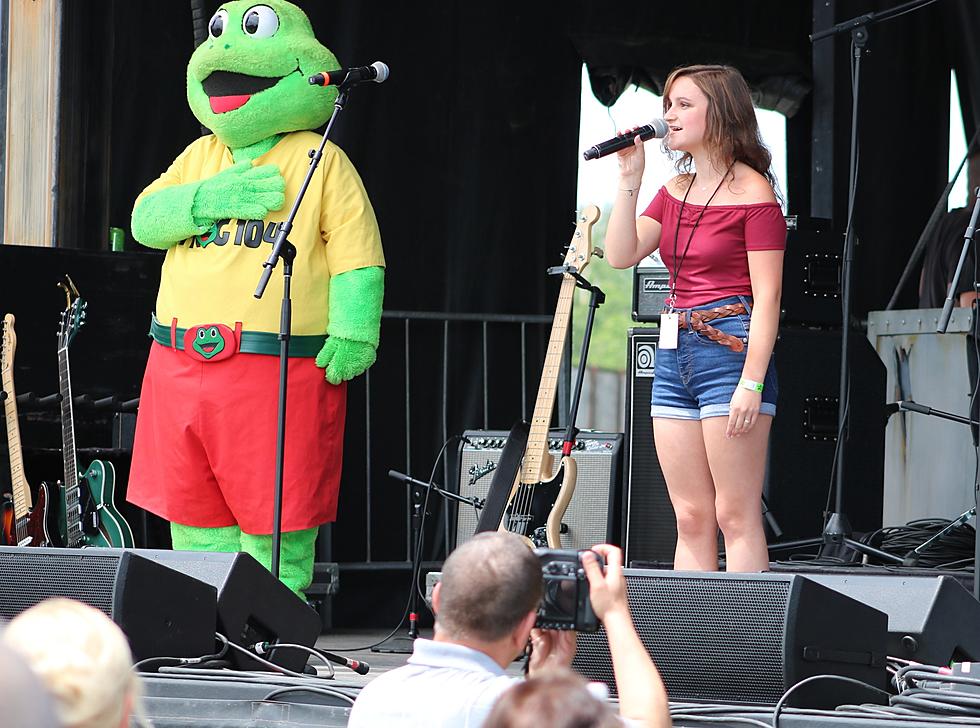 Sing the National Anthem at FrogFest 34 & Salute the Red, White & Blue
TSM
It's a tradition to kick off FrogFest with a salute to the troops and a live performance of the National Anthem. Want to join us and sing the Star-Spangled Banner this year? We'll hook you and one guest up with VIP passes for the day at FrogFest 34 thanks to Clinton Tractor.
FrogFest 34 presented by Curtis Lumber, is June 17 at the Herkimer County Fairgrounds, starring the Russell Dickerson. The National Anthem will start the stage performances at noon and it could be you kicking things off.
Submit a performance of you doing the National Anthem with these guidelines in mind:
Shoot a video with you singing the Star-Spangled Banner. It can be A Cappella or you can play an instrument while singing otherwise there MUST be no music behind your vocals. You can't use OTHER music behind the performance. (it's a legal thing)
Get us your demo video by Sunday, May 28 at midnight.*
*Upload to dropbox.com, email Polly@BigFrog104.com, share it on our Facebook page or use the free Big Frog 104 App. We'll announce the winner on Friday, June 9.
Frogfest 34 Details
Russell Dickerson will headline FrogFest 34 at the Herkimer County Fairgrounds on June 17, presented by Curtis Lumber. Gates will open at 11:30 AM with live music kicking off at 12:00 PM.
WHAT: FrogFest 34
WHEN: June 17
WHERE: Herkimer County Fairgrounds
GATES: 11:30 AM
MUSIC: 12:00 PM
ENTERTAINMENT
Russell Dickerson
Mike Gossin (former of Gloriana)
Mark Taylor
Alyssa Trahan
Whiskey Creek
Broken Rule
Grizzly Ridge
Band Grit N Grace
TICKETS
$30 General Admission
$70 - Standard Insulating VIP tickets include a private cash bar, food, private bathrooms, FrogFest T-Shirt, and special seating.
Kids 10 and under FREE with General Admission (VIP tickets $65)
$40 at the gate
5 Reasons You Need VIP Tickets For FrogFest 34
Why buy VIP for FrogFest 34? There's more than one reason. Here's five.
18 Kid Friendly Day Trips to Fight Boredom This Summer in Central & Upstate New York
Now that school is out for the year it won't be long before the kids are bored. Here are 18 kid-friendly day trips to keep them entertained this summer.
9 Spots to Enjoy Camping & Waterfalls in New York State Parks
Hike by waterfalls during the day and sleep under the stars at night at these 13 New York State Parks.