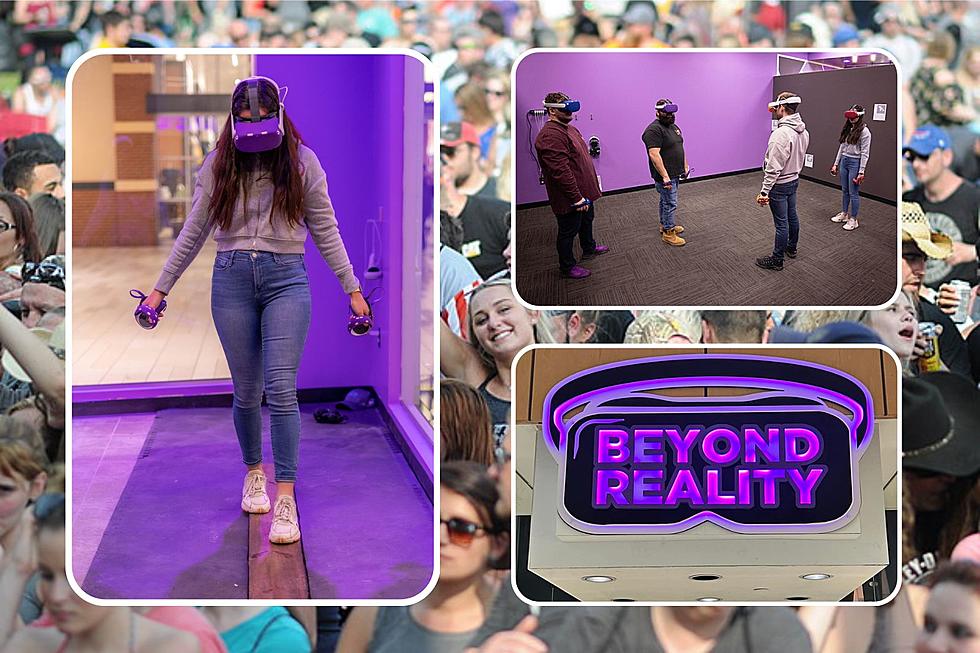 Experience Virtual Reality Like Never Before this Year at FrogFest 34
Credit - Beyond Reality, TSM
If you were looking for yet another reason to come to FrogFest this year... here it is with Beyond Reality!
We're doing everything we possibly can to make FrogFest 34 with Russell Dickerson an experience you'll never forget. In addition to all the fun food, drinks and live music... you know have something new to add to your to-do list.
Beyond Reality
Experience problem solving video games and escape rooms like never before. Beyond Reality offers an exclusive virtual reality adventure for up to 4-players at a time. They have a wide range of games for you to choose from, some that are exclusive to the company.
Ever wondered how well you and your friends would fare if you were surrounded by a horde of zombies? What about escaping a heavily guarded castle and slaying a dragon? It's all possible with Beyond Reality.
Each of the VR content is specifically selected to a provide safe, easy to learn, and non-motion sickness inducing experience.
You'll find them this year as part of the kids village at FrogFest 34! While you're over there, your kids can also take part in other fun activities like face painting, temporary tattoos and our coloring station.
FrogFest 34 - June 17
Gates to the Herkimer County Fairgrounds open at 11:30 AM. The live music kicks off at noon following the National Anthem. Headliner Russell Dickerson will take the stage at 6 PM.
Tickets can be purchased at Price Chopper/Market 32 locations in Utica, Rome, and New Hartford, or online below.
WHAT: FrogFest 34, presented by Curtis Lumber
WHEN: June 17
WHERE: Herkimer County Fairgrounds
GATES: 11:30 AM
MUSIC: 12:00 PM
ENTERTAINMENT
Russell Dickerson
Mike Gossin
Mark Taylor
Alyssa Trahan
Whiskey Creek
Broken Rule
The Grizzly Ridge Band
Grit N Grace
National Anthem
TICKET PRICES
$30 General Admission
Kids 10 and under FREE with General Admission
$40 at the gate June 17
Did We Catch You at FrogFest 33?
FrogFest 33 started with clouds, sprinkling rain, and county music fans wrapped in blankets and hoodies while in their lawn chairs. The weather, however, did not stop the crowd from having a good time.
Gates at the Herkimer County Fairgrounds opened at 11:30 AM on Saturday, June 18 for FrogFest 33, presented by Curtis Lumber.
Also, keep scrolling to see who was able to meet FrogFest 33 headliner, Dylan Scott
Whiskey Creek Brought The Energy at FrogFest 33
Whiskey Creek, and their high-energy modern country music rocked the stage. See the photos of them on stage at FrogFest 33 at the Herkimer County Fairgrounds.
National Anthem Winner, Krystal Lee Takes The Stage and Broken Rule Kicks Off FrogFest 33
Broken Rule made their FrogFest debut and brought their energy and kicked-off FrogFest 33 at the Herkimer County Fairgrounds. See the photos of them on stage:
FrogFest 33 Headliner Dylan Scott "Hooked" The FrogFest Crowd
Performing his two top #1 singles, "My Girl" and "Nobody", as well as "Hooked", see photos from Dylan Scott's performance at FrogFest 33 at the Herkimer County Fairgrounds on Saturday, June 18th.