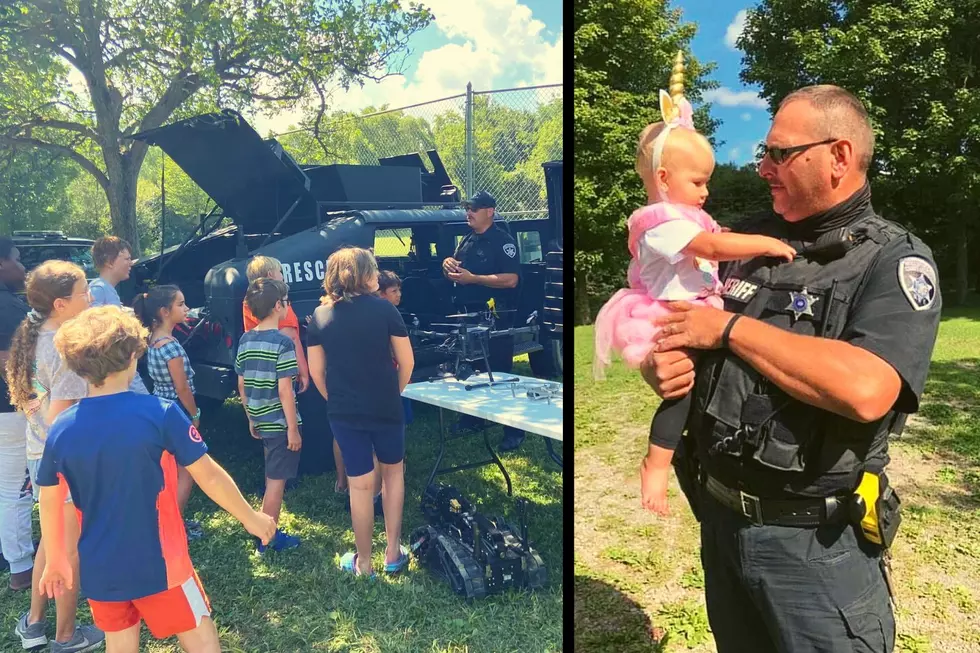 Central NY Deputy Always Finding Way To Lead His Community By Example
Credit - Stephanie Kemp & Madison County Sherriff's Office
Hero's and leaders can come in all shapes and sizes... this one happens to live, work and serve in Madison County.
Meet Christopher Jones
Here's an individual who always goes above and beyond what's required. Deputy Jones is a proud member of the Madison County Sherriff's Office. He's been a member for years, always leading by example and putting others ahead of himself.
Not only can you find him all over the county on patrol, but he also always takes the opportunity to educate the next young leaders of New York State. Members of his office say Jones' is extremely hard working and dedicated to protecting the people of Madison County.
Mr. Jones goes above and beyond for the people of Madison County, plus some. He deserves a gold medal for everything this deputy does and goes through.
Thank you, Chris for all that you. We all understand your line of duty is difficult, especially through recent years. You serve as a prime example of what law enforcement should be, inspiring all those who follow.
Do you know a first responder that deserves to be recognized? Tell us about someone who should be honored in Central New York - a firefighter, police officer, EMT, forest ranger, paramedic, DEC officers, military, rescuers, front line workers, or any other person first on the scene.
Include their name, a picture, and why they should be recognized during 'First Responder Friday." We'll honor one first responder every Friday and as a way to say thank you, we'll give them an oil change from Jiffy Lube on Commercial Drive in New Hartford and a Bundt cake from Nothing Bundt Cakes.
The 5 Deadliest Tornados In New York State History
Here is a look at the 5 deadliest tornados in New York's history since 1950 according to
NewYorkDataBases.com
16 of Upstate New York's Best Adirondack and Catskill Mountain Diners
There are well over 100 diners spread all over Upstate New York. For those of us who live "close" you just can't beat the diners you will find when traveling Upstate's mountain regions: the Adirondacks and the Catskills.
Here are 16 little diners in these mountains that are worth keeping your eye out for when your stomach rumbles.
(Note: "A" denotes Adirondacks; (C) denotes Catskills)
Scuba Divers Amazing Finds Under the Sea in Lake George
You won't believe what a pair of scuba divers found at the bottom of Lake George.
Did You Know?? 16 Little Known Museums in Upstate New York You Must See!
Is there a museum to almost everything in Upstate New York? Yes, we think so. Check out this incredible list!
21 Of The Most Famous Foods Created In New York