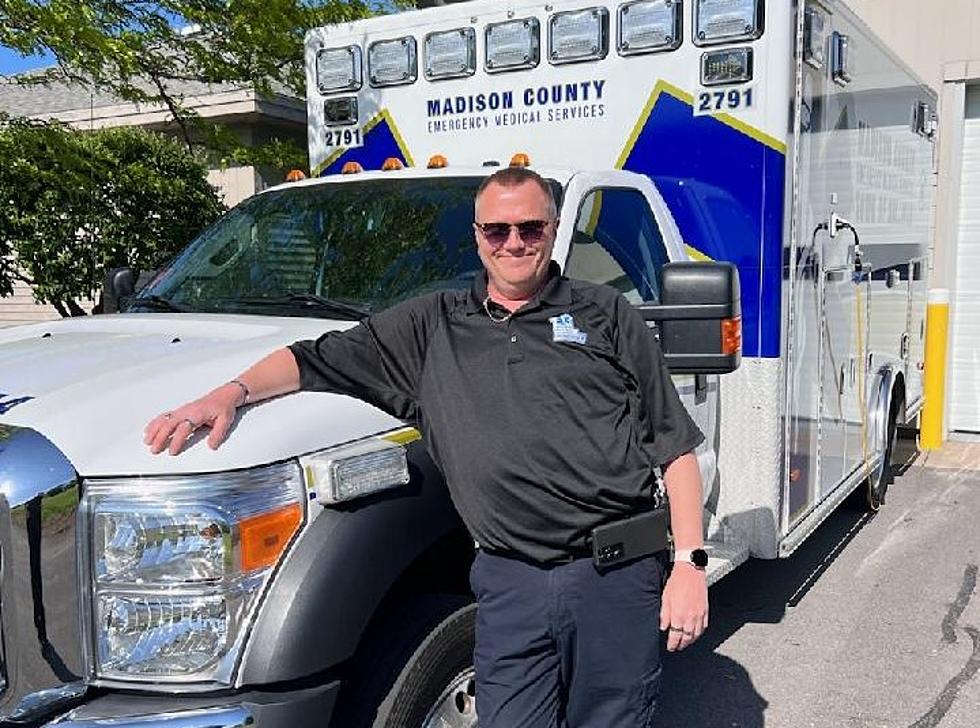 Heroic First Responder Has Been Saving Lives in CNY For Over 30 Years
Credit - Jared Kirstein
Saving lives is a way of life for one Central New York First Responder who's been a pillar in his community for more than 30 years. Recognition for everything he's done is long overdue.
Meet Nelson Halladay
Meet Nelson Halladay. He's been saving lives in his community for 30 years.
Halladay lives in Oneida and is a full-time paid EMT who currently works at Vineall Ambulance, Greater Lenox Ambulance, and Madison County. If that's not enough, he's also a volunteer firefighter.
Pillar in the Community
Jared Kirstein met Halladay by chance. He came upon an accident 12 years ago and the two have been best friends ever since. "My kids call him Uncle Nelson."
Kirstein isn't the only one who considers Nelson family. Everyone in the community knows him and loves everything he does. Kirstein believes Nelson has never gotten the true recognition he deserves for being a pillar in the community for over 30 years.
He's willing to go above and beyond no matter how tired he is. He's 100% prepared 100% of the time in firefighting and EMS.
Nelson is the one person who can always be counted on whenever an emergency arises. From the calls he's taken to the lives he's saved, Kirstein says the community would be lost without Nelson.
We honor Nelson as our First Responder of the week for First Responder Friday and thank him for all his sacrifices he makes for this community.
Nominate a First Responder
Do you know a first responder that deserves to be recognized? Tell us about someone who should be honored in Central New York - a firefighter, police officer, EMT, forest ranger, paramedic, DEC officer, military, rescuer, front-line worker, or any other person first on the scene.
Include their name, a picture, and why they should be recognized during 'First Responder Friday." We'll honor one first responder every Friday and as a way to say thank you, we'll give them a Bundt cake from Nothing Bundt Cakes.
15 Of New York State's Most Wanted Criminals- November 2023
Below are individuals wanted by the New York State Department of Corrections and Community Supervision's (DOCCS) Office of Special Investigations who have been designated as its
Most Wanted Fugitives
. They should be considered armed and dangerous. This list is current as of 11/01/2023:
NEVER attempt to apprehend a fugitive yourself. If you have information on the location of any of these fugitives, you can contact OSI 24 hours a day / 7 days a week to report it. All leads and tips are treated as confidential information.
If an immediate response is necessary, such as you see the wanted person at a location, please call "911" and report it to the police.
Gallery Credit: Dave Wheeler
Tornado Rips Through Upstate New York Ski Resort
See the damage Mother Nature left behind at Snow Ridge Ski Resort in Turin, New York.
Gallery Credit: Credit - Polly McAdams
23 CNY School Mascots That Will Have to Change Name
There are several schools in Central New York that will be required to change their team logos and mascots after the state school board voted to eliminate Native American names.
Gallery Credit: Credit - Polly McAdams
44 of Biggest Earthquakes to Shake New York State
New York is no stranger to earthquakes. There have been 44 to hit the state with a magnitude of 3.0 or higher.
Gallery Credit: Credit - Polly McAdams
13 Worst Places to Live in New York State
From high crime and unemployment rates to a lack of entertainment, here are the 13 worst places to live in New York state, according to
Moneyinc.com
.
Gallery Credit: Credit - Polly McAdams