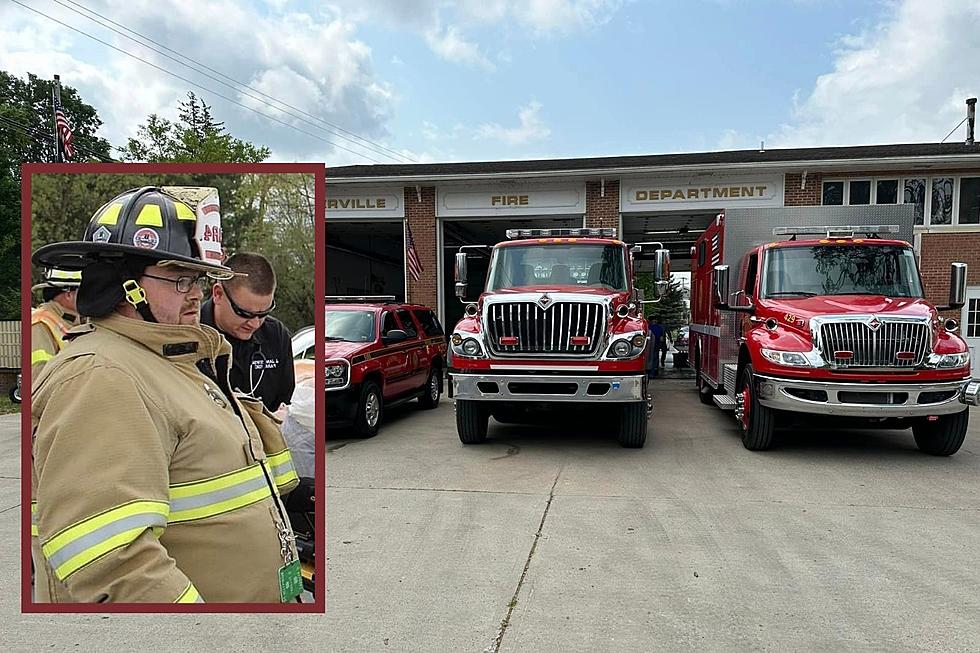 Volunteer Firefighter Keeps Memory of Former Firefighter Alive in All He Does
Credit - Nathaniel Parry/Waterville Volunteer Fire Department/Facebook
Being a volunteer firefighter is about so much more than just fighting fires. Our First Responder of the Week is living proof.
Meet Daniel Friebel
Daniel Friebel lives his life as a fireman. He went to Schenectady County for fire technology before moving back to where he grew up in Waterville New York to be an integral member of the Fire Department. He has worked his way up in the department, representing many positions over the years.
Friebel's helps when no one else is available and is always a call away if anyone needs him.
Redoing Firehouse
The firehouse suffered serious water damage and Friebel's nephew Nathaniel Parry says he spent many hours on his own time redoing the upstairs, building cabinets, a new bar, and saving pieces of history.
There was a lots of sweat, tears and frustration, putting his own ideas into place and setting it up so it was once again functional and useful.
Keeping Memory Alive
From representing his fire department in parades, or golf tournaments, Friebel keeps the memory of his fellow friend and firefighter Jerky alive in all he does.
Follow in Footsteps
Friebel also works full-time at FedEx and is the most loving father to his kids, two cats named Stan and Sullivan.
Parry says he's also the greatest uncle and role model. His dedication and commitment have rubbed off. Parry and his brother now want to us follow in Friebel's footsteps
Nominate a First Responder
Do you know a first responder that deserves to be recognized? Tell us about someone who should be honored in Central New York - a firefighter, police officer, EMT, forest ranger, paramedic, DEC officer, military, rescuer, front-line worker, or any other person first on the scene.
Include their name, a picture, and why they should be recognized during 'First Responder Friday." We'll honor one first responder every Friday and as a way to say thank you, we'll give them a Bundt cake from Nothing Bundt Cakes.
15 Of New York State's Most Wanted Criminals- November 2023
Below are individuals wanted by the New York State Department of Corrections and Community Supervision's (DOCCS) Office of Special Investigations who have been designated as its
Most Wanted Fugitives
. They should be considered armed and dangerous. This list is current as of 11/01/2023:
NEVER attempt to apprehend a fugitive yourself. If you have information on the location of any of these fugitives, you can contact OSI 24 hours a day / 7 days a week to report it. All leads and tips are treated as confidential information.
If an immediate response is necessary, such as you see the wanted person at a location, please call "911" and report it to the police.
Gallery Credit: Dave Wheeler
Tornado Rips Through Upstate New York Ski Resort
See the damage Mother Nature left behind at Snow Ridge Ski Resort in Turin, New York.
Gallery Credit: Credit - Polly McAdams
23 CNY School Mascots That Will Have to Change Name
There are several schools in Central New York that will be required to change their team logos and mascots after the state school board voted to eliminate Native American names.
Gallery Credit: Credit - Polly McAdams
44 of Biggest Earthquakes to Shake New York State
New York is no stranger to earthquakes. There have been 44 to hit the state with a magnitude of 3.0 or higher.
Gallery Credit: Credit - Polly McAdams
13 Worst Places to Live in New York State
From high crime and unemployment rates to a lack of entertainment, here are the 13 worst places to live in New York state, according to
Moneyinc.com
.
Gallery Credit: Credit - Polly McAdams