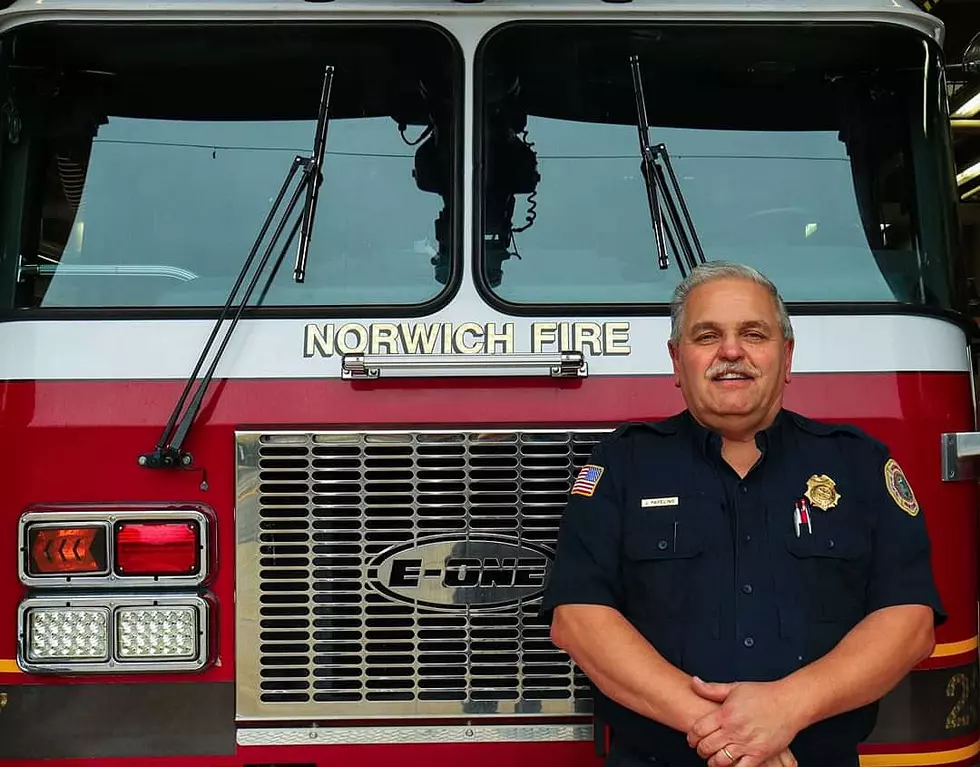 Fire Chief Quits Full Time Job to Serve His Community
Credit - Danielle Papelino
There is commitment, and then there is over 40 years of faithful dedication.
Meet Jan Papelino
Jan has been a long-time member of the City of Norwich Fire Department. His daughter Danielle said he has been a volunteer for as long as she can remember, and he was never afraid to sacrifice his personal time, or sleep for that matter, to help the community.
When I was young I remember him getting up in the middle of the night for calls that would come in to go and help a community member in need.
After volunteering for most of his life, Jan quit his full-time job at George Rider Hook & Ladder Company to serve his community as Fire Chief, a position he has held for almost 5 years now.
Ensuring that the residents of Norwich are taken care of is his top priority, and he makes certain that his crew has proper training along with a strong work ethic to guarantee this. To Jan this goes beyond just duty. Selflessly running headfirst into danger to ensure the safety of others and helping his community is Jan's passion.
His passion for what he does shows in his commitment to helping others and sacrificing his own personal time to ensure others are taken care of whenever duty calls.

 
Nominate a First Responder
Do you know a first responder that deserves to be recognized? Tell us about someone who should be honored in Central New York - a firefighter, police officer, EMT, forest ranger, paramedic, DEC officer, military, rescuer, front-line worker, or any other person first on the scene.
Include their name, a picture, and why they should be recognized during 'First Responder Friday." We'll honor one first responder every Friday and as a way to say thank you, we'll give them a Bundt cake from Nothing Bundt Cakes.
CNY Veteran Battling Stage Four Cancer Gets Recognized During Yankees Spring Training
Joe Maneen is Central New York Veteran fighting an aggressive form of Stage 4 cancer. Take a walk through Joe's day as he gets honored by the New York Yankees down in Tampa during Spring Training.
Watch the Progress! Utica Zoo Building New Visitor Center
The Utica Zoo has been working hard to renovate the Visitor Center. Take a look at the monthly progress updates the zoo has been posting since June.
16 Ways to Celebrate "National Chocolate Day" in Upstate New York (Chocolate Wine??)
Although October 28th is the official National Chocolate Day in America, lets face it. Every day is national chocolate day for most of us! Right?
Here are 16 ways to celebrate this delicious holiday in Upstate New York. Chocolate wine! Chocolate covered potato chips! Chocolate pizza! And so many more to explore!
Inside Farmstead 1868 & Lavender Fields
Take a tour of Farmstead 1868 in Fenner, New York where lavender fills the fields.
Wow! Look At This! "A Star is Born" 23 Celebs Who Were Born in Upstate New York