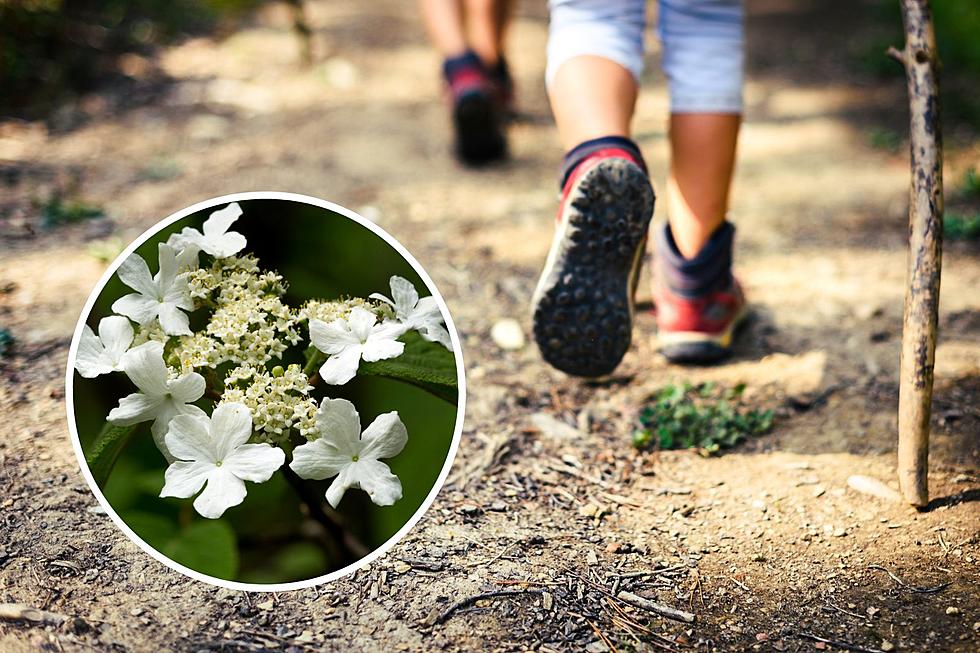 Upstate NY Flower Turning a Fun Hiking Trip, Into a Trip to the Doctor
Credit - Canva
If you're out for a hike, you better stay on your toes around this plant.
Outdoor enthusiasts take note of everything nature has to offer when out on a hike. As beautiful as most plants seem, they do have their downsides. This one included...
Witch-Hobble Flower
Though these flowers may look enchanting, they do tend to be a little bit wicked. Witch-hobble (viburnum lantanoides) are a native shrub in New York State forests. Now is the time of the year when they bloom, sprouting softball sized clusters of flowers.
The cream-colored, tiny flowers are then also surrounded by larger, white flowers. They're a favorite of pollinators, inviting a variety of different insects like butterflies, bees, and moths to take in their beauty.
Witch-hobble flowers are beneficial to other animals in the forest as well, serving as a food source for other wildlife all year long.
Watch Out!
The witch-hobble is enticing, you must watch out for it's darker side. Many refer to the flower as the "hobblebush", due to it's tendency to trip up hikers on the trail.
The bush will often create dense patches of overlapping branches, sometimes crossing over the occasional hiking trail. Those who have gotten their boot stuck in the branches typically haven't forgotten. Especially if they've ended up on the forest floor because of it.
So next time your hiking in the woods... watch out! The last thing you want is to ruin a beautiful day in the Adirondack's with a trip to the hospital.
9 Spots to Enjoy Camping & Waterfalls in New York State Parks
Hike by waterfalls during the day and sleep under the stars at night at these 13 New York State Parks.
Breathtaking Views of Niagara Falls-Named One of The Most Beautiful Waterfalls in the World
Travel and Leisure
magazine named the top 21 most beautiful waterfalls in the world and Niagara Falls made the list. Niagara Falls consists of the Bridal Veil Falls on the New York side or the American Falls and the Horseshoe Falls across the river on the Canadian side. They are worthy of being on this list. I have visited many times in all different seasons and it is truly breathtaking. Just think one of the seven wonders of the world and the most beautiful waterfalls in the world is right here in New York state!
New York in a Hazardous Orange Haze from Fires in Canada
While many of us in Upstate New York dealt with smog and smoke on Tuesday from the Canadian wildfires, take a look at what residents of New York City dealt with throughout the day today.
According to reports, air quality downstate was the worst since at least the 1980s Wednesday afternoon as a thick wave of orange smoke and ash left many from New York "hazed and confused."
On a normal day in New York, the air index is about 100.
Officials said the city's air quality index had risen to 353 out of 500 and was considered to be "very hazardous".
And many of these images capture the reasons why.
8 Types of Ticks Biting in New York This Season
Tis the season for ticks. Here are the 8 types of ticks you'll find biting in New York.
7 Fabulous Pools You Can Rent By The Hour In Upstate New York
Temperatures are starting to soar and it's officially swim season in Upstate New York. Did you know you can actually rent a pool for the day to use?
There's an app/website called
Swimply
that allows people with private pools to rent them out by the hour to people who want that private pool experience without having to hassle with the maintenance of pool ownership.
Here's 9 in the Central and Upstate New York region: