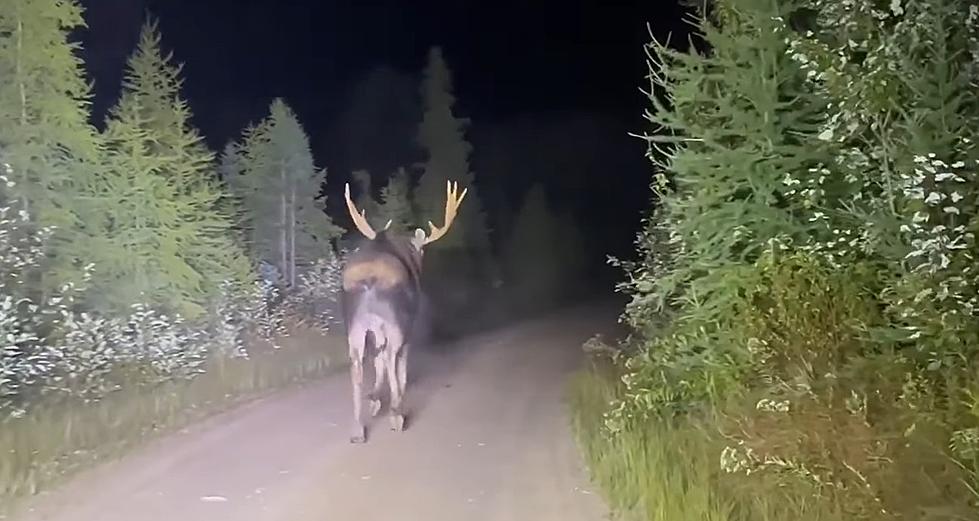 Watch Majestic Moose Take a Stroll Down Upstate New York Road [VIDEO]
Credit - Birch's Lakeside/Facebook
Talk about getting up close and personal. You don't get much closer to a moose than this.
A moose was spotted 6 miles Northeast of Cranberry Lake, New York trotting down the road. One driver followed closely behind and captured video.
Fall Foliage Season
If you've ever dreamed of seeing a moose, this is the time of year to do it. Plus it's fall foliage season in the Adirondacks, which is stunning. If you're lucky enough, you'll get two for the price of one.
Moose in Central New York
Moose aren't uncommon in the Adirondacks but seeing one in Central New York is rare. This time of year they are wandering further than normal during the breeding season, or rut.
The community came out to see a moose hanging out at the park in Westernville, New York. It traveled by the fire department onto the soccer field where it didn't seem to mind all the attention.
Read More: Curious Moose Peers In Upstate NY Window
The moose even seemed to be posing and smiling for a few pictures.
Fulfilling Dreams
Jessie Burns was one of the lucky ones who captured the special moment. "Finally, I've waited forever to see a moose in the wild," she said as she sat with her neighbors and took pictures.
Read More: Best Place to See Moose in New York
Shelly Privett spent her entire day watching. "I got nothing done on my day off but I watched a baby Moose for a couple of hours. My favorite animal ever."
See a gallery of shots of a number of residents who were lucky enough to score on the rare moment.
Community Comes Out to Catch Moose on CNY Soccer Field
A moose wandering through a Central New York park brings out the whole community.
Gallery Credit: Credit - Polly McAdams
Moose on Move in Barneveld
This isn't the first moose to be seen out of the Adirondacks. One wandered across West Steuben Road in Barneveld a few days ago.
A car pulled over to the side of the road so the passengers could get out and take their own shots to capture the majestic moment.
Report Moose
If you see a moose, you're asked to report it to the New York Department of Environmental Conservation (DEC). They are conducting a multi-year research project to obtain information on the status of New York State's moose population, the health of the moose, and the factors that influence moose survival and reproductive rate.
Read More: Hilarious Video on How Long it Takes Deer to Grow Into Moose
If you see a moose, never approach it. Bull (male) moose can be very aggressive, especially in late Fall during the rut.
Moose on Loose Strolls New York Beach
A moose was captured wandering Port Henry beach before heading back home to the forest where she belonged. An employee preparing to open the gates captured the majestic animal early one morning.
Gallery Credit: Credit - Polly McAdams
Fisherman Gets Up Close Look at Majestic Moose in the Adirondacks
Gallery Credit: Credit - Polly McAdams
Hiker Comes Within 5 Feet Of Adirondack Male Moose
Gallery Credit: Credit - Dave Wheeler