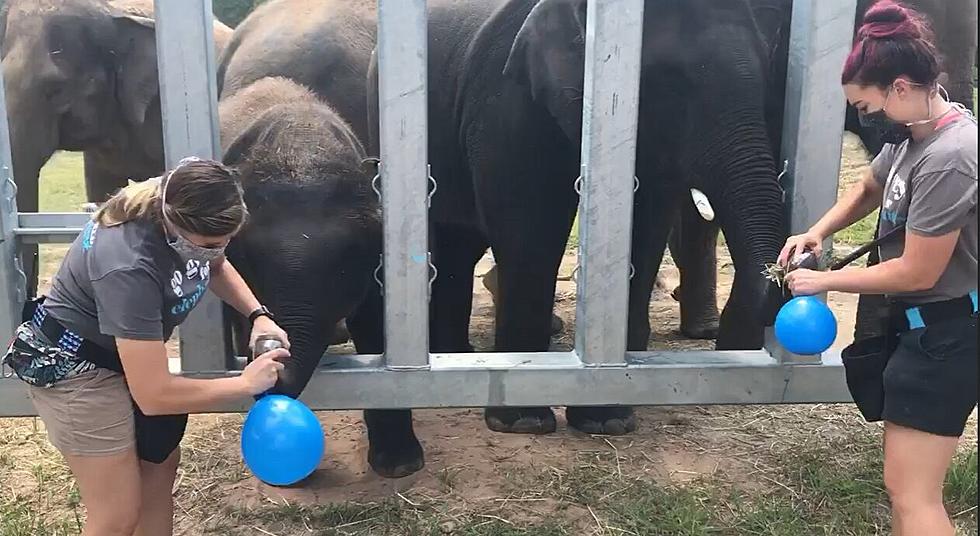 WATCH: Baby Elephants Blow Up Birthday Balloons at CNY Zoo
Rosamond Gifford Zoo via Facebook
Ready for the ultimate elephant content?
Watch as two baby elephants at the Rosamond Gifford Zoo in Syracuse race each other to blow up balloons for older elephants Siri and Romani's birthday party.
5-year-old Batu and 1.5-year-old Ajay are brothers with the same mom and dad, so a good brotherly competition is in their blood. With the help of a couple zookeepers, Batu and Ajay blow air into the balloons in little spurts, getting marshmallows for treats between blows.
In the end, Batu wins the contest by popping his balloon, but the exercise is useful for all of the elephants' care. A zookeeper in the video says that, just like humans, elephants can develop tuberculosis, and by using the "blow" command, keepers perform a saline solution test for tuberculosis on the elephants every year.
In the video's comments, the zoo shared how its keepers train the elephants the blow command.
First we train the elephant to give the keeper their trunk then train them to blow out air. The easiest way to train that is to give them water to blow out and reward and pair with the word blow when they blow out the water.
Pretty neat, right? Elephants sure are intelligent creatures.
August is Asian Elephant Awareness Month, so the Rosamond Gifford Zoo has been posting adorable elephant content all month long.
Check out more videos and keep learning about these amazing creatures all month long on the zoo's Facebook page.
Enter your number to get our free mobile app
KEEP LOOKING: See What 50 of America's Most 'Pupular' Dog Breeds Look Like as Puppies