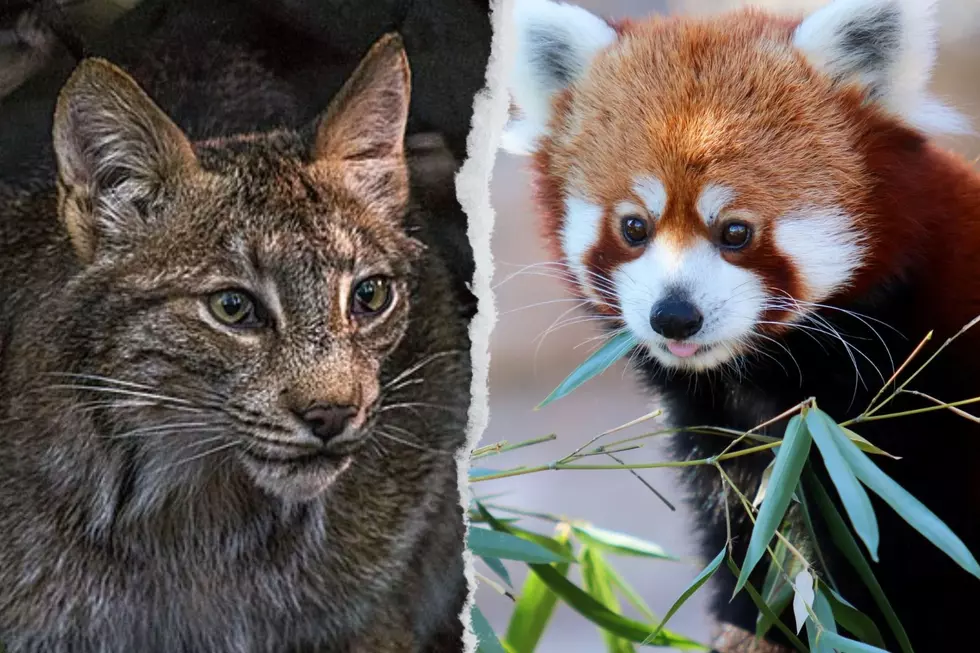 Cast Your Vote! Utica Zoo Electing Their First Ever Pre-ZOO-dent
Credit - The Utica Zoo
It's election time at the Utica Zoo, and it's one you're needed for!
The Utica Zoo is looking to officially name their very first Pre-zoo-dent, and the animals are going wild trying to pick a winner. There are currently five animals in the running, and they need YOU to help choose the best candidate.
The election will decide the Utica Zoo's first animal-leader, who will serve as an animal ambassador and face of the zoo. It's an important position all of the animals are taking VERY seriously.
By visiting their website, you can support your favorite candidate by making a donation to the election campaign. For every $10 donated, your candidate will receive five-extra votes... just like any other election!
The official voting date will take place in-person at the Utica Zoo between February 18th and 20th. A winner will then be decided on February 20th, in order to recognize Presidents Day.
Here's a look at this years candidates...
Brenton - The Canada Lynx
Representing the North Trek Trail, Breton hopes to introduce a policy that will give individuals the ability to flip their day-to-day schedules to a nighttime one, letting their other nocturnal species thrive.
Creamy - The White-Naped Crane
Representing Asian Realm, as the oldest member of the Zoo (41 years), Creamy has spent most of his campaign using his age to relate to other older voters to convince them that taking medications from the keepers is to help them feel better, not worse (though he himself sometimes struggles with this idea as well).
Mei Lin - The Red Panda
Representing Forever Forests, Mei Lin hopes to introduce a policy that will designate nap times in both work and school, as well as enough snack breaks during the day to eat roughly 20-30% of your own body weight in food.
Tasha - The Nigerian Dwarf Goat
Representing Backyards and Barnyards, Tasha hopes to introduce a policy that will deliver more petting and hand-fed food to those that need it in her area – specifically for her and her friends.
Zara - The Hartmann's Mountain Zebra
Representing African Ridge, Zara hopes to introduce a policy that proposes kids should be able to hold more responsibilities at the zoo, gaining a lot of traction with younger voters.
Make your contribution today on their website and support the Utica Zoo!
LOOK: Exotic Animals You Can Own In New York
Looking for an exotic pet to own legally in New York State? Here is a list of some animals that you can have aside from regular dogs, cats, and farm animals.
Inside Abandoned Herkimer Elementary School
Take a step back in time inside an abandoned school in Herkimer, New York where desks and memories are littered with decay.
30 Heartwarming Acts of Kindness to Restore Your Faith in Humanity
Here are 30 heartwarming acts of kindness from Central New York angels that'll restore your faith in humanity.
Celebrate Frozen Yogurt Month at These Upstate New York Favorites!
It is curious that National Frozen Yogurt Day and Month falls in February, isn't it? I mean the icy tentacles of winter usually hold tight this month and maybe the last thing we might desire is a cup of frozen anything. But it is, so let's highlight it. At least we can dream of warm weather coming up right around the corner!
Here is a list of some top frozen yogurt places in Upstate New York. We have tried to stick to mom-and-pop independent stands throughout the region, but some larger ones have snuck onto the list. We recognize the size and popularity of chains like TCBY, Sweet Frog, and others, and they are delicious. So we put one large franchise place on the list as a representative of all the others (Menchie's, which has 500 locations nationwide).
But the others are small, mostly seasonal (unless they are inside) and wonderful. It is amazing how long a lot of these have been around..50, 60 and 80 years!
Oh, and we also put some legendary custard places on this list too, just for fun. We all like ice cream, that is for sure. But sometimes it is only a cup of frozen yogurt or frozen custard that will hit the spot!
Enjoy!
7 Of New York State's Most Iconic Natural Landmarks
We are extremely lucky in New York State that there are several iconic natural landmarks. We wanted to highlight 7 of New York's natural wonders. Check out our list below.