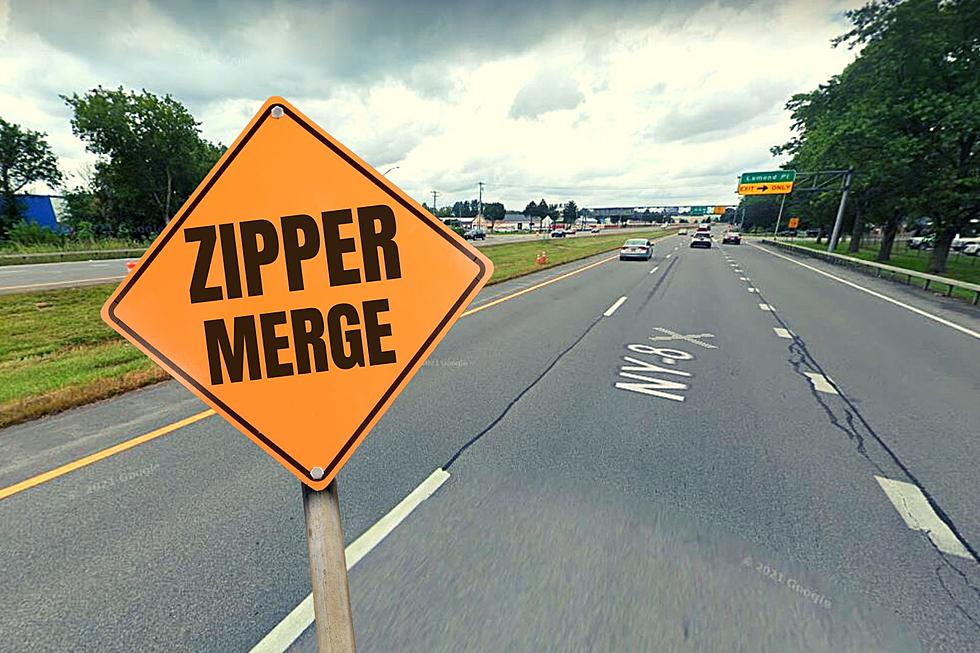 Let Me In! Why People Should Zipper Merge on the Utica Arterial
Google Maps, Canva
If you don't know what I'm talking about, then you're the problem here.
Every Central New Yorker can agree... we are absolutely sick of the constant road construction. Once one road opens, another closes. And even worse, it creates a larger traffic pileup because of how it's constructed.
That's 100% the case when it comes to the arterial in Utica.
For the past few months, we've been reduced to one lane of traffic while they work on 12 North. We all understand why it's being done, but what we don't get is how people don't know how to merge correctly.
Granted, it's right next to the "on ramp" that gave me the most anxiety as a first-time driver. But that doesn't exclude everyone else who chooses to ignore the one thing that'll ease this situation.
The Zipper Merge
It's really a simple concept. You take turns letting each other into the left lane, letting traffic flow more smoothly and avoiding pileups. There's actually a proposed bill in the New York State Senate regarding it.
Requires that a driver in possession of a lane must yield the right of way to all vehicles which properly signal their intent to merge into their lane or are attempting to avoid an obstacle in the road.
But as we know... that's not what's happening.
We instead will have a LONG line of cars in the left lane, moving at a decent speed, but not allowing anyone from the right lanes to safely merge. Those who weren't already in the conga line of cars are now forced to anxiously wait and speed into the lane once they've found some sort of opening.
Aside from anxiety, it's caused numerous accidents and even further delays to commuters. All would be solved if we just used the zipper merge! Or... if the construction wasn't happening at all.
The Outliers
Of course, we will always have those annoying people who disregard everything but themselves. That person who will speed up and merge at the last possible moment. If they went any farther they'd be taking out the cones, but they deserve the car damage for not thinking about anybody else.
Let's help everybody here! Use the zipper merge instead of flying in the left lane with no care in the world. I think you'll see a lot more happier people in this world by doing so.
9 of the Worst Spots to Make a Left-Hand Turn in Central New York
Good luck trying to make a left-hand turn at these spots.
13 Oldest Roads In New York State
Imagine taking a trip down one of 13 of the oldest roads in all of New York State. Where would you travel too?
Here's a look at 13 of the oldest roads in New York State, and when they were built:
An Amazing 100-Mile Road Trip From Canandaigua to Cazenovia!
Having driven thousands of miles writing and researching more than a dozen top Upstate New York travel books, people ask me if I have a favorite areas to visit? This gallery takes a look at that area. The cities, villages, and hamlets that line up like a string of pearls from Canandaigua to Cazenovia, mostly along the northern tips of the Finger Lakes, are a real favorite location for me. It is about a 100 mile trip, and it is filled with history, beauty, great food, and wonderful people. Come along and take the journey with me. Here are 21 places found in 7 different communities along the road that I like to stop at. Have you been to any of these places? They are some of my favorite restaurants, museums, taverns, and historical sites along the way. And some, well, they are just fun!
13 Upstate New York Roadside Oddities You Must Not Miss
We use the term "oddity" loosely here. But these 13 places really, really must be seen by all road warriors passing through Upstate New York. Famous men, graves, businesses, churches, monuments, and more all make a journey around our region so interesting. Keep your eye out for these 13 gems!
Even MORE Unique Roadside Attractions!
In case you're traveling throughout the great state of New York, here are some fun attractions to stop at either to take pictures, learn about history, or just appreciate art!