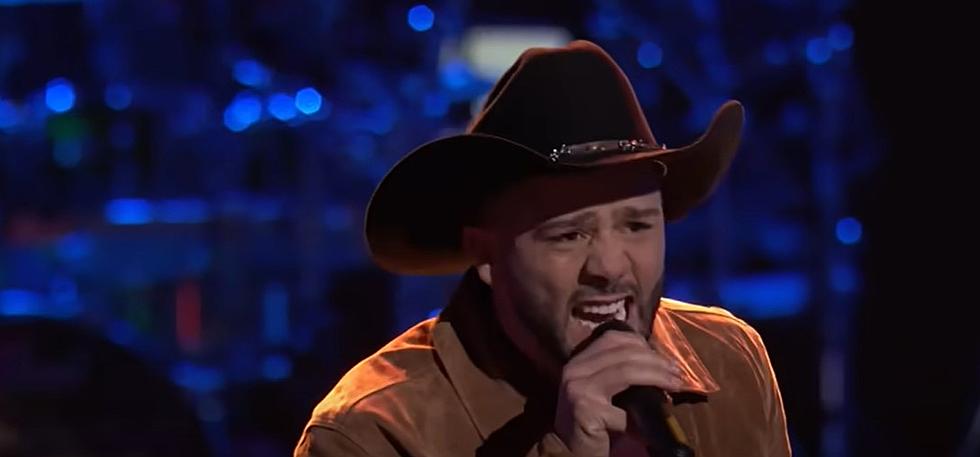 NYS Trooper Tom Nitti's Electrifying Voice Ignites Coaches Feud on 'The Voice
Credit - The Voice/YouTube
A save, a steal, and a knockout.
The knockout rounds have begun on The Voice and New York State Trooper Tom Nitti had quite the night, creating a showdown between Reba McEntire and Gwen Stefani.
Knockout Round
Reba chose Nitti, Jacquie Roar, and Alison Albrecht to face off in the Knockouts. His performance of The Temptations' classic "(I Know) I'm Losing You," showed his country and soul roots.
"You've got the whole package," McEntire said. "I loved your attitude on stage. That little kick thing you do, I like that, too."
Read More: Tom Nitti Battles for Spot on The Voice
Steal & Save
Jacquie Road was named the winner of the Knockout Round but Nitti was the real winner. Reba used her save right before fellow coach Gwen Stefani tried to steal Nitti for her team.
"I think that was just an amazing performance and I'm just so curious to see what you do next. I just want you to know, I'm a fan, and I would love to have you on my team," Stefani said.
The pitch didn't work. Nitti chose to stay with Team Reba who was the only coach who turned her chair during the Blind Auditions.
WATCH: Tom Nitti Blind Audition
It was all part of Reba's master plan. "I had a method to my madness. I knew I wanted Jacquie. But I also wanted Tom."
Watch Nitti's Voice Journey
You can watch Nitti's journey on Season 24 of The Voice when the award-winning reality singing competition airs on NBC on Monday and Tuesday nights at 8.
Read More: Tom Nitti Earns Purple Heart Fighting in Afghanistan 
You can also check out his talents on Facebook, Instagram, TikTok, and Tomnittimusic.com.
6 Other Upstate New Yorkers Who've Appeared On The Voice
Gallery Credit: Vinnie Martone
Famous Singers from The Voice, Then + Now
Ten years (and counting) made a huge difference for many of the most popular singers and stars of
The Voice
.
Blake Shelton
looks noticeably different, but so do some of country music's most memorable performers.
Winners like
Cassadee Pope
and
Danielle Bradbery
wore baby faces when they auditioned during their respective seasons. The same can be said for
Morgan Wallen
, a forgotten castmember from the show who's transformed more than anyone else on this list of
The Voice
stars then and now.
Gallery Credit: Billy Dukes