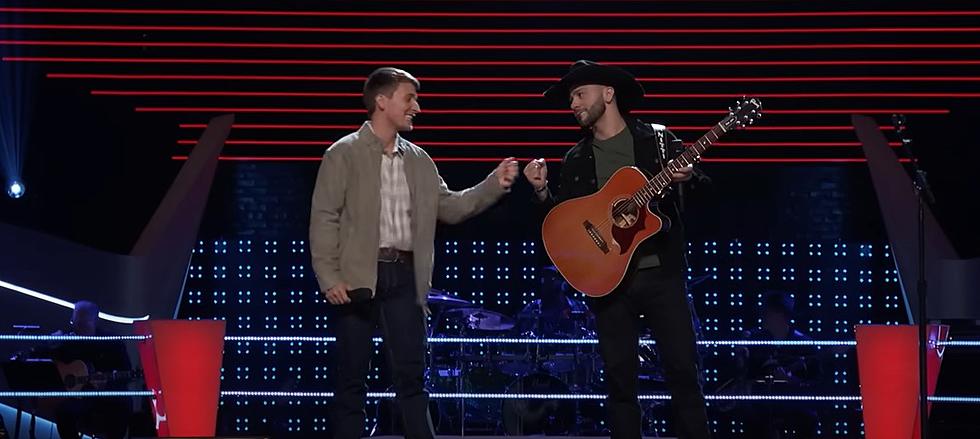 NYS Trooper Tom Nitti Battles for His Spot on The Voice
Credit - NBC The Voice/YouTube
A New York State Trooper battled for his spot on The Voice. How did he do?
New Hartford native Tom Nitti is known for his musical talents in Central New York. From singing the National Anthem at official NYSP events to performing country hits and original music at venues around the area. Now his voice is being heard around the country.
Blind Audition
Nitti put a country spin on Stevie Wonder's "Signed, Sealed Delivered" for his blind audition. Reba pushed her button at the very last second to claim Nitti for her team.
"Something in my gut said turn your chair around. I'm just thrilled to pieces you're on my team. We're going to make beautiful music together."
WATCH: Tom Nitti Blind Audition
Battle Round
Nitti and Dylan Carter battled it out to remain on Team Reba, performing Cody Johnson's 'Til You Can't.'
Read More: Tom Nitti Earns Purple Heart Fighting in Afghanistan 
The performance gave coach Nial Horan 'goosebumps.' He was a fan of Nitti's gravley voice and how relaxed he looked while on stage.
"I appreciate that a lot because I'm shaking in my boots."
In the end, Reba chose to keep Nitti on her team.
Watch Nitti's Voice Journey
You can watch Nitti's journey on Season 24 of The Voice when the award-winning reality singing competition airs on NBC on Monday and Tuesday nights at 8.
You can also check out his talents on Facebook, Instagram, TikTok, and Tomnittimusic.com.
6 Other Upstate New Yorkers Who've Appeared On The Voice
Gallery Credit: Vinnie Martone
Famous Singers from The Voice, Then + Now
Ten years (and counting) made a huge difference for many of the most popular singers and stars of
The Voice
.
Blake Shelton
looks noticeably different, but so do some of country music's most memorable performers.
Winners like
Cassadee Pope
and
Danielle Bradbery
wore baby faces when they auditioned during their respective seasons. The same can be said for
Morgan Wallen
, a forgotten castmember from the show who's transformed more than anyone else on this list of
The Voice
stars then and now.
Gallery Credit: Billy Dukes