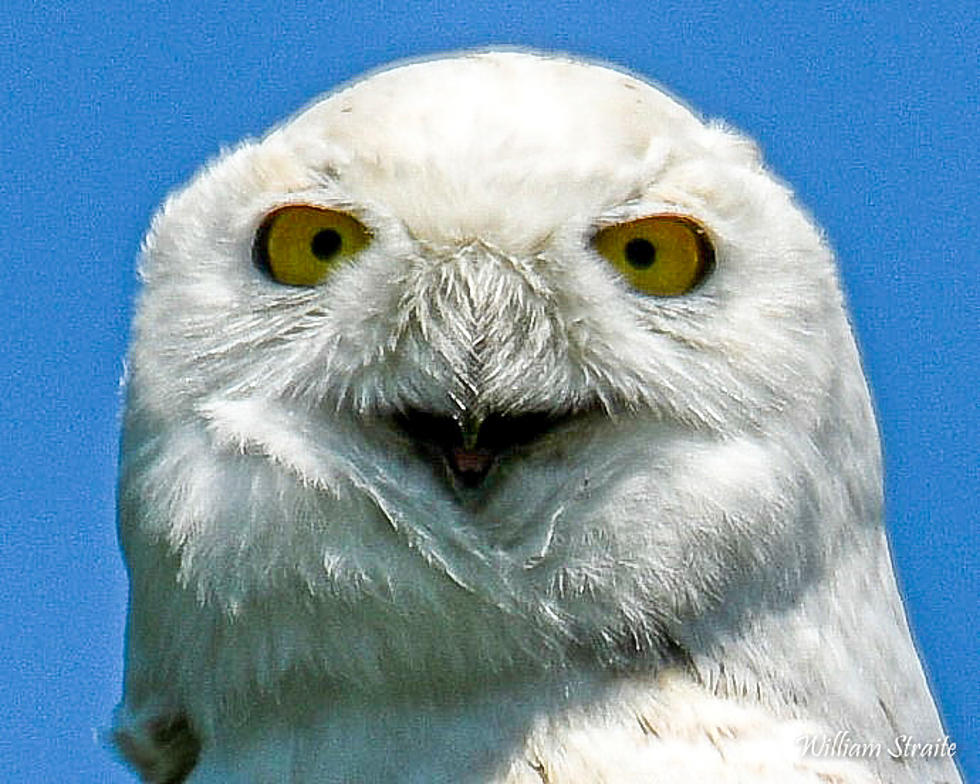 Rare Snowy Owl Likes Central New York So Much it Didn't Return Home in Spring
William Straite
Most Floridians call the Central New Yorkers who spend winter in their state "Snow Birds." But what do you call a Snowy Owl who doesn't return to its Arctic home in spring? Our wildlife photographer, William Straite calls him "Wrongway."
You may recall this past winter, William shared photos of the bird, as a few of them leave their Arctic homes and live in open fields, beaches, and airports around CNY. They find food is more abundant and easier to catch in our less frigid weather.
And can these Owls pack away food, eating upwards of 10-15 voles and other rodents per day.
The Arctic Snowy Owl usually arrives in our area in November and stays for a few months, then heads back home. Why didn't "Wrongway" return to the Arctic? William thinks it may be their ferocious appetite and the ease of finding voles, mice, and other rodents.
If I am correct, it is only a matter of time before more and more Snowy's realize this and begin to settle here, and with that comes the need for mating right here. How awesome that 10 years down the road we could possibly have enough Artic Snowy Owls that they are not such a novelty.
William says the birds aren't anti-social and choose open fields for the brisk winds and easy hunting. In fact, after spending ten hours snapping pics of "Wrongway," he discovered the bird has a lot of personality and appeared to enjoy posing and putting on a show.
he probably got too close to me for his own good. But…. He had me from what appeared to be his first smile and until you see for yourself, you'll never believe the "smile.''
William's photo session with "Wrongway," the Arctic Snowy Owl are below, but indulge me for a moment if you will.
Susan W. Smith Editor of Thousand Islands Life featured William in a lengthy article about his photography. In the article he shares the story of how our relationship began in the middle of a snowstorm in December of last year. As William states, we were already locked down from COVID, been through a Christmas without family, and a political firestorm, it was definitely a dark time for all. I remember seeing his eagle photos for the first time and thinking, "these are so good they look like paintings." I also recall being tentative in asking if he would be interested in sharing the photos with Big Frog. As often happens, you have no idea where the path will end up when you take the first step. I encourage you to read the article and learn more about the man behind the lens.
Arctic Snowy Owl Spends the Summer in Central New York
WIlliam's Photos of Rare Arctic Snowy Owl This Past Winter
Rare Arctic Snowy Owl Visits Central New York
Susquehanna Eaglets Learn to Feed Themselves
Momma Eagle teaching the babies how to feed themselves.