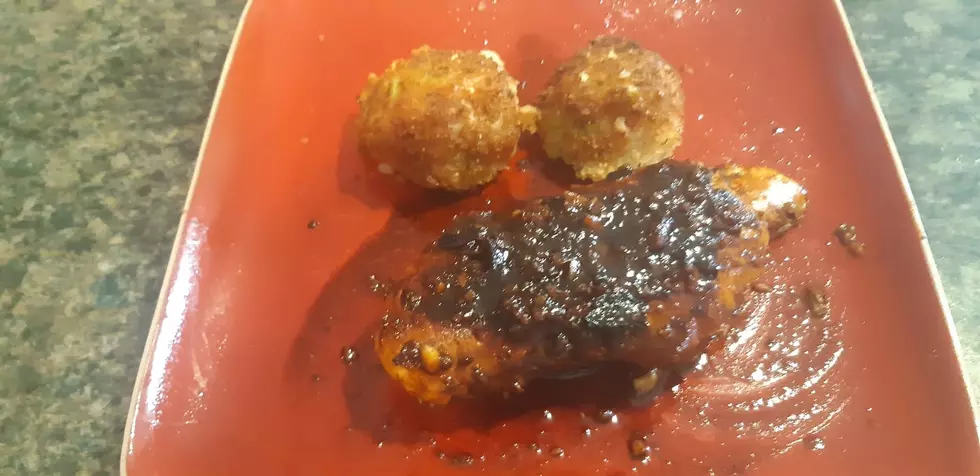 Polly's Cooking Garlicy Sweet Chicken and Potato Cheese Rolls
TSM
The Chaos in the Kitchen continues. Polly is cooking up sweet, garlic chicken and potato rolls.
You'll need a plan ahead a little for this one. Your chicken should marinate for an hour or two in brown sugar, rice/cider/apple vinegar, soy sauce, ketchup, garlic and Worchester sauce - a combination I found and altered a bit from Chef John on Allrecipes.com.
Marinade Ingredients
1/3 brown sugar
1/4 vinegar
1 tablespoon ketchup
1 tablespoon soy sauce
2 tablespoons Worchester
Mix and pour over chicken, pork chops or salmon and put in the fridge. Turn every 30 minutes to evenly coat meat. If you don't have time to turn or even marinate, don't worry, the sauce still works great.
Cook your chicken, chops or even salmon in a pan. Remove when cooked and add the marinade. If you use the chicken, make an extra batch to cook 3-5 minutes or until it thickens. Return meat to pan and baste with sauce.
I found this idea for cheesy potato rolls on a stick on Facebook and thought I'd give it a try. It's basically cheese on a stick, surrounded by a mashed potato, onion, ham mix - although I used bacon instead of the ham, coated in bread crumbs and fried in oil. Sounds easy and delicious. Since I didn't have sticks, I just made cheesy potato balls instead of rolls.
Add a salad or your favorite veg, and dinner is complete.
Be sure to tune into Cooking With Polly every Monday through Thursday at 5pm on the Big Frog 104 Facebook page for more Chaos in the Kitchen that often ends in a mess but usually with easy, tasty recipes too.
If you have a recipe you'd like to see on Cooking with Polly, email Polly@BigFrog104.com.
---
---
KEEP READING: 3-ingredient recipes you can make right now