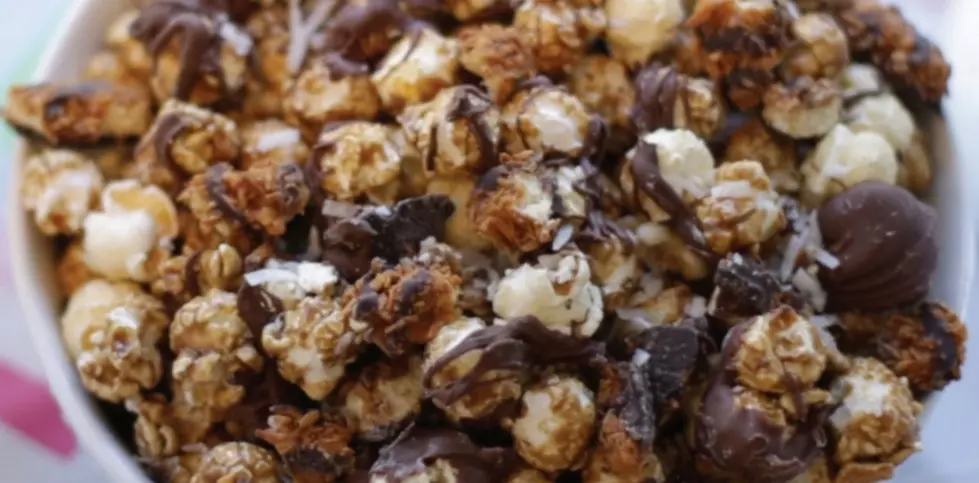 Forget Butter! Add Girl Scout Cookies to Make Samaos Popcorn
Photo Credit - Little Brownie Bakers
Why have plain popcorn when you can have Samoa popcorn?  The Girl Scout cookies take this snack to a whole new level.
You'll need either un-popped kernels or a few bags of microwave popcorn, enough for 10-12 cups of popped corn. Toasted coconut, Samoas cookies, coarsely chopped, chocolate chips, brown sugar, butter, milk, vanilla extract, 2 baking sheets and a big pot.
First pop your popcorn, either on the stove or in the microwave and pour in a big bowl. I had to use a large stock pot to fit it all in.
While your corn is popping, make a caramel sauce by melting 1 cup of brown sugar, 1/2 cup of butter and 1/4 cup of milk. Bring to a boil over medium heat. Cook until thickened, about 2 to 3 minutes. Remove from heat and add 1 teaspoon of vanilla and a pinch of sea salt/kosher salt (a step I forgot). Pour over popcorn.
Add 1 cup of toasted coconut and half of the entire box of chopped Samoas. Spread popcorn mixture onto cookie sheets covered in tin foil or parchment paper. And you'll need to sheets. Bake for 10 minutes.
After taking the popcorn mix out of the over, sprinkle with 1 more cup of toasted coconut and the rest of the chopped Samoas.
Melt about a half cup of chocolate chips in 20 second increments in the microwave, stirring in between, until smooth. Try not to drop them all on the floor like I did.
Drizzle chocolate over the popcorn and wait to eat until the caramel is set and chocolate is hard.
Break into pieces and enjoy.
Need more tasty ideas for those Girl Scout Cookies? Try deep frying them or putting in a air fryer for a little healthier version.
Air Fried Girl Scout Cookies
Fried Samoas Shrimp
Find your favorite Girl Scout cookie at Girlscoutcookies.org. Don't forget to order extra this year. Some for eating out of the box and more for cookie delicious dishes.
Be sure to tune into Cooking With Polly every Monday through Thursday at 5pm on the Big Frog 104 Facebook page for more Chaos in the Kitchen that often ends in a mess but usually with easy, tasty recipes too. You can also catch up on previous Cooking with Polly episodes.
If you have a recipe you'd like to see on Cooking with Polly, email Polly@BigFrog104.com.
LOOK: Here are copycat recipes from 20 of the most popular fast food restaurants in America