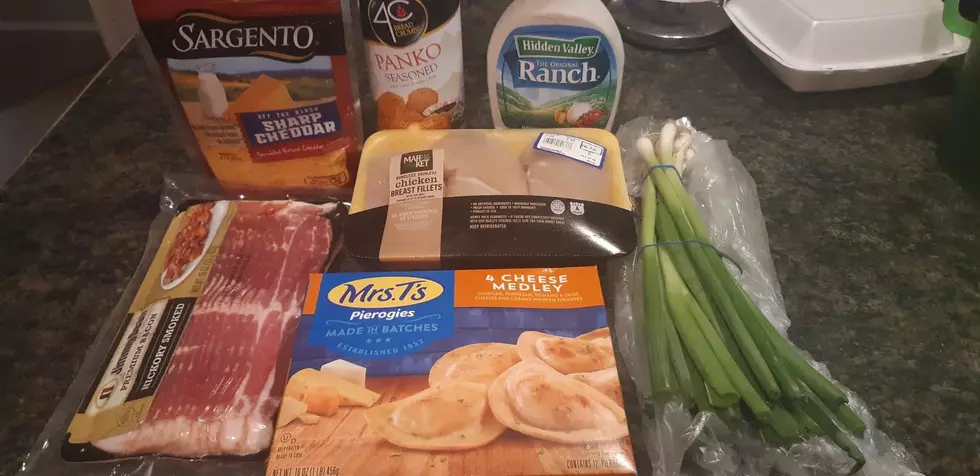 Polly's Cooking a Pierogi Chicken Casserole
TSM
The Chaos in the Kitchen continues as Cooking with Polly returns. She's serving up a Pierogi Chicken Casserole.
This is a fairly easy recipe with items you usually have on hand, other than the Pierogis. You'll need chicken or turkey, green onions or chives for a little color, shredded cheese, bacon bits (because everything is better with bacon), Ranch dressing, alfredo sauce and bread crumbs or crushed chips for a crunch.
Ingredients
Pierogis - any flavor or size
Alfredo sauce - jar or homemade
Chopped cooked chicken - 1 breast for 2 people
Cooked chopped bacon - half package
Ranch dressing mix - or ranch dressing if you don't have the powder mix
Green onions - enough to provide a little color
Shredded cheddar cheese - amount depends on how cheesy you want it
Bread Crumbs - chips, Ritz crackers or friend onions for the topping
Salt & Pepper to taste
Toss everything together in a baking dish and put in the over at 350 for about 35 to 45 minutes.
While it's baking, you can toss a nice salad together to serve on the side. Top with Ranch or your favorite dressing. Mine would be Thousand Islands.
Be sure to tune into Cooking With Polly every Monday through Thursday at 5pm on the Big Frog 104 Facebook page for more Chaos in the Kitchen that often ends in a mess but usually with easy, tasty recipes too.
If you have a recipe you'd like to see on Cooking with Polly, email Polly@BigFrog104.com.
---
---
KEEP READING: 3-ingredient recipes you can make right now