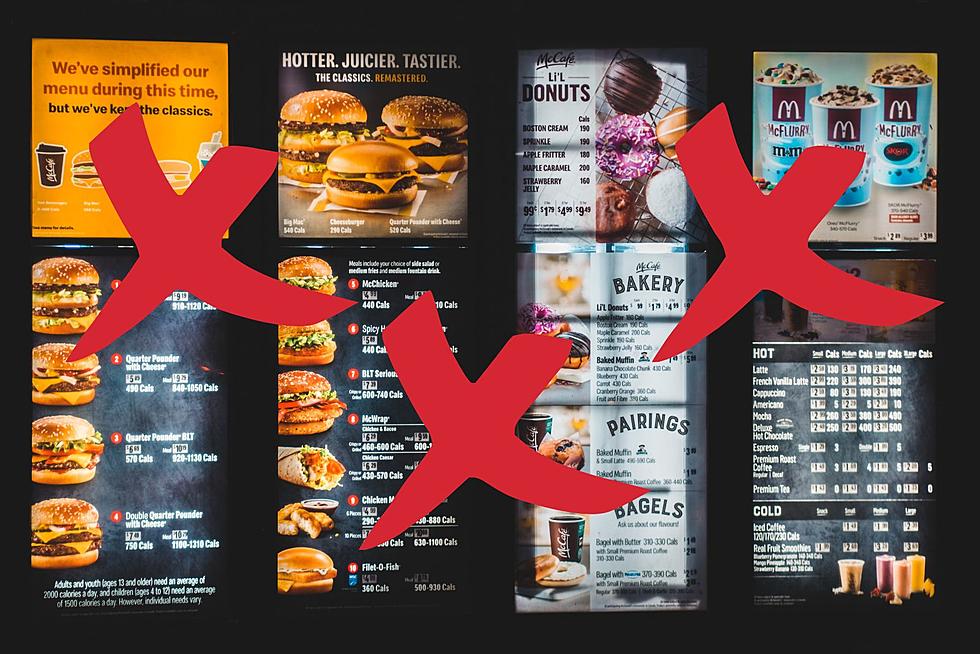 I'm Not Lovin' It! McDonald's Eliminating Three Items From Menu
Credit - Erik Mcclean via Unsplash/Canva
You may not be lovin' this! McDonald's is eliminating three breakfast items from their menu.
News first broke on Instagram when markie_devo announced the fast food restaurant was phasing out 3 bakery items that were released in 2020.
The Apple Fritter, Blueberry Muffin, and Cinnamon Roll will soon be a thing of the past.
The rumors are true and were confirmed by the New York Post.
"We're always listening to our fans and adjusting our menu based on what they crave," McDonald's USA told The New York Post in a statement.
All three breakfast items will be phased out by July 15. Now, if they get rid of the sausage egg McMuffin or the McGriddles, we'll really have a problem. I definitely won't be lovin' that!
Last fall, McDonald's brought back their breakfast bagels for a limited time and the Oreo McFlurry just returned after more than 8 years.
Old Playland Pieces in CNY
Most kids have swingsets in their yards, but there's one place in Central New York that is home to the old McDonald's playland.
The first PlayPlace opened in California in 1971, but they slowly started to disappear in the 2010s and 2020s.
Playland in Ilion, New York
What happens to all those old pieces the kids use to love to play on? Two can be found in Ilion, New York.
Amanda Hazelton found parts of a Playland from McDonald's on Warren Road. And they've apparently been there for quite some time.
Captain Crook & Officer Big Mac
Two construction workers picked them up before the McDonald's in Utica was torn down over 3 decades ago. Arnie Hyer apparently got the Captain Crook slide. Charlie Williams got the Officer Big Mac jail. When Williams moved, the two pieces were reunited with Hyer.
Read More: Vintage Playland Pieces on Marketplace
Chrissy Bommarito remembers her and her sister enjoying time spent on the burger. "My sister and I loved it. Fell off a few times and got the wind knocked out of me, good times."
Sierra Rando is the granddaughter of Hyer and also shares fond childhood memories of the old Playland pieces. "It was always a blast growing up being able to play on them."
Interested in bringing your childhood memories to your backyard? A number of old PlayPlace pieces are up for sale on eBay.
Vintage McDonald's Playland Pieces for Sale on Facebook Marketplace
Someone in Johnstown is selling some amazing McMemories-- Original pieces of a McDonald's Playland!
New York is Home to The Most Beautiful McDonalds Location in America
The Denton House McDonald's location is at 2045 Jericho Turnpike, New Hyde Park, New York. Here's a look inside. [Photo credit: Lejaceman via Trip Advisor]