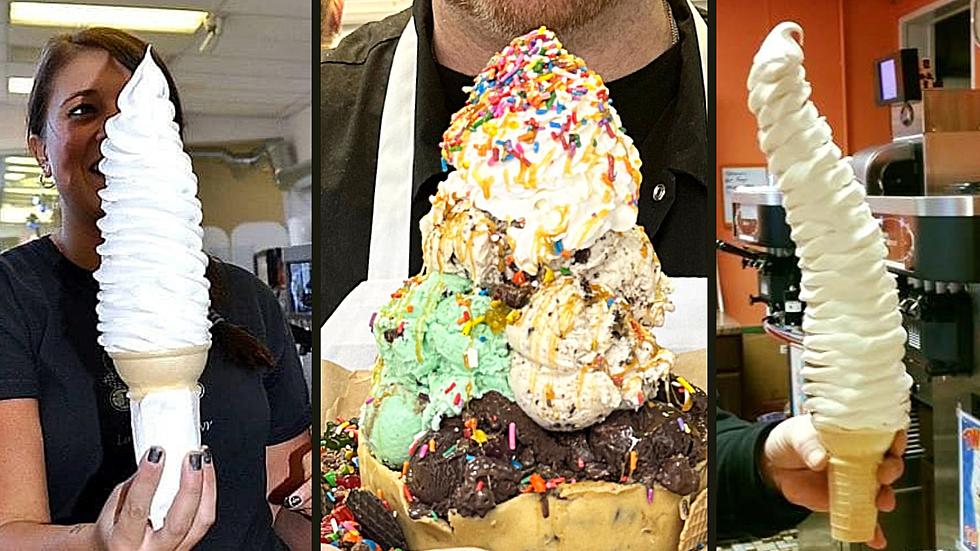 9 New York Ice Cream Shops With Cones & Sundaes It'd Take Two to Eat
Credit - Martha's Dandee Creme/Ben's Fresh/Cobleskill Diner
You scream. I scream. We all scream for ice cream. But how much ice cream can you eat? There are several shops across New York State that serve up cones big enough for two or more people.
Read More: Ice Cream Parlors Open for Season in Central New York
9 New York Ice Cream Shops With Massive Cones It'd Take Two to Eat
Here are 9 shops in New York that serve cones and sundaes so big you may have to call in help.
Ice Cream Sundae Started in New York
Did you know the ice cream sundae was originally created in Upstate New York?
Over more than 130 years ago the first ice cream sundae was born. It happened on April 5th, 1892 in Ithaca, New York at Platt & Colt's Pharmacy on State Street.
Legend has it, Chester Pratt, owner of the Pharmacy, would always be paid a visit by Reverend John M. Scott from the Unitarian Church after services. When they would meet, Pratt would always make Reverend Scott a dish of vanilla ice cream, with syrup and a cherry on top.
Read More: CNY Home to Best Ice Cream in the Country
The priest said it was so good and should be shared with more people than just himself. Since it was made on a Sunday, for church services, Reverend Scott suggested naming it after the day. The spelling was later changed to "sundae" to avoid offending anyone at the time.
Unicorn & Lego Sundaes
There's an ice cream shop in Central New York that's menu is inspired by kids.
Who knows more about ice cream than kids? Lego, Dirt and Unicorn Sundaes, smash cakes and Brett's Bombers are just a few of the kid inspired items you'll find on the menu at Charlee's Ice Cream in Camillus, New York.
Unicorn & Lego Sundaes Part of Kid Inspired Menu at New CNY Ice Cream Parlor
Check out all the tasty treats at Charlee's Ice Cream parlor, straight from the minds of 4 children.