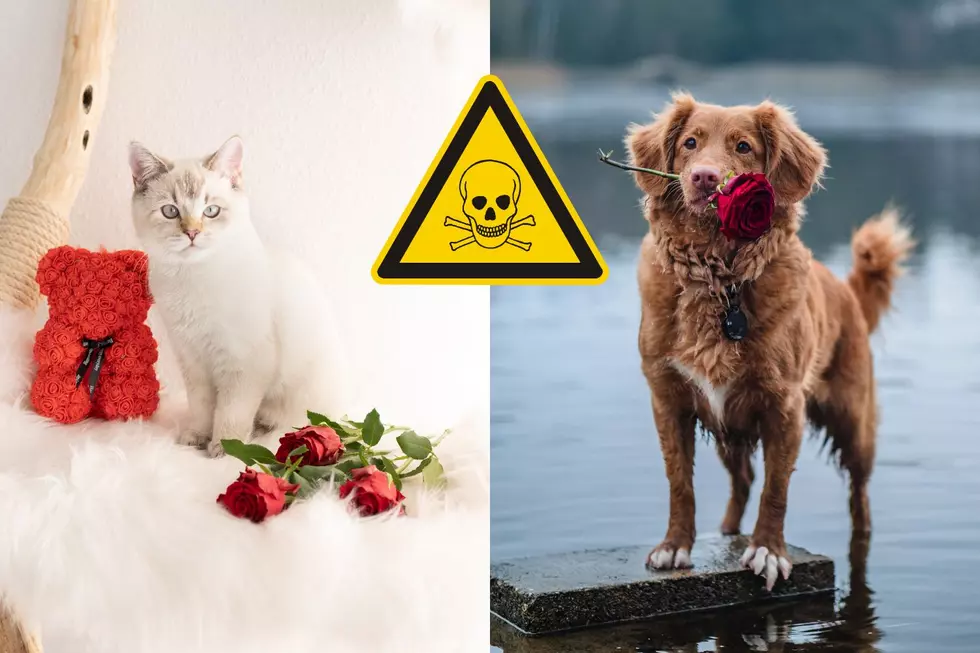 Be Careful, These Valentines Day Flowers Could Poison Your Pets
Nils and Jamie Street via Unsplash (Canva)
With Valentine's Day comes the traditional gifts: jewelry, chocolates, flowers, etc. It's easy to get carried away with the Valentine's Day festivities and forget that your gifts might have an effect on your pets too. I think it's safe to say many people know that chocolate is like poison to dogs, but who would have thought the flowers you bought your special friend might end up hurting your furry friend? Avoid poisoning your cats and dogs by following this list from the Animal Emergency & Referral Center of Minnesota via Facebook:
Be advised that the consumption of any plant material may cause vomiting and gastrointestinal upset for dogs and cats. Plants listed as either non-toxic, or potentially toxic with mild GI upset as their symptoms are not expected to be life-threatening to your pets. -ASPCA.org
Toxic Valentines Day Flowers to Keep Away From Your Pets
Though pretty, these flowers are prone to cause issues with dogs and cats, so if you're thinking about gifting one of these to your special someone, make sure you don't let the animals get to them!
Non-Toxic Valentines Day Flowers That Are Safe For Pets
Contrary to our list of unsafe flowers for pets like cats and dogs, here are some flowers for your sweetheart that are a safe bet for the animals as well!
In case you need help wooing your Valentine, here are some resources that will surely help sweep your date off their feet, courtesy of us:
If you think your pet has ingested something poisonous, make sure you contact your local veterinarian or the Animal Poison Control Center 24 hour hotline at 1(888)426-4435.
Ten Most Romantic Restaurants in the Capital Region
Based on Yelp reviews, social media posts and YOU, these are the 10 Most Romantic Restaurants in the Capital Region for Valentine's Day 2023!
Enchanted Cabin Rental In New York State
Rent this
Airbnb
enchanted cabin located on Magic Forest Farm in Coeymans Hollow, New York. You will feel as if you are in one of the Lord of the Rings movies. Your very own off the grid shire for you and the family to explore.
Anti-Valentine's Day Gifts for Exes
We all know the truth, Valentine's Day is ALSO Singles Awareness Day. But some of those single people are glad to be living solo right now...and a few of them wouldn't mind sending their ex a revenge gift or two. Need inspiration on hilarious Anti-Valentines for an ex? We've got you covered.
PSA - these gifts are intended for good fun and keep it PG-13. But trust me; they'll guarantee some laughs!