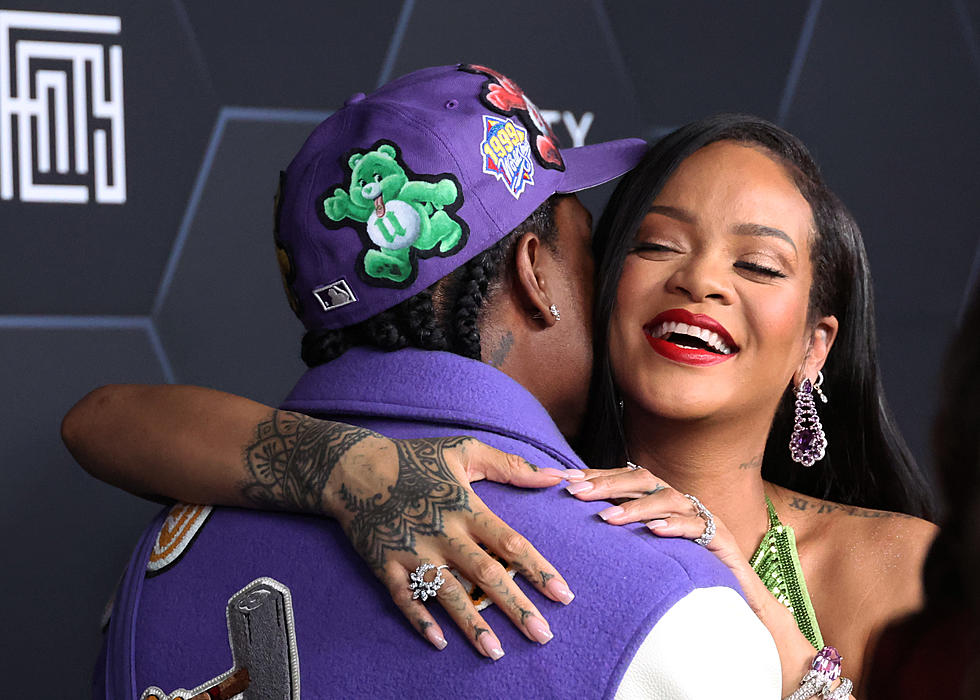 It's A Boy: Name Revealed for Rihanna's Newborn
Getty Images
Rihanna and her Harlem born, long time Life Parter A$AP Rocky welcomed baby number two on August 1.
What hadn't been revealed yet is the little one's name. Which was probably intentional because according to Teen Vogue, it took Rih and A$AP a year to reveal the name of their first born. But sources aren't even clear that revealing their son's name was their intention at all.
But since People magazine is an odd bird, is in the business of being in everybody's business and does the due diligence nearly nobody asked for, they did "Obtain the birth certificates".
Teen Vogue elaborates:
Nearly a year after his birth, we finally know Rihanna's baby name: RZA. RZA is Rih and A$AP Rocky's first child together, and the couple kept the baby's name private for a significant portion of his first year; in their show-stopping British Vogue cover story, he was referred to only as "Baby." But PEOPLE has officially solved the mystery after recently obtaining the birth certificate. RZA is an homage to the legendary Wu-Tang Clan member of the same name, and is pronounced "Riz-za." The baby's middle name is Athelston, just like his father's, and he also shares his dad's last name, Mayers. (Rocky's full birth name is Rakim Mayers.).
Bleh.
But what about Rihanna and A$AP Rocky's NEW newborn?
According to People, (yes, it's a theme) who obtained the birth certificate, "baby Riot Rose Mayers was born at Cedars-Sinai in Los Angeles. He joins big brother RZA Athelston, who was born in May 2022. Both Rihanna and A$AP's legal names — Robyn and Rakim — begin with "R," so it looks like they're going with that letter as a naming convention for their kids."
Congrats to Rih and A$AP! Welcome Earthside Baby Riot! Mind your business People! :)
If you think Riot Rose is "different"--check out these other unusual celebrity baby names...
Wildest Celebrity Baby Names
From Tu Morror to Zuma Nesta, zany celebrity baby names have become almost a rite of passage for the Hollywood elite. Below are some of the most... unique celebrity baby names.
Inside Rihanna's $6.6 Million Hollywood Hills Villa
Take a look inside the singer's recently sold $6.6 million home with views of the Sunset Strip and mountains.
Rihanna's 2023 Super Bowl Halftime Show Performance
See photos of Rihanna performing during the 2023 Super Bowl Halftime Show on Feb. 12, 2023.