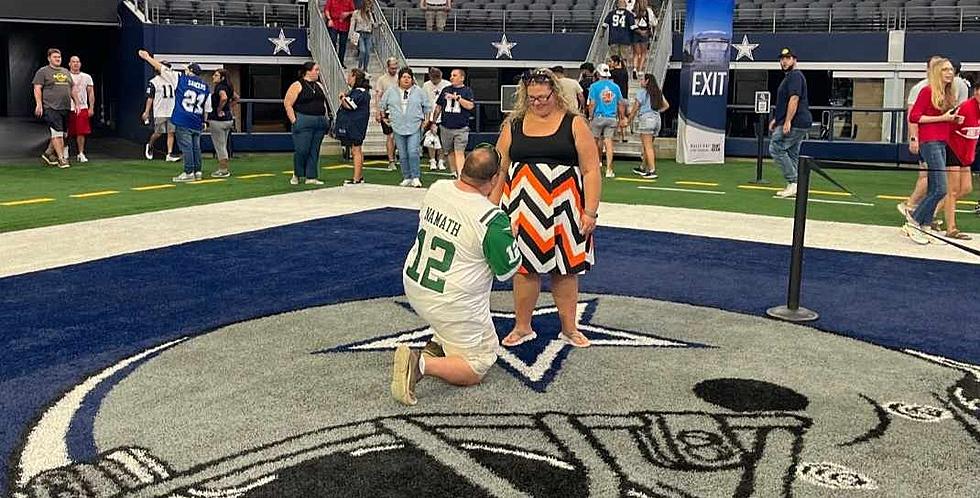 CNY Jets Fan Proposes to Cowboys Girlfriend at Dallas Stadium
Credit - Michele Wilson
A Central New York Jets fan proposed to his Cowboys girlfriend at Dallas Stadium.
Clayton Thomas is a die-hard New York Jets fan. His girlfriend Michele Wilson of Remsen, New York is a die-hard Dallas Cowboys fan. The two have known each other for over 20 years and every Sunday is dedicated to football and watching the games together.
The Jets and Cowboys only play each other every four years and the teams alternate stadiums. The couple had been planning to go to the Cowboys stadium for 3 years and this was their year.
Tour Day Proposal
Before the big game, Michele and Clayton toured the stadium in Dallas where Clayton decided it was time to propose.
When we walked onto the field I wanted a picture on the helmet on the end zone. So he got in the picture with me, had his arm around me, and bam next thing I know he is down on one knee with the ring box.
Proposal
Clayton wanted to propose the day before the game, telling Michele, "You know you are going to lose tomorrow right, so I wanted to do this today."
Michele accepted the proposal and Clayton's mother's engagement ring. The next day she enjoyed watching her Dallas Cowboys come out with a win.
After knowing each other for over 20 years we get to spend the rest of our lives together. I got to come home with a Cowboys win over the Jets and the ring.
LOOK: These Are the Richest NFL players
To uncover the richest NFL players,
Stacker
consulted
Celebrity Net Worth
and ranked them by their 2022 net worth, calculated using a proprietary formula.
NFL Franchises With One Super Bowl Championship
A dozen NFL teams have never won a Super Bowl, while fifteen teams have won multiple Super Bowls. Five franchises have only won 1.
NFL pros from New Jersey
There are more than 60 active pros with NJ roots.
More than 10 players who made it to the NFL conference championship games this year have NJ ties — and four active NFL quarterbacks were born in the Garden State.
Some of them may even be on your fantasy football team.