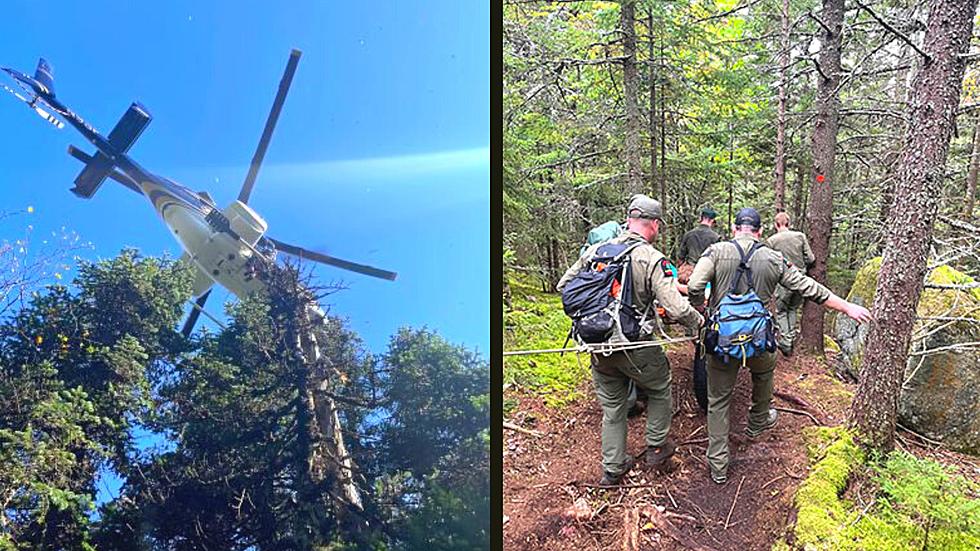 By Air & Land: 2 Injured Hikers Airlifted & Carried Out in Upstate New York
Credit - NYS DEC
By air and by land. Two injured hikers had to be airlifted and carried out of the mountains in Upstate New York.
New York State Department of Environmental Conservation Forest Rangers conducted nearly 360 search and rescue missions, extinguished more than 160 wildfires covering more than 1,300 acres, and worked on cases that resulted in hundreds of tickets and arrests in just one year.
"With more people visiting State lands and enjoying New York's myriad, world-class outdoor recreational opportunities, DEC's Forest Rangers are on the front lines to help visitors get outside responsibly and get home safely," said DEC Commissioner Basil Seggos.
Essex County - Town of Keene
A hiker suffered a leg injury while hiking on Mount Marcy. The 53-year-old woman from New Jersey was approximately half a mile from the summit, making rescue efforts difficult.
The New York State Police Aviation team was called to assist and help lower a DEC Ranger to the woman. Once the injured hiker was hoisted into the helicopter another Ranger hiked out to the trailhead with her partner.
Essex County - Town of North Elba
Eight DEC Rangers worked together to help rescue an injured hiker on Mount Jo. The 62-year-old from Niagara Falls suffered an ankle injury.
Rangers stabilized the hiker's ankle injury and carried her out using a wheeled litter. Rangers reached the Adirondak Loj where a Lake Placid ambulance was waiting.
Hiking Safety
Before hitting the trails be sure to properly prepare and plan for a safe hike. Visit DEC's Hike Smart NY, Adirondack Backcountry Information, and Catskill Backcountry Information webpages for more information.
11 People Including Rangers, Climbers and a Helicopter Needed to Rescue Hiker
injured climber rescued by New York Forest Rangers, Assistants and Volunteer Climbers
Hiker Comes Within 5 Feet Of Adirondack Male Moose
Check Out the NYS DEC's 2022 Outdoor Photo Contest Winners
The NYS Department of Environmental Conservation (DEC) and State Parks & Historic Sites have announced the winners of their 2022 Outdoor Photo Contest. After receiving 6,032 submissions, they've narrowed it down to 7.
The grand prize is a $1,000 REI gift card, one 4-person tent, a 2023 Empire Pass, and a $250 NY Camping gift card. Each of the six category winners get a $250 REI gift card, a 2023 Empire Pass, and a $100 NY camping gift card.