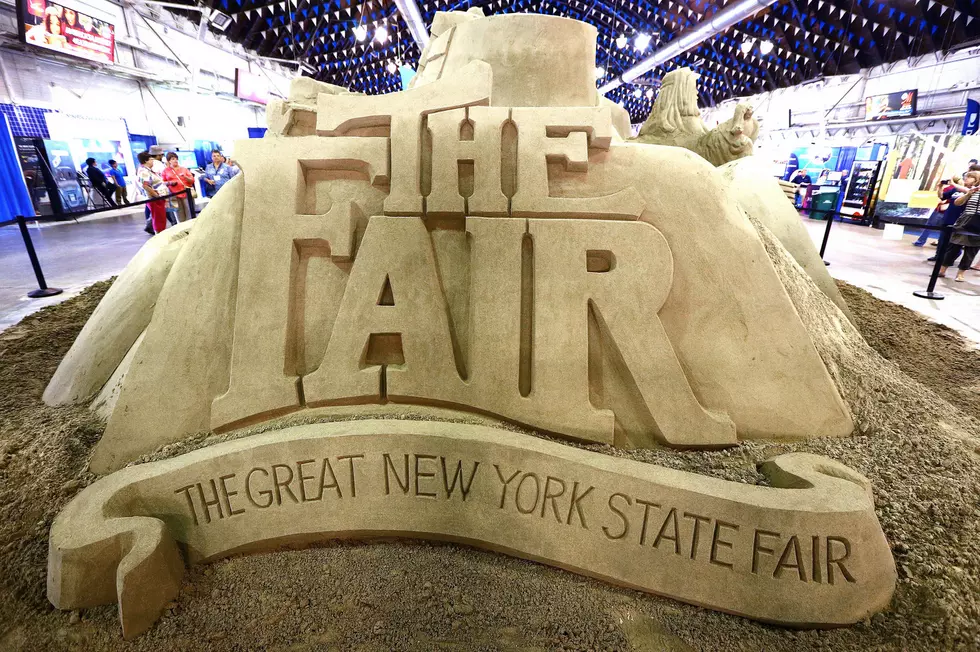 17 Things to Know Before You Go to 2023 New York State Fair
NYS Fair.gov
Enjoy everything the New York State Fair has to offer this year. All of your favorite exhibits, including the Sand Sculpture, the Butter Sculpture, and all of the animals are back. Here are 17 things to know before you go.
New at NYS Fair
There are a number of new things to look forward to at this year's state fair.
Dinosaur Expedition: Go back in time to the days when dinosaurs roamed the earth as more than 60 true-to-life-size, prehistoric, life-like dinosaurs fill The Expo Center.
Read More: Dinosaurs Will Roam NYS Fairground
Voice of the Farmer Garden: The New York State Fair is the first state fair in the country to host the Voice of the Farmer Garden. Learn about the variety of crops grown in New York and across the county and gain an appreciation and understanding of the economic and environmental impacts of Agriculture in America. Located near the Goat Pavilion, the Voice of the Farmer Garden offers opportunities to see and smell what's "growing on."
Asian Village: Immerse yourself into Southeast Asia, as you experience the smells, flavors, and experiences that Asian and Pacific Islander communities are known for. Asian Village, located closest to the Gate 4 entrance, opens Wednesday, August 23, and continues through the first Saturday of The Fair, August 26. Sample traditional Asian cuisine, take in singing, drumming, and Lion Dance, and watch fashion shows representing the styles of 20 different nations.
Digital Kiosks: New interactive kiosks are spread throughout the fair this year. Touch the screen to access maps, daily schedules, agriculture attractions, and grounds entertainment acts.
Favorite Food Vendors
The majority of the food vendors are returning for the 2023 Fair, and there are some new vendors to check out too.
The tradition of $.25 Milk continues. White Milk and Chocolate Milk will be available during The Fair. During the final weekend, the White Milk will be swapped out for Strawberry Milk.
Enjoy a $1 Baked Potato or Sweet Potato with all the fixings at The Great Potato Booth, located in the Horticulture Building.
Read More: 3 New Pizza Creations & 3 Fair Favorites Return
Butter Sculpture
The annual Butter Sculpture is one of Central New York's best-kept secrets and most beloved attractions at the fair each year. It takes sculptors Jim Victor and Marie Pelton, who have been carving the sculpture since 2003,11 days to finish the 55th edition.
Read More: 800 Pounds of Butter Arrive for Annual Sculpture
Admission.
Admission to the Fair is $6, and free for those 65 years old and up, and for children 12 years old and younger. You can buy your tickets online at NYSFair.NY.Gov, by calling 1-800-514-3849 from 9 AM to 8 PM, and in person during the Fair at all gates through electronic kiosks.
Read More: Something New for Frequent Fairgoers
7will be accepted on the fairgrounds
Free Admission on "Special Days"
Student Youth Day: Anyone 18 years old and younger receives free admission on Thursday, August 24.
Law Enforcement Day: Active and retired members of police and/or corrections departments- paid and volunteer - will receive free admission with photo identification on Law Enforcement Day on Monday, August 28.
Fire & Rescue Day: Active and retired members of fire departments or emergency medical services organizations - paid and volunteer - will receive free admission with photo identification on Fire & Rescue Day, on Tuesday, August 29.
Armed Forces Day: All members of the military – active duty and veteran - will receive free admission with proper military identification on Armed Forces Day, on Thursday, August 31.
Native Americans Day: All Native Americans will receive free admission on Friday, September 1.
State Fair Parking
$10 parking tickets may be purchased online in advance through Etix. Show your ticket electronically on your phone or a printed copy. E-ZPass Plus can also be used in the Orange and Brown lots as well as debit or credit cards.
Parking is available in designated Orange, Brown, Pink, and Gray lots, and during the weekends at the Willis Avenue lot. The Pink and Gray Accessible lots are provided for anyone living with disabilities or transporting those who are.
Centro Bus
The Centro drop-off and pick-up points are at the left of the Main Gate. Centro buses will run continuously to and from the Main Gate from the Syracuse Transit Hub in Downtown Syracuse, and Park-N-Ride locations at Destiny USA in Syracuse, and Long Branch Park in Liverpool.
A one-way ride is $1, and $.50 for people living with a disability, and children ages 6 to 9 years old.
Fair Trams
Trams run continuously on the Fairgrounds, stopping at nine stops from 10 AM to 10 PM. There is also a dedicated ADA shuttle that runs between the Gray Accessible Parking lot, located outside Gate 10 to Tram Stop #3 at the rear entrance of the Horticulture Building from 9 AM to 12 AM.
Midway & Entertainment
Individual ride tickets can be purchased at any Wade Shows ticket booth on the Midway during the New York State Fair for $25 for five tickets.
Wristbands, which grant "Ride All Day Access," can be purchased online in advance for $35/person (Monday through Friday) and for $45 (Saturday and Sunday).
Read More: Unlimited Fun! Ride All Day at NYS Fair
The "Fair Pass" is a digital ticketing app, where you can purchase tickets electronically through the FunTagg App, and avoid waiting in line. Just look for FunTagg Kiosks at the fair to load credit onto a card electronically. There will be more than 50 rides to enjoy this year. Each takes anywhere between two and five tickets to ride.
Read More: Check Out 50+ Heart Pounding Rides at NYS Fair
Free Music
There is lots of free music to enjoy during the New York State Fair. From country and rock to rap and pop the Chevy Court and Chevy Park stage is jammed packed with entertainment this year.
Read More: Free Concert Lineup at New York State Fair
The Chevy Court Stage is located in front of the Fairgrounds, with music at 1 PM and 6 PM daily, except for Labor Day.
The Suburban Park Stage is located in the rear of the Fairgrounds with concerts starting at 2 PM and 8 PM, except on Labor Day. On Labor Day, Chevy Court concerts start at 12 PM and 4:00 PM Chevy Park concerts start at 1 PM and 6 PM.
Parades Are Back
Parades will step off from the Exposition Center on the following days and times:
August 25: Pride Day Parade at 6 p.m.
August 28: Law Enforcement Day Parade at 6 p.m.
August 29: Fire & Rescue Day Parade at 6 p.m.
August 31: Armed Forces Day Parade at 6 p.m.
September 4: Labor Day Parade at 10:30 a.m.
Read More: Escape Artist, Jugglers & a Robot on Fairgrounds
Smoking
Smoking is prohibited by law inside all Fair buildings and under tents on The Fairgrounds. There are five "Designated Smoking Locations" outside Pedestrian Gates 3, 4, 9, 10, and 11A, 50 feet from gate entrances, identified in green on the master map.
The Fair runs from Wednesday, August 23 through Monday, September 4. Get all the details at NYSFair.NY.Gov.
Over 50 Heart-Pounding Rides at the New York State Fair Midway
There are plenty of rides for the kids and the kids at heart on the midway at this year's New York State Fair. Check them all out.
New York State Fair Butter Sculptures Through the Years
Take a look at the Butter Sculptures over the years at the New York State Fair.
3 New Pizza Creations & 3 Favorite Exclusives Return at NYS Fair
Toss & Fire is back at the New York State Fair for the seventh year. This year there are three new pizza creations and three beloved past fair exclusives to enjoy.