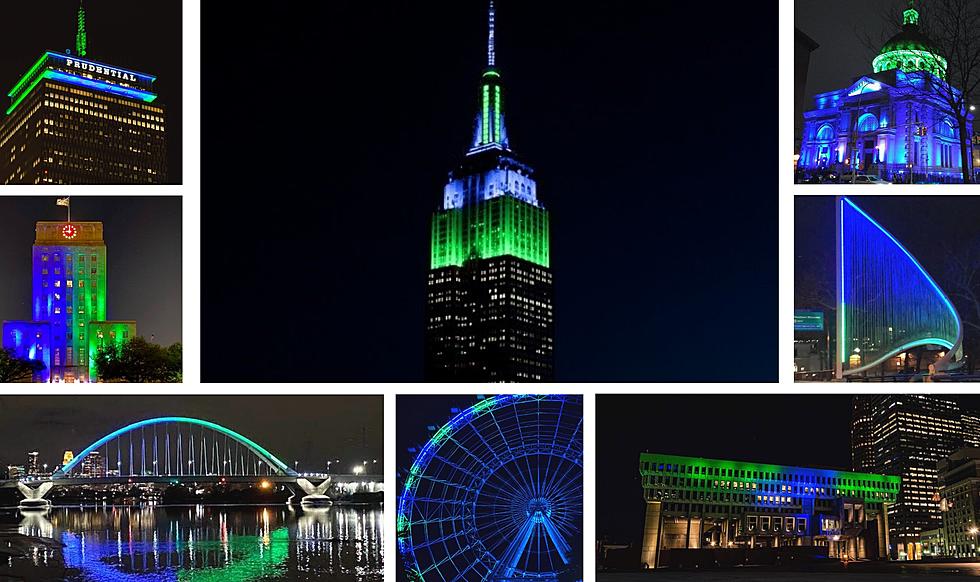 Why 6 Iconic New York Landmarks Light Up in Blue & Green
Credit - National Eating Disorders Association
Why are iconic landmarks around New York state being lit up in blue and green this week?
The Empire State Building will be among more than 60 famous buildings across the country that will shine blue and green. It's all to shine a spotlight on the seriousness of eating disorders.
The National Eating Disorders Association (NEDA) is observing Eating Disorder week from Monday, February 27 through Sunday, March 5. This year the theme is "It's Time to Change."
"This annual coast-to-coast effort unites dozens of U.S. cities in observation of the annual Eating Disorders Awareness Week (EDAW) and respectfully honors and acknowledges the millions of Americans who experience an eating disorder each year," said Sarah Chase, VP of Communication for NEDA.
Second Highest Death Rate
Eating disorders have the second highest mortality rate of any mental disorder, surpassed only by opioid-related deaths. It impacts 30 million Americans at some point in their life. There is hope and recovery is possible, but early intervention is key.
"The earlier a person with an eating disorder seeks treatment, the greater the likelihood of physical and emotional recovery," added Chase. "This is why NEDA offers vital resources, including a screening tool, for people seeking more information and a next step. Like the light from the top of the Empire State Building, NEDA is here as a guide."
New York Shining Hope
Empire State Building, New York, NY - Feb. 27
Rundel Library, Rochester, NY – Feb. 21 - 27, 2023 (1 week prior to EDAW)
Mid-Hudson Bridge, Highland, NY toll plaza – Feb. 27 – Mar. 2, 2023
Park Avenue Tower, New York, NY – Feb. 27 – Mar. 5, 2023
City Hall Clock Tower, Yonkers, NY – Feb. 27 – Mar. 2, 2023
The SUNY Plaza Building, Albany, NY – Feb. 27 – Mar. 2, 2023
https://www.nationaleatingdisorders.org/landmark-lightings-across-country?fbclid=IwAR2LR-d2-9fDw1JxLL-0u_sWlio-ilBSuQcBZ9JAmPk0zW_KzzNt_TBOMQ8
https://www.nationaleatingdisorders.org/landmark-lightings-across-country?fbclid=IwAR2LR-d2-9fDw1JxLL-0u_sWlio-ilBSuQcBZ9JAmPk0zW_KzzNt_TBOMQ8