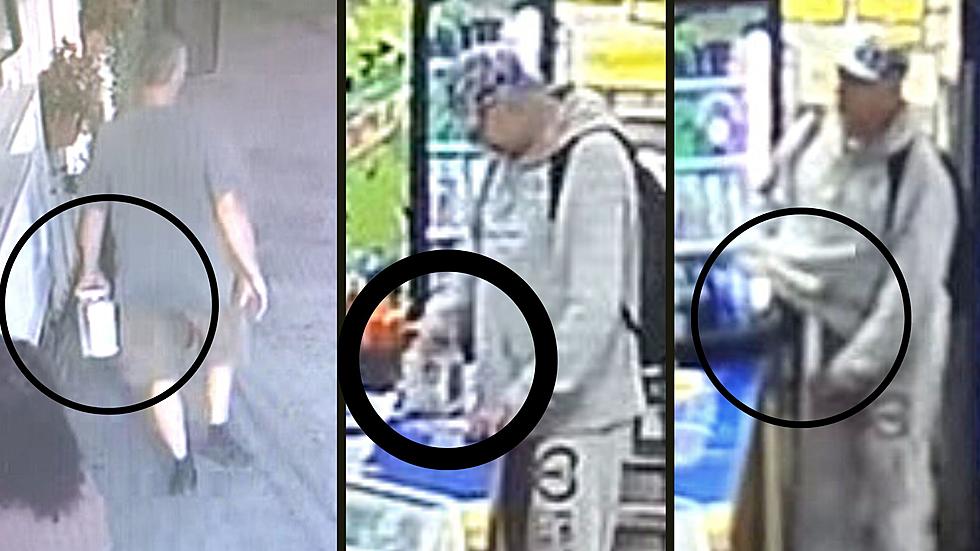 VIDEO: Brazen Thief Caught With Hands in Tip & Donation Jars in CNY
Credit - Papa Charlies/2PetsSake via Facebook
Do you recognize this guy? He's been caught with his hands in the so-called 'cookie jar' not once, but twice.
Local business owners are warning others to be on the looking for a man who's been caught on camera taking money from tip and donation jars.
Papa Charlie's in Utica, New York shared a video of the man taking off with a tip jar on the counter. The owners have filed a police report.
We don't want this to happen to anybody else. If anybody recognizes this man, please send us a private message.
Not First Offense
This isn't the first 'tip jar' the man has been seen taking. The same guy allegedly stole from the 4petsake Food Pantry, Inc. and the Abraham house canisters at the Dari Del on Culver Avenue in Utica.
He decided that the canister money that is collected was going to be his. Thanks buddy from stealing from two great organizations that are helping animals and terminally ill people.
The video shows the man taking money from one jar and tucking another under his shirt.
Please Call Police
If anyone has any information on either theft or recognizes who this man is, you're being asked to call Utica Police at 315-735-3301.
Who the heck steals money meant to help animals and the terminally ill? Only the lowest of the low. May karma bite him in the ass!
9 Of New York State's Most Wanted Criminals- August 2023
Below are individuals wanted by the New York State Department of Corrections and Community Supervision's (DOCCS) Office of Special Investigations who have been designated as its
Most Wanted Fugitives
. They should be considered armed and dangerous. This list is current as of 8/01/2023:
NEVER attempt to apprehend a fugitive yourself. If you have information on the location of any of these fugitives, you can contact OSI 24 hours a day / 7 days a week to report it. All leads and tips are treated as confidential information.
If an immediate response is necessary, such as you see the wanted person at a location, please call "911" and report it to the police.
14 Reasons Rome Police Department is Among the Best in CNY
Rome police officers go above and beyond the call of duty every day. Here are 14 reasons why they are among the best in Central New York.