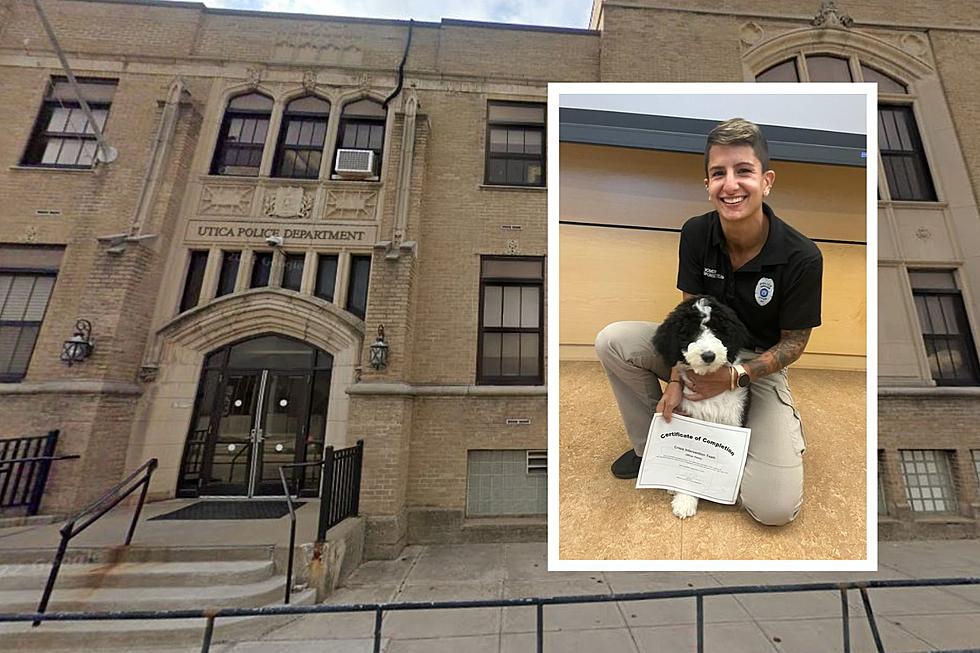 Utica Police Department Adds a New Fluffy Officer to the Force
City of Utica, NY Police Department & Google Maps
This pup makes a "paw-fect" addition to the team.
It's nothing new to see a dog in the police department. The K-9 Unit, commonly comprising of German Shepherd and Belgian Malinois breeds, are a crucial piece of law enforcement.
But would you ever expect this cute of a dog to be backing the men and women in blue?
Meet Officer Penny
This adorable new UPD member is Officer Penny, a three-month-old Sheepadoodle. Partnered with UPD Officer Marissa Vomer, she will work with the Crisis Response Team as a therapy dog.
Penny was a pleasant surprise to the department, being donated by Finger Lakes Doodles in Hilton, New York. Not only that, but First Source Federal Credit Union also gave their own generous donation of $20,000 on Monday. The money will fund the training and equipment Officer Penny is going to need.
Already in Action
The dynamic duo of Vomer and Penny got to work quickly, teaching a 5-day, 40-hour Crisis Intervention Training (CIT) to 11 officers from local departments in the area. The goal of the training was to reduce the risk of serious injury or death during an emergency between officers and a person with mental illness.
CIT programs further help to reduce arrests while simultaneously increasing the likelihood that individuals will receive appropriate follow-up mental health services from local providers.
Safe to say, Officer Penny is going to make a big impact on the Utica Police Department. We are excited to see her in action, and wish her the best of luck going forward.
Which Dog Represents Your Central NY Hometown?
Every city and town in Central New York has a dog breed that perfectly matches its personality. What is your hometown's true dog identity?
Central NY is unique -- in that every city seemingly has its own unique personality and vibe. I recently moved to the area from Connecticut and have made a point to visit as many places as possible.
What strikes me most is that every city and town feels very different from one another. They're not defined by their local attractions, but their overall character.
And that got me thinking: Could I find a dog breed that could perfectly represent each and every city? The answer is an obvious yes.
So buckle up and stretch out your scrolling finger to enjoy the dog slideshow.
If Your Dog Hangs Out With Other Dogs In NY, It's At Risk For 7 Diseases
Woof, Woof! Check Out the Most Popular Dog Names in New York
Trying to settle on a name for your new pup? You might be able to draw some inspiration from these names which, according to
Wag Walking
, are the most popular dog names in New York
Community Comes Out to Catch Moose on CNY Soccer Field
A moose wandering through a Central New York park brings out the whole community.
10 Best Lakes in New York To Reel in the Big One