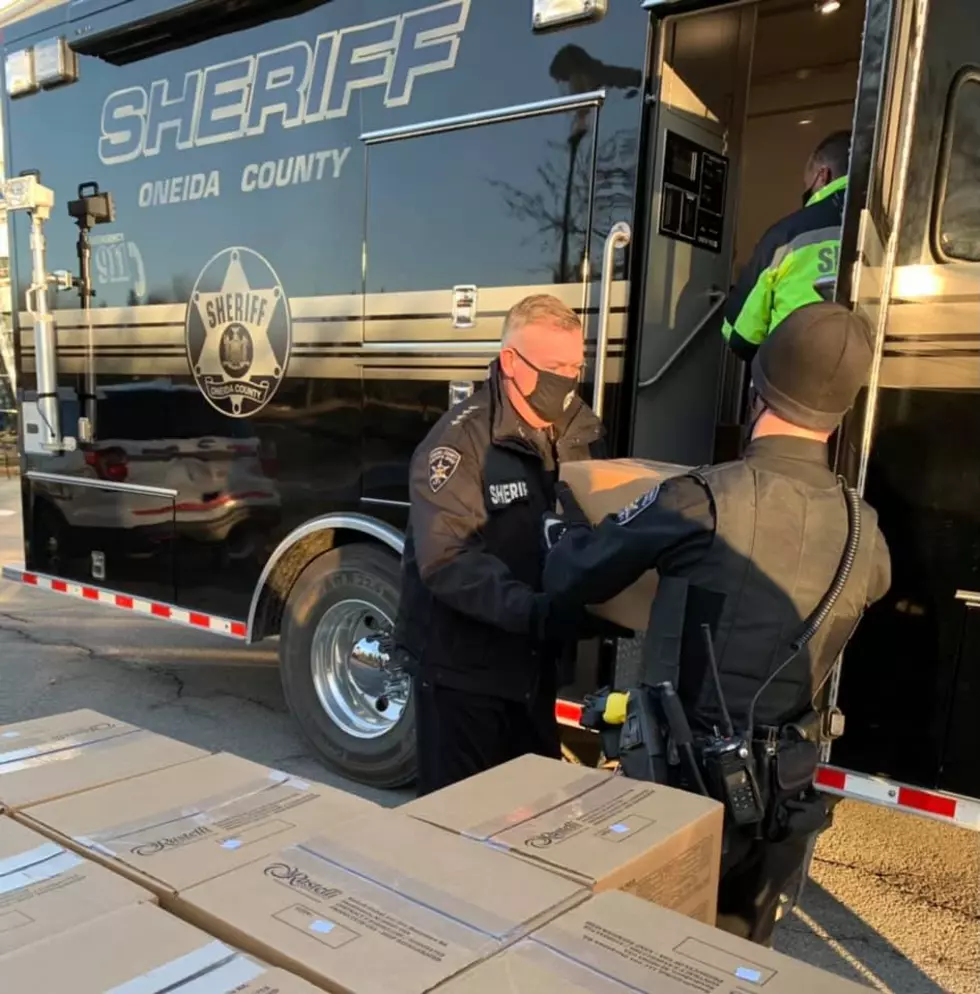 USDA Farm to Family Food Giveaway For Seinors
Oneida County Sheriff's Office
The Oneida County Sheriff's Office and several other agencies took part in a food giveaway for the elderly.
Rob Maciol, Sheriff of Oneida County, says he was honored to be part of a great crew that delivered approximately 150, 30lb boxes of "farm to family" products to homebound residents throughout Oneida county.
In conjunction with the Office For The Aging, Oneida County Health Department, and Oneida County Public Works, the Oneida County Sheriff's Office joined forces to distribute 1250 "USDA Farmers to Families" food boxes.
This event was made possible by the Coronavirus Food Assistance Program (C.F.A.P.) and the American Dairy Farmers North East. These food boxes containing Dairy, Meat, and Produce were given to seniors after receiving their COVID-19 vaccine. Food boxes were distributed at today's Point of Distribution (POD) and also distributed throughout Oneida County to residents that received In-Home vaccines today due to mobility issues. [Oneida County Sheriff's Office]
Sheriff Maciol tells us each of the food boxes contained a gallon of milk, a bag of potatoes, a bag of onions, yogurt, cheese, hot dogs, and chicken. The giveaway was part of the Coronavirus Food Assistance Program announced in April.
The USDA is exercising authority under the Families First Coronavirus Response Act to purchase and distribute agricultural products to those in need. Through this program, USDA's Agricultural Marketing Service (AMS) is partnering with national, regional and local distributors, whose workforces have been significantly impacted by the closure of restaurants, hotels and other foodservice businesses, to purchase up to $6 billion in fresh produce, dairy and meat products from American producers of all sizes.
Once the food is packaged into family-sized boxes, it's then delivered to food banks, community and faith-based organizations, and other non-profits serving Americans in need.
Go here for more information about the food box distributions, local schedule and how to participate.
USDA Farm to Family Food Givaway For Seinors
LOOK: Answers to 30 common COVID-19 vaccine questions
While much is still unknown about the coronavirus and the future, what is known is that the currently available vaccines have gone through all three trial phases and are safe and effective. It will be necessary for as many Americans as possible to be vaccinated in order to finally return to some level of pre-pandemic normalcy, and hopefully these 30 answers provided here will help readers get vaccinated as soon they are able.