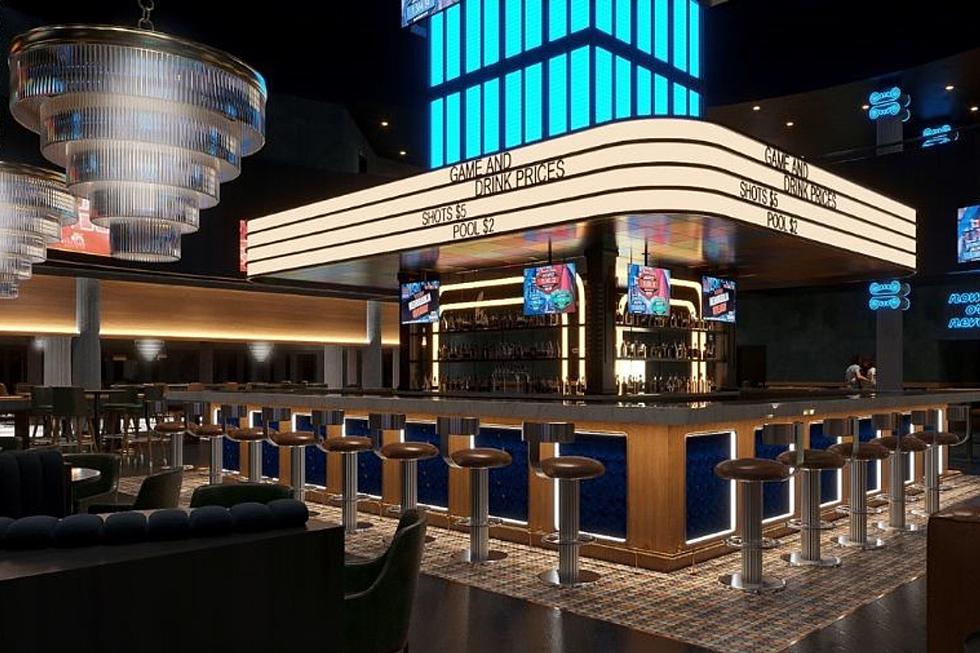 Love Sports? This New Must-See Lounge is Coming to Turning Stone
Credit - Turning Stone Resort Casino
This multi-million dollar venue will be your new go-to destination for sports and nightlife in Central New York.
It's truly a new era at Turning Stone Resort Casino, as they are set to launch their brand new sports lounge and nightlife venue this winter. They're proud to announce the NY Rec & Social Club, a modern lounge and sports book.
Turning Stone will celebrate its grand opening on Wednesday, December 6.
NY Rec & Social Club
The lounge will be the first venue to open as part of Turning Stone's $370 million evolution and represents the most significant addition to the Exit 33 entertainment complex since Turning Stone opened it 10 years ago.
As an industry leader for the last 30 years, venues like NY Rec & Social Club ensure that Turning Stone remains an industry leader for the next 30 years.
In the former location of LAVA, NY Rec & Social Club will transition into a sportsbook and lounge, complete with a live DJ. The new venue will also feature table games, such as blackjack, social games including foosball, shuffleboard and billiards and can accommodate seating for nearly 200 guests on the first-level with additional seating on the expansive outdoor patio.
The upper level can be reserved for private events.
"Eclectic and Energetic"
The Lounge with Caesars Sportsbook will move to NY Rec & Social Club, offering guests a more playful nightlife and dining experience that combines a sophisticated restaurant lounge with a traditional sports book. The venue will have a speakeasy vibe and is designed to be a fun place to socialize with friends.
NY Rec & Social Club will be one of the most unique entertainment venues in the region
The bar, located in the center of the main room, will be dappled with crystal chandeliers and will serve a variety of signature cocktails. NY Rec & Social Club will also feature 60 high-definition television screens for sports viewing.
Urgent Hiring Event
In order to prepare for the NY Rec & Social Club's opening, Turning Stone is hosting a hiring event to fill their much needed positions. The date for the event is set for Tuesday, September 26th.
The full- and part-time positions include...
● Sous Chefs
● Cooks
● Bartenders
● Barbacks
● Table Game Dealers
● Sports Book Writers
● Hostesses
● Servers
● Dining Attendants
● Supervisors
You can get more details on both the hiring event and the NY Rec & Social Club on Turning Stone's website.
"Jackpot!" Ten of Upstate New York's Best Casinos
10 Best Scratch-Offs To Buy This September In New York State
Based on odds of winning, here are the best lottery scratch-off games to purchase right now in New York State to score some cash.
10 Best Towns in in New York State for Fall 2023
We're just about at the fall season, which means festivals, pumpkins, fall foliage and more. Here are the 10 best towns for autumn in New York state.
A 12-Pack of Top Finger Lakes Region Craft Breweries!
While the Finger Lakes Region of Upstate New York is now known nationally for its many fine wineries and vineyards, they also have an impressive line up of craft breweries to enjoy also. Here are a dozen of the best.
Is This The Most Magical Place in Upstate New York? We Think So!
Santa's Workshop at the North Pole, in the Adirondacks, has been charming kids and adults for more than 70 years. This historic park (many believe it to be the fist theme-park in America) is still a delightful magnet for children, and the park amenities (all Christmas-themed) have grown over the years!