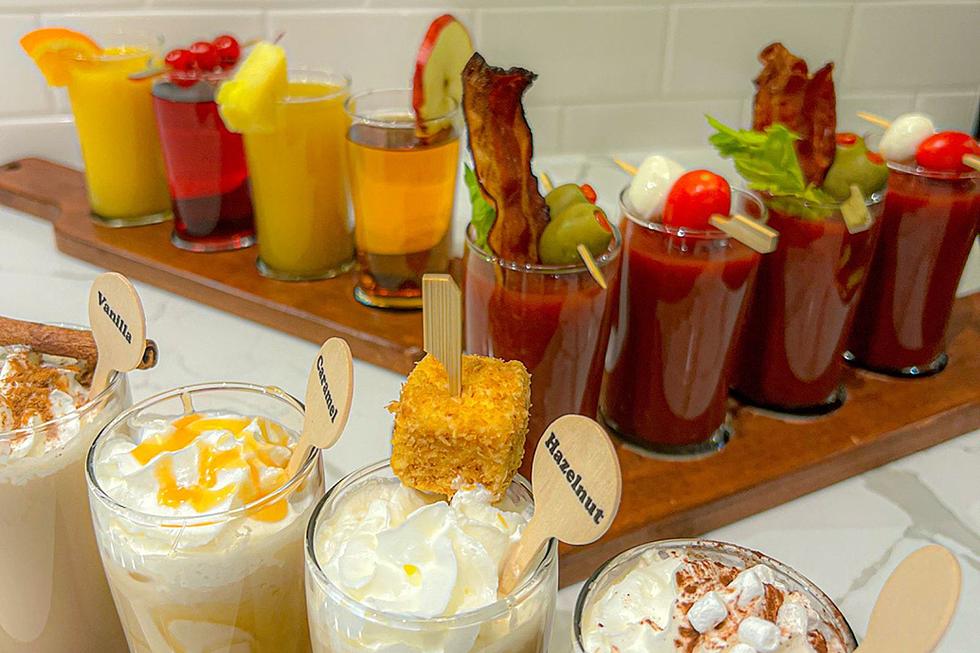 3 Must Try Brunch Flights at Turning Stone's 7 Kitchens You'll Love
Credit - Turning Stone Resort Casino via Facebook
If you haven't had the chance to try these drinks, they're definitely worth the trip.
Turning Stone Resort Casino brings a wide variety of entertainment, food and drinks to Central New York. Where many once just went to gamble, they now come for the number of electric bars and restaurants the resort offers.
As part of their ever-changing menu, 7 Kitchens also features new drink options that are fun for the whole family. But when it comes to these drinks, the chef came up with special flights specifically for early risers.
Brand new to 7 Kitchens is their Spiked Coffee Flight. The four drink combination provides 4 different, creamy iced coffee options... all with a boozy twist.
Sip from Vanilla, Caramel, Hazelnut and Mocha flavors, each with their own unique topping to complement the drink. Just one look makes you want a taste from every glass.
Delicious Original Options
If coffee isn't your vibe, or you're looking for results, try either of their two original flight options. The Mimosa Flight offers four different juice combinations, sure to quench your thirst and leave you wanting more. Sip from Orange, Cranberry, Pineapple, or Apple Juice.
There is also the Bloody Mary Flight if that's more your speed. The options are limited to two different drinks (based on the picture), but both look equally as appetizing.
Which NY Lottery Scratch-Off Games Have the Most Top Prizes Left?
There are plenty of NY Lottery scratch-off games that have big jackpots left. If you are feeling lucky this time of year, try your luck at one of the New York Lottery scratch-off games. According to the
New York Lottery
, these are the scratch-off games that still have jackpots to be won to make you become an instant millionaire.
9 New York Ice Cream Shops With Massive Cones It'd Take Two to Eat
Here are 9 shops in New York that serve cones and sundaes so big you may have to call in help.
3 Bastards Brewing Opening in Central New York With 36 Taps
3 Bastards Brewing is opening in Vernon, New York with 36 taps, great food, live music, all in a relaxing atmosphere.
Rub Elbows With the Stars at 8 Celebrity Owned Businesses in New York
A number of celebrities call Upstate New York home. A small few not only own homes but businesses too. You may even run into them when you stop by for a sweet treat, overnight stay or soft skin.
7 Things You're Banned From Burning In Your New York Bonfire