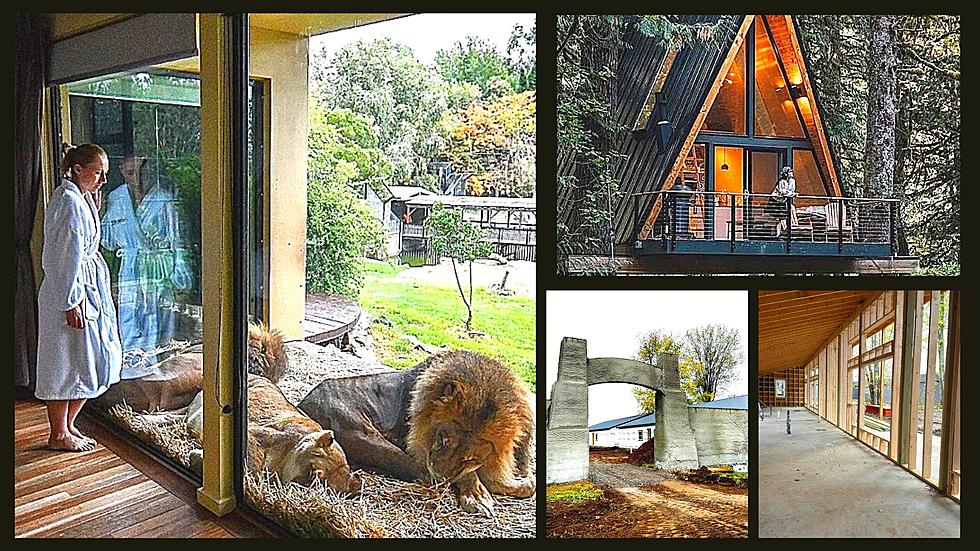 Dreams of Safari Weddings & Overnights in the Wild Becoming a Reality in CNY
Credit - Jeff Taylor
Dreams of Safari-inspired weddings and unforgettable overnights in the wild are becoming a reality in Central New York after all.
Plans for a high-end luxury resort with treehouses overlooking giraffes and bungalows with lions and tigers out your door are moving forward at The Wild Animal Park in Chittenango after being scrapped a few ago.
The Haven
Park owner Jeff Taylor announced plans to build The Haven in February 2022. He hoped to break ground on the wedding/events center and unique Airbnb a few weeks later. Taylor put the project on hold indefinitely after 16 months of waiting on permits.
Two weeks later, those permits finally came in and The Haven was reborn.
My decision to cancel was basically over the stress of the permit process which was mentally exhausting. I took some to reevaluate what I was going to do when they finally came in and decided it was the right thing for the Wild to do.
Wedding & Events Center
The Haven will include a classy lodge/barn used for weddings of up to 450 people. It will overlook a large habitat of giraffes and African animals and feature a swan pond, waterfalls, and a big fish tank.
"The animals will be able to come up to the venue so it's kind of a unique experience where you get to get married, see giraffes, maybe have a penguin walk your rings down the aisle."
Taylor plans to use the events center, which can hold up to 1,000 people, for all kinds of events like Breakfast with Santa, concerts, and animal shows. He's also looking into adding a spa with massages, pedicures, manicures, poll tables, mini bar, and everything else you can think of to make a perfect wedding experience.
Tree Houses
15 treehouses that overlook the giraffe field will also be built at The Haven. Perfect for a wedding party or a unique Airbnb weekend stay.
We may add different animal themes to each guest room.
Read More: Wild Mayan Ruins With 6 New Exhibits Open at The Wild
Big Cat Bungalows
Want to keep your feet on the ground? Big cat bungalows will offer guests a look into the animal exhibits through the glass wall.
One side will be tigers. The other side will be lions.
They will all feature an indoor fireplace and patio with a fire pit. Taylor says the unique Airbnb bungalows are already half-built.
Construction Underway
Construction has already started on the high-end resort and Taylor hopes to have the big cat bungalows open by the spring of 2024.
The wedding/events center and Treehouses will follow in late summer or early fall if everything stays on schedule. But Taylor says there are a number of things that are out of his control. He'll just keep working until it's complete, or the next project comes along.
Work and projects are what keep me going and happy.
Campground on Hold
The campground, water park, and mini golf course that were originally planned last year are on hold for now. Taylor says his main focus is on The Haven, but you never know what the future holds.
The overall goal of my business is to create lasting memories and put smiles on people's faces. So what better way than weddings with giraffes.
The Haven will be located on New Boston Road and Taylor says they will begin taking bookings for weddings soon.
Step Inside New South American Exhibit at Wild Animal Park
It's finally done! After more than a year of construction, the South American exhibit is complete at The Wild Animal Park in Chittenango, New York. Take a look at the expansion that includes 6 new exhibits for 7 different species.
Gallery Credit: Credit - Polly McAdams
17 Wild & Fun Activities to Do at The Wild Park in Chittenango
Get the most out of your trip at The Wild Animal Park in Chittenango by enjoying these 17 wild and fund activities.
Gallery Credit: Credit - Polly McAdams
Take a Virtual Trip Through the Wild Drive-Thru Safari
Zebras, emus, and camels, oh my! Take a virtual trip through the Wild Drive-Thru Safari in Chittenango.
Gallery Credit: Credit - Polly McAdams