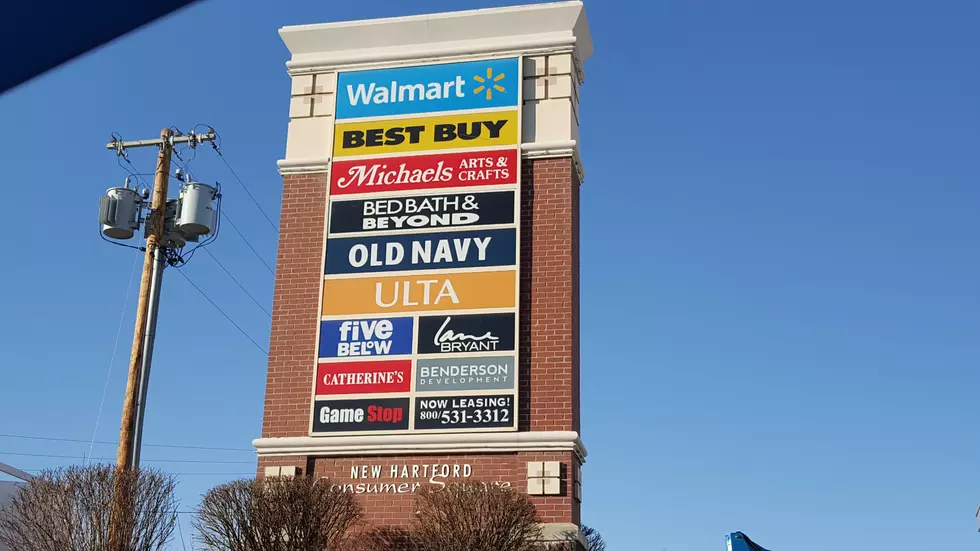 New Consumer Square Store Opening Just in Time for Holiday Shopping Season
Photo Credit: Cindy McMullen/TSM
A new shopping experience for the outdoor enthusiast is coming to Consumer Square in New Hartford and there's a date for when the doors will finally open.
Sierra, formerly known as Sierra Trading Post, is filling the hole left when Bed, Bath & Beyond closed last Fall. The company of TJ Maxx, Marshalls, and Home Goods is bringing the discount retailer to Central New York.
Sierra Trading Post
Sierra is a national retail outlet that is filled with brand names at tiny prices. You can often find everything you need for 20 to 60% less than expensive department and specialty stores.
We're pretty into the outside, and we want to help other people get out there too.
Everything For Indoors Too
It's not just everything for the outdoors either. You can stock up for back to school and get everything your pet needs too. Sierra even has home decor.
There are hundreds of Sierra stores across the country but only four in New York State - Rochester, Poughkeepsie, Amherst, and Nanuet. The newest in Consumer Square will make it five. Although officials tell Syracuse.com, there may be a sixth location coming soon.
"Sierra is always looking for areas of the country where there is a high active and outdoor lifestyle. With the many ways for people to get active and moving in the area, Syracuse is a natural fit for Sierra."
Sierra Grand Opening
Sierra will finally open in Consumer Square in New Hartford on Saturday, November 4, just in time for the holiday shopping season.
If someone could just do something about the horrendous traffic pattern in and out of 'confusion square,' that'd be great. Especially before the busy shopping season when it's nearly impossible to go anywhere near that area.
Rub Elbows With the Stars at 8 Celebrity Owned Businesses in New York
A number of celebrities call Upstate New York home. A small few not only own homes but businesses too. You may even run into them when you stop by for a sweet treat, overnight stay or soft skin.
Gallery Credit: Credit - Polly McAdams
Renovations Begin on Famous Thousand Island Castle Abandoned For 70 Years
Renovations begin on the famous Thousand Islands mansion that has sat abandoned over 70 years.
Gallery Credit: Credit - Polly McAdams
9 New York Ice Cream Shops With Massive Cones It'd Take Two to Eat
Here are 9 shops in New York that serve cones and sundaes so big you may have to call in help.
Gallery Credit: Credit - Polly McAdams