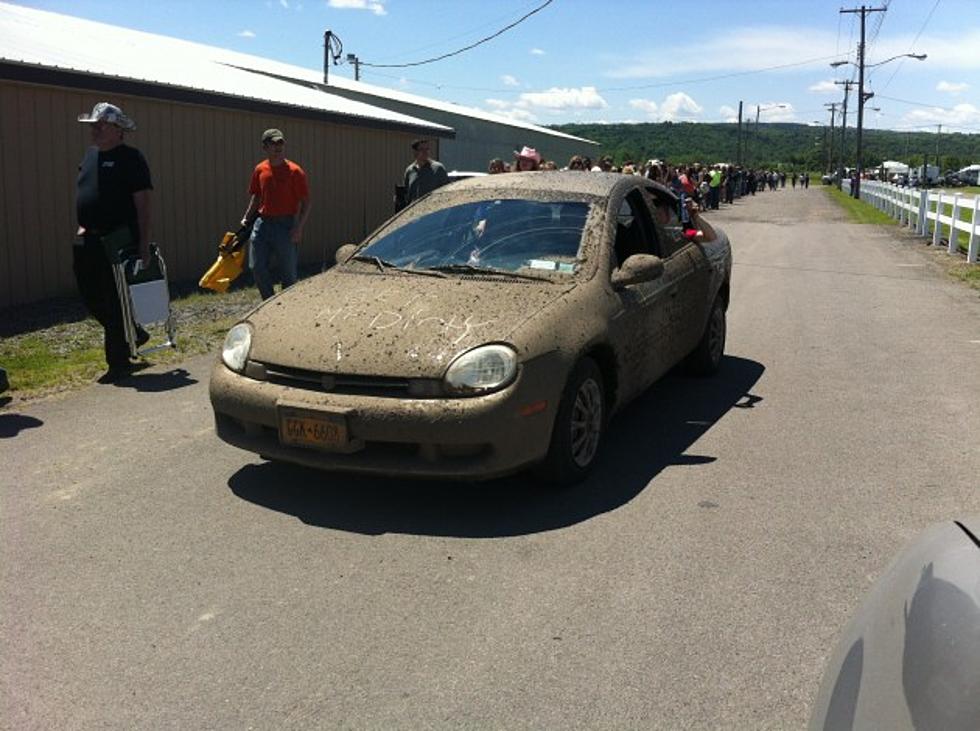 Show The Ol' Gal Some Love With a Free One Thousand Dollar Package From Ziebart
TSM
She's gotten you thru snow-covered roads, flooded streets, and muddy trails. It's time to show your 'ol gal some love.  We're joining with Ziebart in Utica to make your "dirty ride shine" with a one-thousand dollar appearance and protection package. Here's how to win it.
like the Dodge Neon pictured above, some rides are just war wagons, they go through and over everything.  Even though is was over five years ago, Justin Moore still talks about that car he saw at FrogFest.
Somebody told me earlier there weren't rednecks in New York. And I go 'is that a fact.' Then when we pulled in here, there was a Dodge Neon that you couldn't even see what color the car was because it had mud all over it. If you take a Dodge Neon mud ridin', that's a redneck right there.
Do you have a car, truck, van, or bucket of bolts you would never part with? Show her some love and we'll feature her in a story and you could win the one-thousand dollar appearance and protection package from Ziebart.
Share a photo and more info in the form below.
Monster Trucks Roaring Into Central New York This Summer For Car Crushing Fun
Monster trucks are rolling into Central New York this summer for car crushing fun.
Things are slowly getting back to normal after the coronavirus pandemic shut everything down more than a year ago. Fans are packing stadiums to cheer on their favorite team. Artists are returning to the stage to perform in front of thousands and the Monster Trucks are roaring back to life.
Take the family to see all the Monster Trucks and motorcycles jump 75 feet in the air as the Human Cannonball launches across the arena in an action packed one and a half hour of extreme entertainment at the New York State Fairgrounds.
Want an up close look or a ride in one of the monster trucks? The free Pit Party before the show will teach kids the inner workings of the giant Monster Truckz. They'll also be able to get photos with the drivers who will talk about the physics of driving the massive mechanical beasts and ride in a rela monster truck in the Kids Fun Zone.
The Monster Truckz will be at the New York State Fairgrounds July 30 through August 1.
Tickets are $30 for adults and $15 for kids. But if you buy early, you can get them for $16.50. And the kids can get in free. Just save this free kid's ticket below, download HERE, or print out to use with an adult ticket at the door.
Bigfoot, driven by Bob Chandler in April 1981, is believed to be the first monster truck to crush cars. Today, the trucks weigh between 10,000 to 15,000 pounds and cost about $155,000.00 to build.