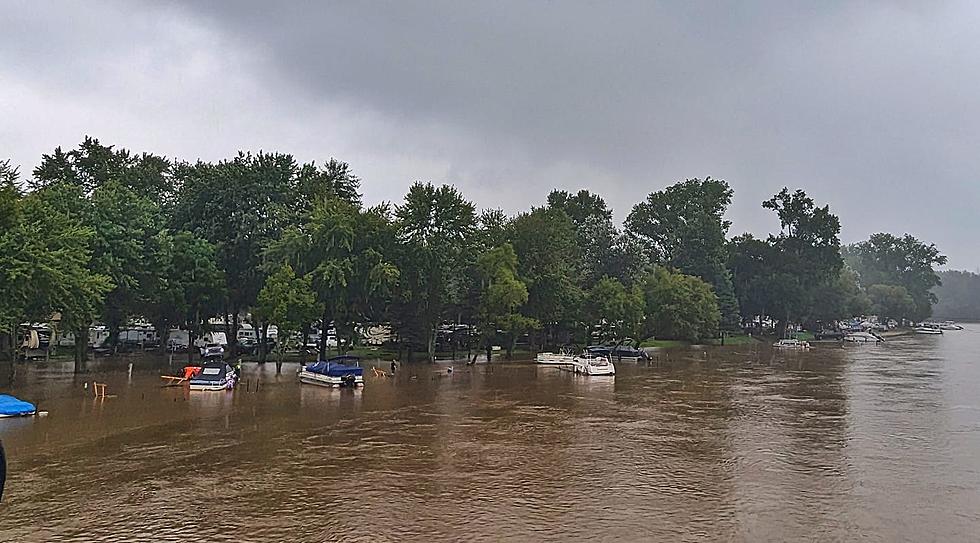 Raging Waters: Central New York Campground Engulfed by Massive Flooding
,  Credit - Gary Johnson via Facebook
First, it was tornados that ripped through parts of New York. Now it's massive flooding hitting the state.
Levels are extremely high on Fish Creek in Taberg after recent heavy rain. Gary Johnson captured the raging river that is causing flash flooding.
Flooded Campground
All that water made its way to Ta-Ga-Soke Campgrounds, submerging a number of campers. Boats and trailers were being pulled out of the campground in Blossvale on Wednesday, August 9.
One of the residents on the north end of the village just informed me there's someone driving around trying to find their 32ft party barge that broke loose from their dock.
The campers worked together to make sure every recreational vehicle underwater was moved to higher ground, whether the owners were there or not. And Angela and her husband Jason Coolbaugh are extremely grateful.
My husband and I just wanted to say to whomever anchored our boat and tended to it, we are beyond grateful. We were on vacation and we had no idea the flooding was this bad. Thank you from the bottom of our hearts. If anyone knows who this person or persons were, we would like to buy them dinner.
Fish Creek Flooding
It's not just the campground that's underwater. A number of boats and docks along Fish Creek have suffered damage in the flooding too.
Everyone is being reminded to use extreme caution if headed out onto Oneida Lake. There are Logs, sticks, and other debris under the water that you can't see, ending end your day on the lake.
Debbie Williams noticed an entire dock attached to at least 2 trees racing down the creek with 2 more trees right behind it.
Tornado Rips Through Upstate New York Ski Resort
See the damage Mother Nature left behind at Snow Ridge Ski Resort in Turin, New York.
Devastating Flooding in CNY in 2017
See devastating flooding around Central New York in 2017
CNY Man Pulls Three Drivers From Flood in His Underwear