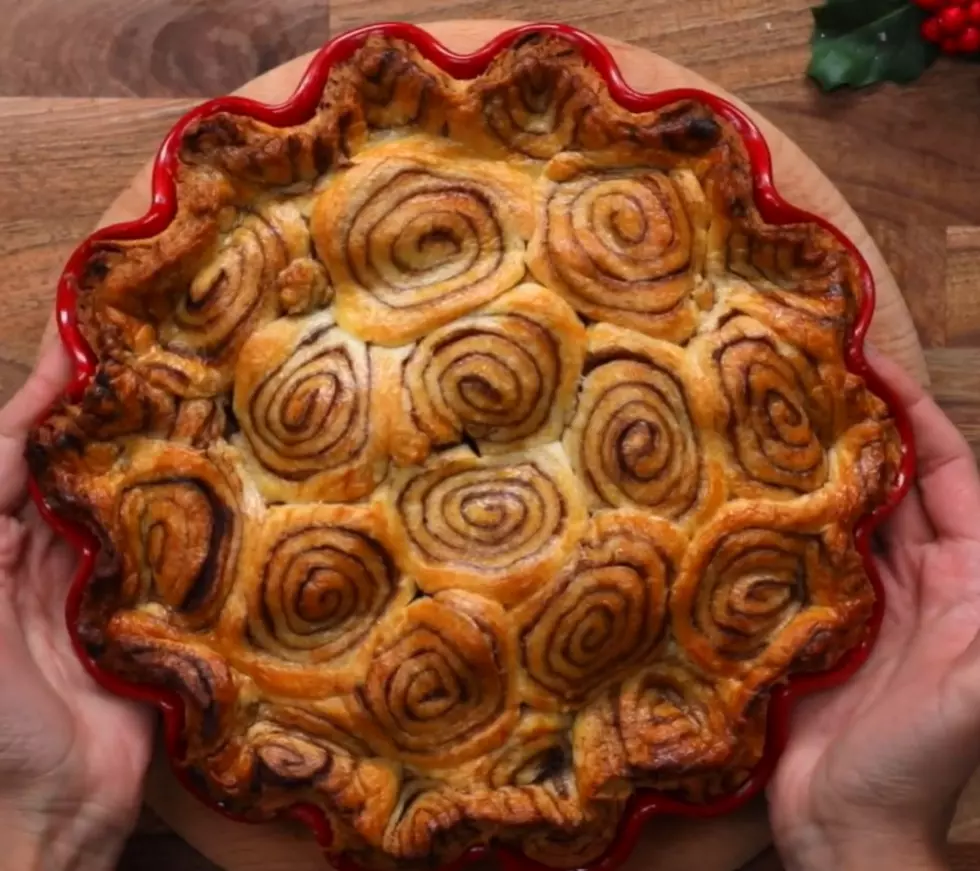 Polly's Cooking Cinnamon Roll Apple Pie
Photo Credit - Twisted via Facebook
The Chaos in the Kitchen continues. Polly is cooking up Cinnamon Swirl Apple Pie, after seeing the easy recipe from Twisted on Facebook.
It is apple season and there's nothing better than homemade apple pie...unless it's apple pie and cinnamon rolls. And the recipe looks pretty simple.
First you start with puff pastry that's covered in melted butter and cinnamon. Roll it up and cut into small rolls. Place on the bottom and sides of a pie plate, pressing it all together.
Top with fresh sliced apples, coated in sugar, flour and cinnamon.
Repeat the puff pastry/butter/cinnamon step, cover with wax paper and roll flat. Place on top of the apples, cutting a small hole for the steam to escape in the middle.
Bake for 40 minutes at 350.
Sounds easy enough. But what sounds easy doesn't turn out that way. I ran out of puff pastry, only having enough for the bottom crust. I improvised and instead of doing a traditional crumb topping, I decided to do something different, putting bacon on the top. I also added homemade Tequila caramel sauce guest chef Laura made and was kind enough to share the recipe for....
Tequila caramel sauce:
1 c Sugar
1/4 c water
3/4 c Heavy cream
3 tablespoons tequila
1/4 c Butter
1 tablespoon lime juice
Place in a high sided sauce pan the 1/4 cup of water, add the sugar and cook over high heat. Do not move the pot till you see the sugar turn a caramel color, then begin to stir the mixture until it becomes a light amber color ( this will happen quite fast so be careful). When the mixture reaches the light amber color turn off heat and very carefully and slowly whisk in the cream ( when doing this step it might be best to wear an oven mitt as the mixture bubbles and causes steam ). Once the cream is mixed in add the remaining ingredients. Return to medium heat for a minute or two whisking the whole time. Remove from heat and let cool to just above room temperature. Place in an air tight container and into the refrigerator. It will keep for up to a month in the fridge.
The finished product doesn't look anything like the original video, but it never does. Hopefully it will taste better than it looks. Apples, cinnamon, caramel and bacon - how can it not be good.
Be sure to tune into Cooking With Polly every Monday through Thursday at 5pm on the Big Frog 104 Facebook page for more Chaos in the Kitchen that often ends in a mess but usually with easy, tasty recipes too.
If you have a recipe you'd like to see on Cooking with Polly, email Polly@BigFrog104.com.
---
---
KEEP READING: 3-ingredient recipes you can make right now