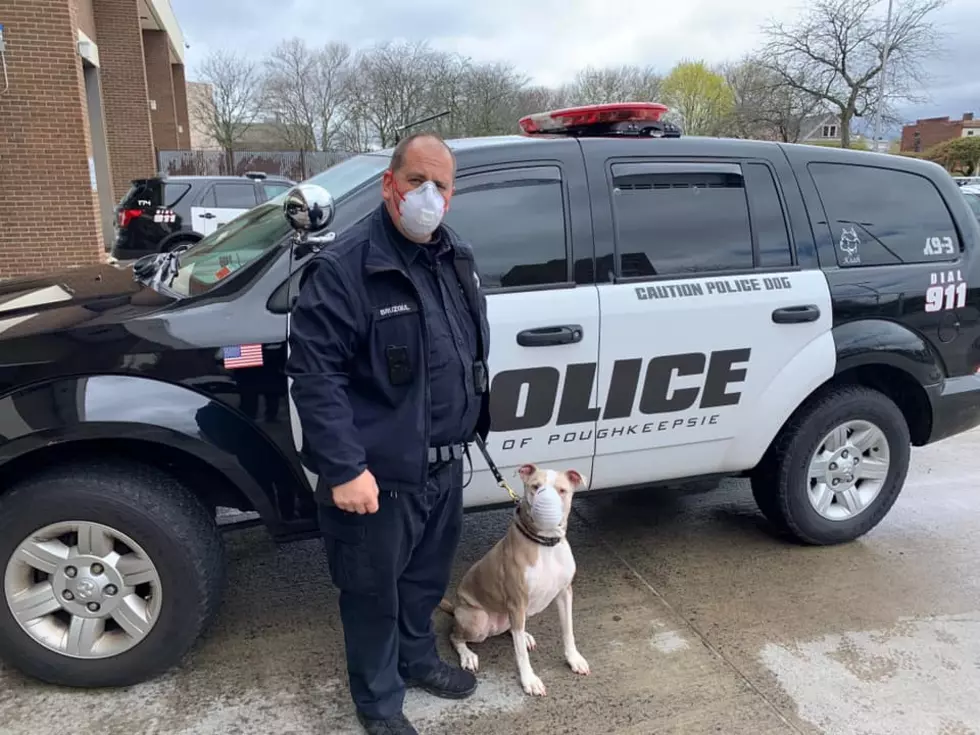 New York's First Pit Bull K9 Reminds You to Stay Safe, Wear a Mask
CPPD K-9 Kiah
New Yorkers must wear a face covering in public right now, and this working dog is reminding us to do just that!
Kiah is New York's first pit bull K9 officer, and earlier this week, she took a break from her work with the Poughkeepsie Police Department to snap a few pictures for her Facebook page. Her partner, Justin Bruzgul, put a mask on her face, but rest assured, Kiah only wore the mask for the picture!
Kiah came to the Poughkeepsie Police Department in 2015 after Brad Croft with UniversalK9 rescued her from an abusive living situation in Kirby, Texas. According to WREG, Croft was told she had been hit in the head with a hammer before arriving at the shelter where he found her. He brought her home and started training her as a police dog.
In a 2016 special with Inside Edition, Bruzgul talked about how his department reached out to Croft looking for a K9. Kiah is not only the first pit bull K9 in New York, but she's doing a phenomenal job and living her best life.
"She's loveable. She's friendly," Bruzgul told Inside Edition. "She came from a horrible situation and to see that, that's ultimately what makes it the most rewarding, getting her a better life, and she has it."

Now, Kiah is keeping New Yorkers safe in a whole new way, with a reminder to cover their faces in public and protect themselves and others from the coronavirus.
Earlier this month, Governor Cuomo announced a new executive order that requires New Yorkers to wear face coverings in public places where social distancing may not be possible.
"For example, if you are riding on public transit where it is impossible to maintain social distancing, or walking on a busy sidewalk, you must wear a face-covering like a bandana or a mask," Cuomo said.

Enter your number to get our free mobile app
More recently, Oneida County Executive Anthony Picente talked about a new executive order that will fine county businesses who allow patrons to enter their establishment without some sort of face covering. According to Picente, those businesses would face a $2,000 fine and a Class-A misdemeanor charge for violating a public health order. The executive order goes into effect Friday, May 1.
KEEP READING: See how animals around the world are responding to COVID-19