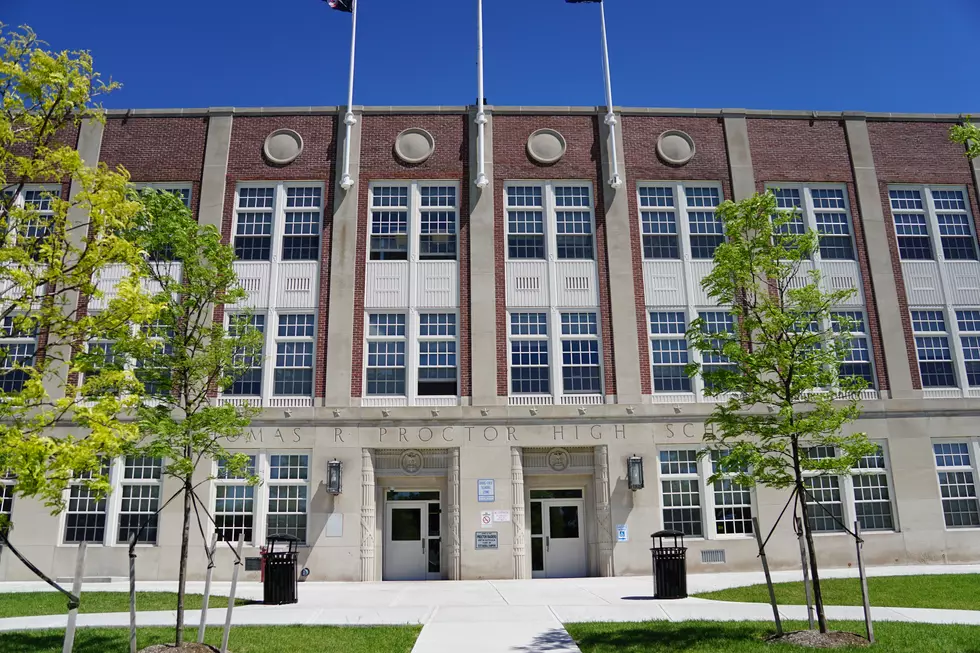 New Utica City School Protocols in Place After Tragic Shooting
P.W. Creighton/TSM
Enhanced security measures are being put in place at Utica City Schools and in particular Proctor High School following the tragic shooting at a football game.
Read More: Security Guard Shot at Proctor Football Game
A security guard was shot in the parking lot of a Proctor High School football game on Saturday, September 9 while trying to break up a fight.
New UCSD Protocols
New protocols have been implemented for the Utica City School District for the week of September 11.
There will be a lockout for all Utica City Schools on Monday, September 11
Parents must call ahead and wait in the vestibule for their child
A crisis team has been activated and will be working at Proctor High School
ID only - all Proctor students must bring their ID to get into the building
Additional administration and extra police will be inside the building and around the perimeter of the district
Counseling will be made available all week
Strict parents only at all school events this week. No siblings allowed
All staff must come through a single point of entry
All adults must wear badges.
"We must know who is in our building and what they are there for," said Utica City School District Superintendent Kathleen Davis. "We are going to continue with these protocols until the police have given me the signal that all suspects are secured and we are in good shape."
Student Safety is Paramount
The district's Code of Conduct will be invoked to its fullest extent this week and Davis says she'll be issuing any orders to bar any individuals from the school district involved in the shooting. "Student safety is paramount."
If anyone has any questions, concerns, or suggestions they are asked to contact their school building administrator.
Utica City Police Chief Mark Williams is reassuring parents everything is being done to keep students and staff safe.
"I want to ensure the parents and students who attend these schools, that we are going to do everything in our power to have safe and secure premises for a good learning environment."
Shooting Arrest
A 16-year-old has been arrested on several charges following the shooting
Read More: 16-Year-Old Arrested in Proctor Shooting
The security guard who was shot is expected to recover but he has a long road ahead.
Red & Black
All students and staff are asked to wear red and black to school on Monday, September 11 in honor of the man who risked his life to save others. And not just in the Utica City School District either...everywhere in Central and Upstate New York.
Students Spread Kindness Not Hate at Elementary School in Rome
Students at Ridge Mills Elementary School in Rome, New York are spreading kindness not hate.