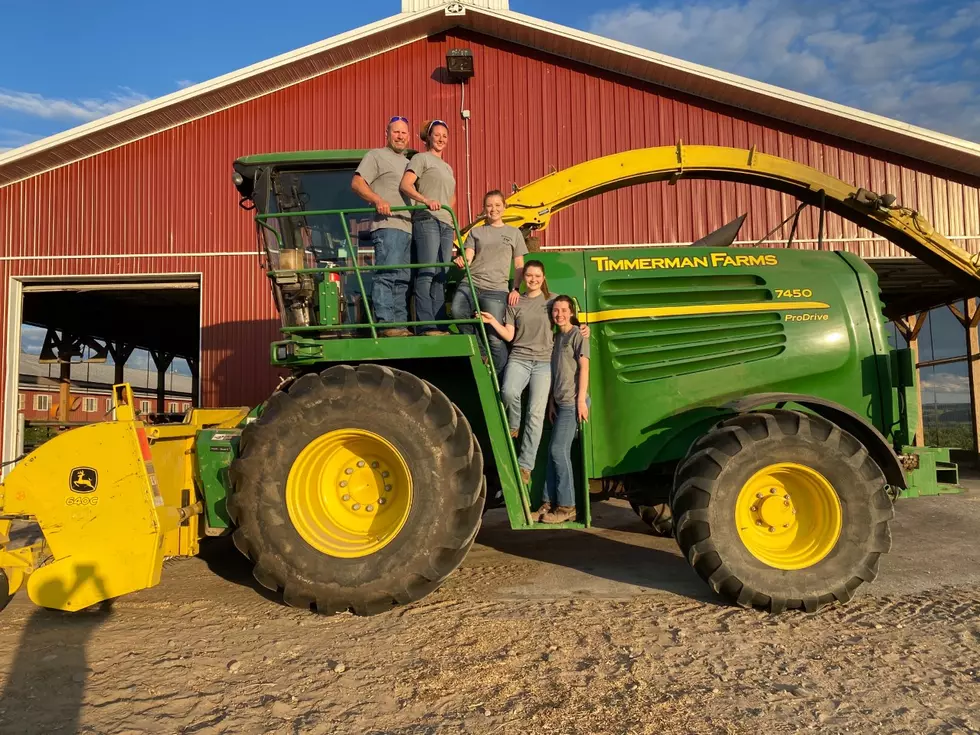 Meet a Central New York Farmer – Timmerman Farms
listener submitted
If there was a soundtrack to this story it would have to be Rodney Atkins' "Farmers Daughter." The dairy farm is operated by Ron, with part-time assistance from three daughters, Marina, Alexis, and Sophie, and his girlfriend, Tiffany Fletcher. The current family of Timmerman's have run things since 1998 when Ron Jr took over his father's operation. But the farm dates back much earlier than that.
The farm is five generations long getting it's start in 1867. In the early days Timmerman Farms was 325 acres with about 60 head of dairy cows. Today the operation on Snells Bush Road in Little Falls, is one-thousand acres, milking 350 cows with another 250 youngstock. They also plant and harvest corn, hay, and peas. As if that wouldn't keep you busy enough, Ron and his brother, Scott operate Timmerman Custom Services, offering custom crop work including chopping, combining, and trucking crops.
Ron Jr has grown up on the farm.  Milking cows each day before school through his college years where he earned two agricultural degrees. The farm has maintained Dairy of Distinction and SuperMilk awards for more than 20 years. Ron has also been honored with the 2019 Conservation Farmer of the Year Award for environmentally friendly practices on the dairy farm.
To Ron and the ladies, we say thank you for getting up every day no matter the weather, no matter the economic forecasts, and keeping America and CNY fed and clothed. And doing it all while keeping mother nature at her best. Ron's hard work and commitment to the animals and land isn't lost on his daughters either, as they shared this quote with us;
You continue to amaze us everyday with the hardships you continue to push through. We are so proud of you and proud to be your daughters.
We're thinking Ron is really good at raising cows, crops, AND daughters.
Timmerman Farms Little Falls,NY Ron Jr, Tiffany Fletcher, Marina, Alexis, & Sophie
Timmerman Farms Little Falls, NY Sophie, Marina, Ron, and Alexis Timmerman
Timmerman Farms Little Falls, NY
Timmerman Farms Little Falls, NY
Timmerman Farms Little Falls, NY
Want to take your support of Central New York farmers to the next level? The Save Our Farms, Save Our Food campaign with Cornell Cooperative Extension of Oneida County is offering a custom designed T-Shirt supporting farmers with any $25 donation. Get more info and order yours at CCEOneida.com