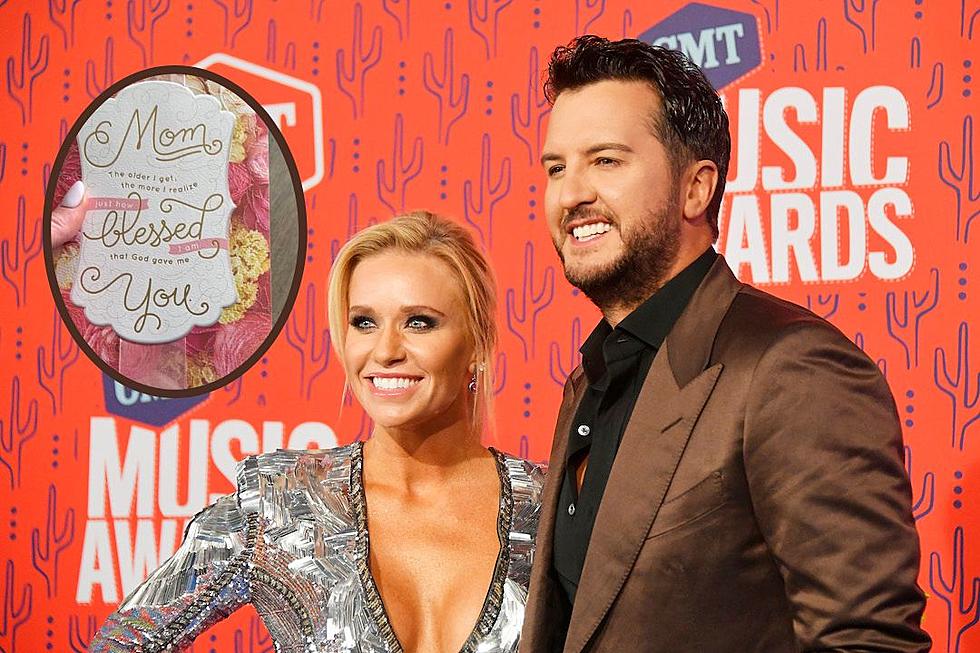 Luke Bryan's Wife Cracks Up Over 'The Cutest' Mother's Day Gift
Mike Coppola, Getty Images/Instagram
Luke Bryan's wife Caroline was celebrating Mother's Day with her family on Sunday (May 14) -- and as always in the Bryan household, the festivities were a mix of sweet sentiments and hilarious hijinks.
On her Instagram Stories, the singer's wife showed off her thoughtful Mother's Day card from Tate, the couple's 12-year-old son. The outside of the card is painted with pink and white roses, and bears a scripted message that reads, "Mom, the older I get, the more I realize just how blessed I am that God gave me you."
"Oh my gosh. Probably the cutest thing I've ever gotten this morning," Caroline comments, holding up the card.
But what was most surprising about the card wasn't what was on the outside -- it was on the inside. So much so that Caroline just couldn't keep from cracking up when she opened up her Mother's Day card -- and a wad of cash fell out.
"Tate gave me a card and when I opened up, this fell out," she continued, as she shook the card and a handful of $5s and $1s hit the table below. "So sweet!" Caroline managed to get out, in between cackles.
Tate is the youngest member of the Bryan family. Caroline and her country superstar husband are also parents to 15-year-old Bo, who recently passed his driver's permit test and is now officially behind the wheel.
The couple also adopted their now-adult nieces Jordan and Kris and nephew Til after the three children's parents -- Luke's sister and her husband -- both died. Caroline frequently shares snapshots into their family life together with her Instagram followers. In recent weeks, she's showed off new tattoos she and Kris got together, and documented a family duck hunt that left her with mixed feelings.
Pictures: See Inside Luke Bryan's Stunning Beach House
Luke Bryan
listed his 4,600-square-foot beach house for sale in December 2022. The stunning Florida mansion includes four bedrooms and bathrooms and comes furnished. The master bedroom overlooks 95 feet of water frontage, but if you don't want to descend all four floors to get there, you can absorb the warmth of the private, heated pool. This Santa Rosa Beach property is on sale for $18 million, among the most ever for a
country star's house
.