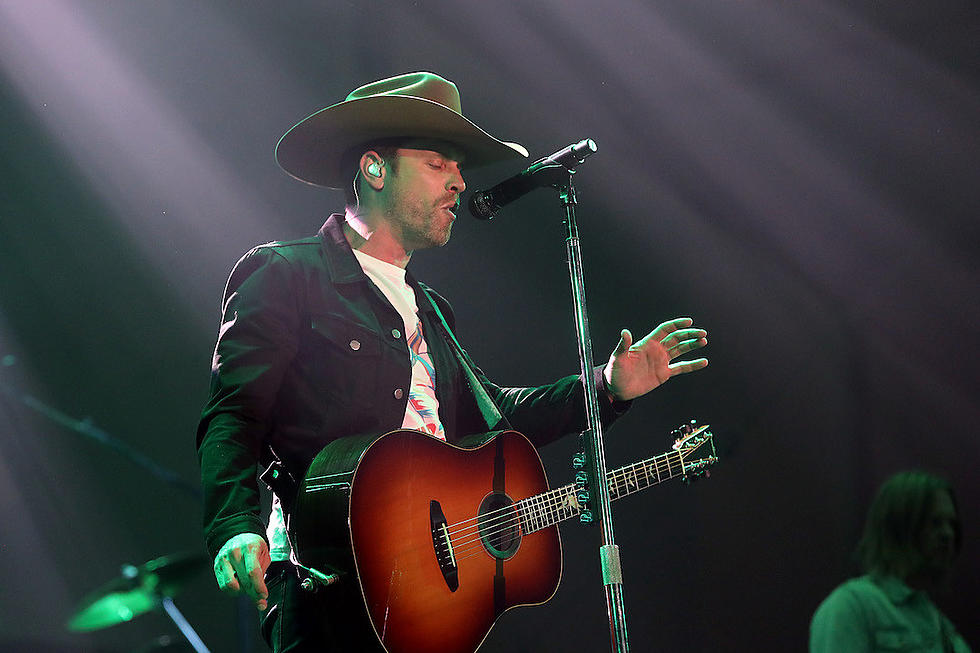 Dustin Lynch's Story Is an Open Book on 'Killed the Cowboy,' + He Likes It That Way
John Medina, Getty Images
Dustin Lynch has never shied away from being candid with his fans about the highs and lows of his life.
He's celebrated his successes with them, documenting big achievements like becoming a licensed pilot and earning membership in the Grand Ole Opry. But he's also been open about his disappointments, including when the Academy of Country Music passed him over on the ACMS nomination list in 2018, despite the fact that that was the year of "Small Town Boy" — his biggest hit to date.
As he readies his sixth studio album, Killed the Cowboy, Lynch is once again an open book. This time, he digs into his ambivalence surrounding his perennial single status, both embracing the freedom of living life on his own terms and also wondering if he'd be happier if he settled down.
"Honestly, it is just me leveling up with myself at this stage of my life," Lynch tells Taste of Country Nights' Evan Paul ahead of Killed the Cowboy's release. "Going, 'Hey, am I okay?' But also going, 'What's the best version of me in five, 10, 20 years?'"
Singlehood is a major theme of the album, and it's got its fair share of breakup songs, but ultimately, Killed the Cowboy isn't exactly about Lynch yearning to find his partner — it's more about him taking a gut check, and ensuring that he's not missing out on prioritizing an important personal goal.
"I have a lot going on in my life, and multi-tasking personal life and relationships versus what drives me, which is trying to make the best music I can and play the best shows I can," Lynch reflects. "Finding that balance is really what I'm going through. I don't know where I'm gonna end up, but right now I'm single and I like where I'm at. But yeah, the album Killed the Cowboy is that conversation.
"Maybe she's right around the corner. Maybe I find her today or tomorrow. Maybe it's gonna be a while," he adds, "but I guess everybody'll be watching the story as it plays out."
Lynch embraces loneliness in songs including the title track, a brooding, high-energy heartbreak song that he says makes for a "dynamic and powerful" moment in his live show. But there are also several playful tracks on the album, including "Lonestar" — a song about the bubbly nervousness of seeing someone new "that just takes your breath away" — and "Chevrolet," a duet with Jelly Roll that samples Dobie Gray's classic "Drift Away."
"That song is a classic. I'm so blessed that we got to re-record our version," Lynch says. "Hopefully we continue that song's life into the next generation of country music fans. And getting to do that with Jelly Roll was a lot of fun. He's one of my favorite humans on Earth.
"Fun fact, he recorded that vocal down in Austin, Texas, the night before he recorded his Joe Rogan episode," he adds.
Killed the Cowboy follows Lynch's early 2022 album Blue in the Sky — a sunnier project, with more party-forward, beachy songs — and the singer says he was simply feeling more introspective this time around.
"Blue in the Sky, I started writing and recording that album when we were off the road in Nashville. My girlfriend at the time was living with me. And then I went through that breakup," he relates. "I didn't go through that with Killed the Cowboy. It was a lot more being with myself. I'm okay being alone, I'm cool with that, but wondering if I'm doing it that way, and that's kinda what this chapter is about."
The Best Country Singer From Every State
Some states, like Oklahoma and Texas, are loaded with famous country singers. Others, like Nevada and Maine, are still looking for a real breakthrough artist. See the best and most successful country music artist from all 50 states, starting with
Hank Williams
and Alabama.