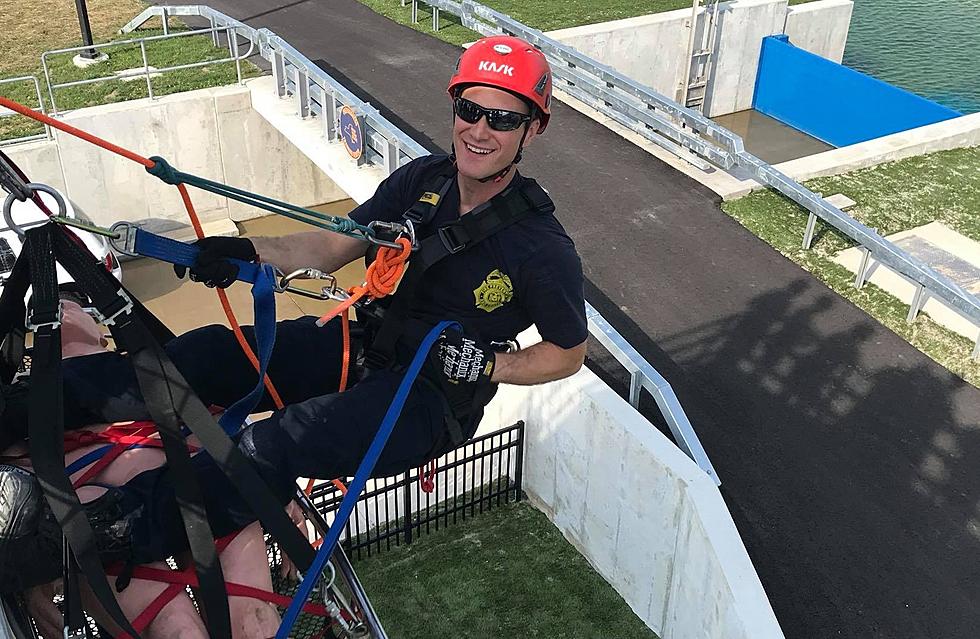 He Jumps into Swift Waters & Uses Ropes to Traverse Canyons all to Save Others
listener provided
We've been saluting Central New York's First Responders for some time and each week we learn something new. Today we learned there are also Second Responders. John Bord explains how their role is different.
John has several roles serving with the Office of Fire Prevention and Control, SWFT a swift water flood technician, the Special Operation Branch instructing and responding to technical rescues and HazMat incidents and he is also part of the NYS Task Force II, a FEMA urban search and rescue team. When the pandemic first hit, the Fire Prevention and Control offices shut down sending John and the staff to New York City to assist with the COVID-19 Test Sites. The video below shows just some of the duties and responsibilities.
His career began as a First Responder volunteering with the Schuyler Fire Department from 2005 to 2019 and the Little Falls Fire Department from 2013 until 2018. As the responsibilities with the State Departments grew, John was forced to resign the volunteer duties. The difference between serving with local fire departments as opposed to state departments is where the change from First to Second Responder occurs.
technically when NY State Fire respond to emergencies we are considered 2nd responders as this means the incident had gotten to large for the local and county teams to handle.
The nomination to salute John came from his nieces and nephews who call Uncle "JB" a hero, risking his life every day to save members of the community. We couldn't agree more kids. Jumping into swift rising waters, repelling hundreds of feet in the air over bluffs and caverns, and running into buildings in the midst of a chemical blaze isn't for the common man. John, thank you for what you do and for teaching others how to help too.
Speaking with John for this story, he was very thankful for all the recognition. However, he thinks the real hero in the family is his wife, Robin. She spends a lot of time home alone with their young daughter Summer while she's expecting a second girl, Ivy Rose in March. I think John feels guilty because he views hanging off the side of a building or over a canyon fun and not work.
Do you know a first responder that deserves to be recognized? Tell us about someone who should be honored in Central New York - a firefighter, police officer, EMT, forest ranger, paramedic, DEC officers, military, rescuers, front line workers, or any other person first on the scene.
Include their name, a picture and why they should be recognized during 'First Responder Friday." We'll honor one first responder every Friday and as a way to say thank you, we'll give them a Bundt cake from Nothing Bundt Cakes.
Students Spread Kindness Not Hate at Elementary School in Rome
Students at Ridge Mills Elementary School in Rome, New York are spreading kindness not hate.
Buffalo Bills Fan Battling Cancer Fulfilling Dream to See Every Game
Bonnie and Scott Fiegel are spending their retirement, and their kid's inheritance, following the Buffalo Bills around the country, all while Bonnie battles cancer.