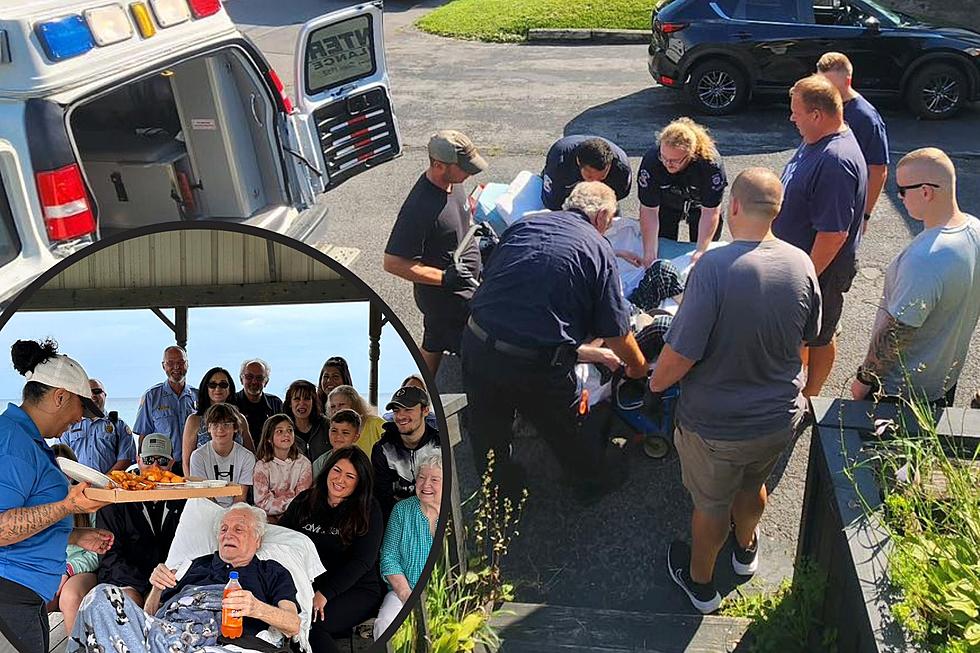 Heartwarming Dying Wish to Eat With Family at CNY Restaurant Granted
Credit - Menter Ambulance via Facebook
Grab the tissues! A group of Central New York First Responders came together to help grant a dying man's wish to have one final meal with his family. And the moment brought tears to many eyes.
Peter Capizzi was asked by his hospice chaplain if he had a final wish. He told Chaplain Mike he wanted to have a meal with his family at Rudy's Lakeside Drive-In in Oswego, New York.
Menter Ambulance coordinated with multiple agencies to make Peter's wish come true.
We provided Peter and his family courtesy transport to and from his home to the restaurant, and we were assisted on scene by Fairmount Fire Department and WAVES Ambulance.
Pavillion Party
Once Peter's chariot arrived at Rudy's, the Oswego Town Volunteer Fire Department helped find a nice spot for the ambulance to park and moved Peter from the ambulance to a nice spot under a pavilion.
The owner and staff of Rudy's personally delivered Peter's complimentary meal.
Peter and his family enjoyed a nice meal together.
Happy to Be a Small Part
Fairmount Fire personnel were happy to help grant Peter's wish to have lunch with his family in Oswego.
The outpouring of support from near and far for this Fairmount resident Veteran was nothing short of extraordinary and we were happy to be a small part of his journey.
Life Well Lived
After his meal, Peter enjoyed a moment near the water...hopefully, reflecting on what great life he lived and the wonderful family he lived it with.
Thank you to all the First Responders and staff at Rudy's who went above and beyond to make Peter's final wish come true.
37 Heartwarming Acts of Kindness to Restore Your Faith in Humanity
Here are 35 heartwarming acts of kindness from Central New York angels that'll restore your faith in humanity.